The Postman Always Rings Twice
https://www.facebook.com/Wolffianclassicmoviesdigest
So when I first watched about two years back i was instantly in love with Lana Turner. She truly takes your breath away from the moment she drops something you are instantly in love with her. The Postman Always Rings Twice Stars both Lana Turner and John Garfield in one of the finest noir classics all time. It is based on a novel by James M. Cain. Its light noir. It is one of my favorite movies to watch often. I really love this classic gem of a movie. So today is my review of this classic gem.
The Postman Always Rings Twice review
Lana Turner and John Garfield generate sparks in this excellent crime thriller that is one of my favorite classic noir gems all time. I did not expect any noir classic to be along the lines of any other noir classic all time. The original book published in 1934 by James M. Cain (author of "Double Indemnity") was a gritty unsentimental story of a low-class drifter and bum, Frank, who is taken in by a German immigrant, Nick, who owns a roadside café and his beautiful wife, Cora, who turns out to be much darker on the inside than the facade of her pure white skin. Cora, we learn, is dissatisfied with her life married to this older immigrant and the drifter becomes her catalyst to change her situation. This book really lightly works the book into a noir classic.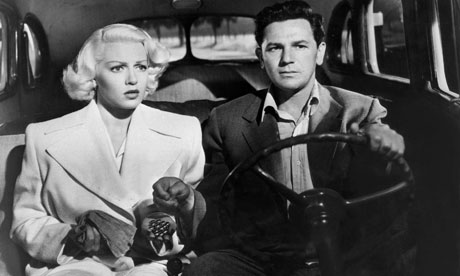 Lana Turner plays Cora Smith, a restless young waitress married to a much-older man who runs the roadside diner as she is restless and not in love in ages to him as she meets a younger man that sparks her interest. She plays quite a wonderful role in this movie as she truly shines as Cora Smith as she truly shines in the role.  She plays out this role to a level of craft that she delivers one of her truly finest roles all time. 
John Garfield plays out one of his finest roles on the screen. as Frank Chambers, a drifter who turns up at the diner and is captivated by Cora. This is his finest hour of acting on the screen.
Cecil Kellaway is great as Cora's naive husband Nick, whose main concern is the diner. He truly nails home a fine home as this naive husband in The post always rings ring. It's his level of craft and skill as an actor that he delivers one truly fine performance. Hume Cronyn nails home a fine performance as Arthur Keats. Leon Ames as Kyle Sackett giving out a fine performance. Everyone gives such fine performances in this movie even the supporting cast of talents delivering home some of the finest acting on the screen.
The movie works very well under its own terms, particularly because of the outstanding chemistry between the leads John Garfield and Lana Turner. This plays up the unrealized sexuality. Lana Turner is quite the femme fatale. It's her way of playing Cora which really lights up the screen. 
Tay Garnett's Direction and craft really crafts out this noir classic that is really light noir compared to many other noirs but he crafts out such a wonderfully crafted gem of A movie. A screenplay by Harry Ruskin and Niven Busch which really touches upon the  novel by James M. Cain which they craft out this movie. This movie is considered a big breakthrough for censorship.
Costume designer irene lentz was tasked with fulfilling the director's vision, created a series of simple yet effective costumes as such she crafts out such great costumes. These outfits work perfectly to make Lana Turner turn heads and catch you by storm. Cinematography by Sidney Wagner is really wonderful as ever. It's such effective tones in the movie that brings the screenplay and direction and acting to life on the screen.
Adapted from a novel by James M. Cain (who also wrote Double Indemnity and Mildred Pierce), Postman is often heralded as a breakthrough in the battle against screen censorship. MGM secured the rights to the novel in 1934. Lana Turner and John Garfield and Cecil Kellaway and others in the cast all shine together to bring to life this wonderful movie to the screen with such great direction and Cinematography and Costume design. The Postman Always Rings Twice ring is a noir gem that you can watch anytime and love greatly it is surely a treat to watch this gem of a movie. So watch this outstanding classic today.
The Ruth Rating: