Why i love screwball comedies
https://www.facebook.com/Wolffianclassicmoviesdigest
I am a very huge fan of screwball comedies. I often review more screwball comedies on my blog often also i review many noir classics and talk about hitchcock often. I would say they are my three favorite movie areas to talk about. I love fondly screwball comedies.  Films definitive of the genre usually feature farcical situations, a combination of slapstick with fast-paced repartee and show the struggle between economic classes. Films definitive of the genre usually feature farcical situations, a combination of slapstick with fast-paced repartee and show the struggle between economic classes. They also generally feature a self-confident and often stubborn central female protagonist and a plot involving courtship and marriage or remarriage or cross-dressing. Some comic plays are screwball in nature. It was a genre that was made in movies until 1942. Many flims of the 1950's also have traits of screwball comedies.  Time to talk these golden classics.
how would 'Lubitsch do it? to start with the start of the traits in a talk about something that would test nerves for years.  Trouble in Paradise.  This pre-code sophisticated comedy epitomizes the European attitude toward sex in its very first scene between Hebert Marshall and Miriam Hopkins An utterly charming comedy classic. Time talk about the Lubitsch touch of comedy.
This pre-code sophisticated comedy epitomizes the European attitude toward sex. It is more open in sex. It is pre-code in that nature toward how it plays sex. It is based on Laszlo Aladar's play The Honest Finder which was the springboard for the movie. The sexual undertones is very frank. I would not call it as sexually open as Design for Living which is far more sexual in nature. This was a taste of what was to come for his works.  Trouble in Paradise is a comedic counterpart to a melodrama as it is a melodrama mixed with comedy. The acting of Herbert Marshall and Kay Francis and Miriam Hopkins really shines greatly. This movie opens the door for many comedy traits to come. It was a big game changer i would suggest you see it today.
design for living
Design for living really is a bold pre-code comedy that i really would call the movie comedy that changed the face of comedy yet it did not show that change for many years. It was written originally by  Noël Coward but the movies screenplay was written by Ben Hecht. A woman cannot decide between two men who love her, and the trio agree to try living together in a platonic friendly relationship. Miriam Hopkins is amazing in her role in this movie as she stars alongside Fredric March and gary cooper as both actors give us fine roles.  Miriam Hopkins could do no wrong in a Lubitsch film, and her work here is brilliant. She's intelligent and uncompromisingly honest. The key to the Lubitsch Touch was in the perfect timing of physical gestures and the delivery of the lines. Trouble in Paradise and Design for Living were the best in this respect as both shine.   This movie is very sexually bold for its time. It even had the leads suggest a gentlemen's deal of no sex between the three which is broken but it is very much ahead of its time in that regard. Intelligent script, witty dialogue, sexy stars, sophisticated story with a great direction and acting. It is a must see classic gem.  
Ernst Lubitsch really had a golden touch when it came to comedy. I would say he was one of the first modern comedy directors in a way. He directed some of the finest comedies of his day. It was also known if you starred in a Ernst Lubitsch you were going to be starring in something special. He often stirred up with his movies. Many of the movies were very -sexual in nature. One of his movies was a mix of both politics and sex which is very hard subjects to talk about in movies. He was a master of comedy directing. Ninotchka and To Be or Not to Be were two of his later gems often regarded as two highly loved gems of comedy. I talked two of his movies above in a short review but you can read about his movies and watch them and enjoy one of the greatest directors all time.
Frank Capra golden comedies. 
Frank Capra is often regarded as one of finest flim makers all time. He was not considered much in his time. The critics used to call his works capra corn. It is now very diffrent as he is such a wonderful director that crafted out many wonderful gems.
Lady for a Day(1933)
Apple Annie is an indigent woman who has always written to her daughter in Spain that she is a member of New York's high society. With her daughter suddenly en route to America with her new fiancé and his father, a member of Spain's aristocracy, Annie must continue her pretense of wealth or the count will not give his blessing. She gets unexpected help from Dave the Dude, a well-known figure in underground circles who considers Annie his good luck charm, and who obtains for her a luxury apartment to entertain the visitors – but this uncharacteristic act of kindness from a man with a disreputable reputation arouses suspicions, leading to complications which further cause things to not always go quite as planned. This is before it happened one night for frank capra. This charming comedy is often overlooked for that movie. this is the film that precedes IT HAPPENED ONE NIGHT for the team of Frank Capra (director) and Robert Riskin (screenwriter). Sadly it's not regarded as one of his beloved classics.it deserves to be regarded more highly. Frank Capra's excellent direction which was ominated for an Oscar. May Robson is wonderful in this early capra gem.  Glenda Farrell & Guy Kibbee and Walter Connolly are great in suprorting roles. Warren William is wonderful in his role as Dave the Dude, the criminal boss who comes to Annie's aid because her apples are good luck for him. It is a truly overlooked comedy gem that you must see today.
It happened one night,winner of 7th oscars. I have seen this classic many times over the years,its just as timeless as ever each time i watch this classic oscar winning film i just adore and delight in this classic comedy. There were many points in It Happened One Night where the true state of the country was indicated. Homeless people hitching rides on trains seemed perfectly normal. Rather than regard them with apprehension and pity, you smile and wave at them. Another example is the hostile reaction proprietor Zeke's wife had to the fact that her husband had let Peter and Ellie stay the night with promises of being paid. Upon seeing Peter and Ellie's car missing, they rush to the cottage to see if Peter and Ellie are still there. They cannot afford freeloaders.
In another scene, a child's mother has passed out from hunger, because they have no money to buy food. Peter and Ellie have nearly depleted their funds, but decide that the mother and child need money more than they do and give some to them.
Despite these instances, the movie was altogether cheerful in its depiction of the world. In the throes of the stock market crash, this movie signaled the birth of the screwball comedy. At a time when the country needed release, they could find that release and laughter in movies like It Happened One Night. Audiences were amused by scenes in the film, such as the segment in which Peter teaches Ellie how to dunk a donut. Or, when forced to share a room, Peter puts a blanket between his and Ellie's beds and calls it the `wall of Jericho,' which is revisited when the walls of Jericho come tumbling down after Peter and Ellie's marriage. Probably the most famous scene in the film is the hitchhiking sequence, which features Peter standing by the roadside trying to thumb a ride unsuccessfully, finally giving up after more than a dozen cars speed by without paying any heed to his attempts. After he gives up, beaten, Ellie simply lifts her skirt above her knee. The first car that passes stops, as we see extreme close-ups of a foot slamming down on the brakes and a hand applying the hand brake.
Claudette Colbert is a spoiled young girl who meets a worldly, attractive newspaper reporter (Clark Gable),its combination of two its two talented leads in the movie that brings home this classic gem in many ways. Everyone else in cast brings home this classic same too as they all shine greatly. A master in his profession, Capra left his mark on the films he directed. With an almost childlike cheerfulness, he maintains a sense of dignity and class. The viewer is left with a feeling of hope for humankind, even if its only that a person's ideals could be used to make such a film. Capra's films are still regarded as masterpieces. It Happened One Night arguably remains to this day unparalleled in screwball comedies. It was one of many movies made during the Depression, a sometimes sad and even lonely time in our history. It gave its audience a chance to escape and forget their troubles for a few moments in time.  It truly is a classic you must see today. 
Mr deeds goes to town is about Longfellow Deeds, a simple-hearted Vermont tuba player, inherits a fortune and has to contend with opportunist city slickers. In this fable, Mr. Capra gives an answer to those of us that always pondered: what would one do if one inherited a lot of money, or if one won the lottery or had chance get rich. It does really bring about it in a fable that is very moving comedy. Gary Cooper and Jean Arthur are wonderful. Leonard Standing, one of the best character actors of the era  is equally effective as Cobb the man who knows a thing or two about those society folks. George Bancroft is wonderful in his role. This is a frank capra gem you should watch today. 
You Can't Take It With You won for Best Picture of 1938 and got Frank Capra his third Oscar for Best Director.  This was James Stewart's first and Jean Arthur's second film with Frank Capra. Next year they would do their second and last in the much acclaimed Mr. Smith Goes to Washington. It's a tale of two men and their families. Edward Arnold plays Anthony Kirby millionaire banker and industrialist who is obsessed with both making money and his social position, though the latter is more in deference to his snooty wife Mary Forbes. Their son James Stewart is preparing uneasily to step into his father's world. What really is Stewart's main interest is the romance he's got going with the only normal member of that other family, Jean Arthur. It is such a great movie with wonderful acting and great direction. Watch this classic today. Frank Capra movies have traits that you will love i have talked about some of his classics.
Spencer Tracy and Katharine Hepburn comedy gems. 
Some of the finest comedies all time are the duo pairing of Spencer Tracy and Katharine Hepburn as both legends starred in such wonderful classic comedies .Woman of the Year (1942) started the pairing which was not a comedy but a Sport/Romance movie that started their acting duo together.  So to talk their comedies.
State of the Union(1948)
Based on a 1945 play by Howard Lindsay and Russell Crouse, State of the Union marked Frank Capra's return to the political. This film is also the third of nine pictures featuring Spencer Tracey and Katharine Hepburn. Van Johnson is very funny and charming as a newspaperman who becomes Grant's campaign manager. Adolphe Menjou is perfect as Kaye's mouthpiece who wants to go after the money people and court big business and the union heads. Katharine Hepburn co stars as Grant's wife Mary in a role intended for Claudette Colbert, and she's excellent in this role. Spencer Tracy is wonderful as Grant Matthews. This comedy gem is a must see for anyone.
Adam's ribs
Two New York lawyers, husband Adam Bonner (Spencer Tracy) and wife Amanda Bonner (Katharine Hepburn), work out the marital tension and fight the sexual wars in the courtroom on opposite sides of a wife (Judy Holliday) shoots cheating husband (Tom Ewell) case. Adam's masculinity is seemingly challenged and his sense of justice offended by his wife's insistence on showing how smart she is while furthering her feminist agenda at the expense of the law as the drama unfolds you see a wonderful duo really shining together on screen.
The script by Garson Kanin and Ruth Gordon is wonderfully witty and smartly crafted. Judy Holliday as the lower middle-class Doris Attinger (on her way to her signature role in Born Yesterday (1950) and David Wayne, as the song-writing neighbor who adores Amanda, shine in supporting roles. George Cukor's direction is clear, crisp and always focused.
George Cukor does a brilliant job with directing it. I particularly like how he often sets the camera in a room and lets the characters weave in and out of the area in a way that evenly presents both the disconnect and the miscommunication of the couple from both perspectives. This movie is brilliant in that it is capable of maintaining two (or more) points of view entirely at the same time.It is a battle of the sexes at its comedy best. It is wonderful with a wonderful supporting cast that shines throughout this courtroom comedy. You should watch this comedy gem today.
desk set a postmodern classic(REPOST OF MY ARTICLE OF SAME NAME FOR REVIEW OF THIS MOVIE.)
Desk set is a very odd and offbeat movie. It feels somewhat very much modern in some ways as as it feels very postmodern and ahead of its time.  Its office setting with a computer seems very ahead of its time period.  It is not like the classic screwball comedy or battle of sexes movies of the 1940's but it is one of those movies that is does not fit into any of those areas.  Nor is this second-to-last Tracy/Hepburn collaboration a throwback to their 40s battles. Desk set was as adapted from William Marchant's stage play,The Desk Set. Lang's  Desk Set  truly stands out as something diffrent form the other team ups of this duo. This is the duo's last comedy together. Its an office comedy gem. 
Katherine Hepburn is in top form of her acting as she truly shines in this role as a middle aged head of the all girls research department. Its no wonder as Katherine Hepburn is my second favorite actress this movie remains one of my most watched movies of her many movies as i just adore this movie even with its simple story. Spencer Tracy truly shines as an  "efficiency expert that has plans to introduce his great invention "EMEREK", the ultimate information source. Now the ladies in research fear that a computer will make their "human brain work obsolete. It does not go the way he planned as he truly learns the human brain is more key then a computer. Its no wonder that his acting here is in top form as he feels at home in this movie as he truly gives out one of his finest roles. He is one of my top ten favorite actors. This role is one is among one his best of roles. The supporting cast contains Joan Blondell and Gig Young and Phoebe Ephron acting out in top form as they give out such wonderful performances. All of the cast give out such wonderful performances.   relies on the intelligence of the audience and draws on that of the cast to produce a humor that never ages as it truly has such wonderful wit and humor. 
The best part of the film is the interplay between the two principals, Spencer Tracy and Katharine Hepburn. Its a tribute to them, as actors, they could work so well together. Also, toward the end of the movie, at the company's Christmas party, we see a playful, and drunk Bunny singing Cole Porter's "Night and Day" to the beat of the bongo playing of Richard Sumner. That scene shows a playful Katherine Hepburn having a great time in front of the cameras. This movie has also a smart screenplay and direction. Its very much a modern day comedy almost but wait this movie was not made in modern times but the 1950's that puts this movie very much a ahead of its time. Tracy and Hepburn are the magical charm of this movie as this movie never ages as this is a classic for the ages. Watch it today
The Ruth Rating:
Spencer Tracy and Katharine Hepburn as a duo starred in movies together for years.They both really were wonderful together on screen. They also had a love that never became more off-screen. It is such a magical set of movies.
Preston Sturges' Comedies
Writer/director Preston Sturges, one of the greatest comic geniuses, was known for his many social satires in the 1940s, poking fun at sex/love, politics, war and the military, and death. He made eight screwball comedies in five years for Paramount as many of those movies are hailed as such gems that starred some of the finest legends in many roles. His movies are jewels of comedy.
The Great McGinty (1940)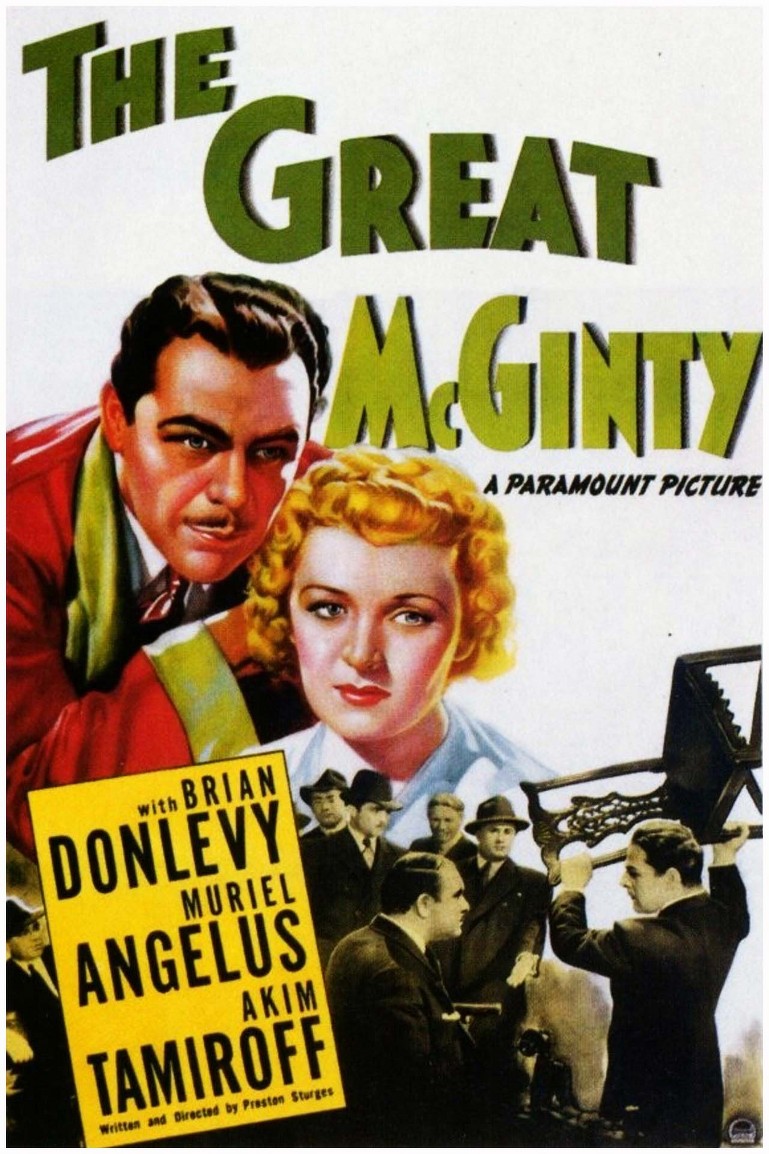 In a dive south of the border, bartender Dan McGinty (Brian Donlevy) stops a young man from committing suicide after a moment of dishonesty, and relates how a moment of honesty brought him down in a flashback. As a young man, McGinty joins a crooked political boss and rises from extortionist to alderman. Urged by the boss to marry his secretary to give respectability to his run for mayor, McGinty agrees only to fall in love with his wife and decide to do an honest thing for once in his life. In his debut as a director Preston Sturges turned in one of the brightest political satires ever done for the cinema in The Great McGinty.  Brian Donlevy truly shines in his role. Muriel Angelus as Catherine McGinty is truly wonderful in her role as she truly acts out in one of her finest roles. William Demarest  and Akim Tamiroff and Allyn Joslyn truly all shine in their respective roles. It is such a wonderfully acted movie. A very underrated and unknown film that many should watch as you should today.
The Lady Eve (1941)
It's no accident when wealthy Charles (Henry Fonda) falls for Jean (Barbara Stanwyck). Jean is a con artist with her sights set on Charles' fortune. Matters complicate when Jean starts falling for her mark. When Charles suspects Jean is a gold digger, he dumps her. Jean, fixated on revenge and still pining for the millionaire, devises a plan to get back in Charles' life. With love and payback on her mind, she reintroduces herself to Charles, this time as an aristocrat named Lady Eve Sidwich.
The Lady Eve is one of my favorite movies of the 1940's. It is one of the best movies that Barbara Stanwyck starred in too. This comedy treat truly always delights me. Henry Fonda and Barbara Stanwyck truly shine together as a duo as both acting legends give us their finest performances all time.  brilliant writing and direction provided by Preston Sturges.Mr. Sturges  Barbara Stanwyck and Henry Fonda make the ideal players for Jean Harrington aka Lady Eve Sidwish, and Charles Pike. The saying that opposites attract is well demonstrated in the film when we watch these two different characters fall for one another. Ms. Stanwyck shows in this film her great timing. The tight direction of  Preston Sturges. It is a comedy treat you must see today.
Sullivan's Travels (1941)
Successful movie director John L. Sullivan (Joel McCrea), convinced he won't be able to film his ambitious masterpiece until he has suffered, dons a hobo disguise and sets off on a journey, aiming to "know trouble" first-hand. When all he finds is a train ride back to Hollywood and a beautiful blonde companion (Veronica Lake), he redoubles his efforts, managing to land himself in more trouble than he bargained for when he loses his memory and ends up a prisoner on a chain gang.
Sullivan's Travels is one of the best films that came out of Hollywood in 1941. Preston Sturges showed he was an original with this story about self-discovery for a man that has a different view of the world. In a way, this is a satire about the movie industry. It is one of the best movies ever made as its very boldly daring and diffrent for its time. Preston Sturges achieves the impossible in this movie as he made the hollywood version of  Gulliver's Travels. The film tells of the 'mission' of 'Sully' (Joel McCrea), a big-shot Hollywood director of lightweight comedies to experience suffering in the world before producing his next socially-conscious film of hard times – an epic titled 'O Brother, Where Art Thou?' about the common man.
With this film, Preston Sturges made one of the smartest and most insightful comedies ever to come out of Hollywood with such great acting by Joel McCrea and Veronica Lake.
The supporting cast includes Robert Warwick (Mr. Lebrand), William Demarest (Mr. Jones), Franklin Pangborn (Mr. Casalsis), Porter Hall (Mr. Hadrian), Byron Foulger (Mr. Valdelle), Margaret Hayes (Secretary), Robert Greig (Sullivan's Butler) and Eric Blore (Sullivan's Valet) all giving us such fine performances. Preston Sturges combines a social commentary with comedy so greatly that it makes Sullivan's Travels is a movie you will remember as it stands as one of hollywood's finest movies ever that you should see today.
The Palm Beach Story (1942)
This screwball comedy finds married couple Tom (Joel McCrea) and Gerry Jeffers (Claudette Colbert) in a strained relationship, largely due to financial difficulties. Gerry decides to leave Tom, a struggling architect, and head to Palm Beach in order to marry a wealthy man who could fund Tom's projects. When Tom follows Gerry, they cross paths with the quirky millionaire John D. Hackensacker III (Rudy Vallee) and his chatty, husband-seeking sister, Princess Centimillia (Mary Astor).
Claudette Colbert in one of her finest roles on the screen as she knocks this movie out of the ballpark. Joel McCrea shines in his role in this movie. A very funny performance by Robert Dudley. This is a  Lightning paced comedy gem with such great acting and direction. It is a comedy gem you must see today.
so far in my article i have talked about so many great comedies. It is time to talk about the gems of the screwball genre. This genre had such great movies. Comedy under screwball movies was its best it could go with being creative and funny. So i hope enjoy the gems of the genre.
Screwball Comedy gems
midnight 
Midnight is one of those overlooked gems. Its in same level as all the other known screwball comedy classics such as bringing up baby, The Philadelphia Story (1940), It Happened One Night (1934) etc as it's not as known as those classics which is a shame because this classic gem is one of those gems that really is a special screwball comedy that is very funny and witty as ever to watch and ever charming as its one of my favorite screwball comedies all time.
Claudette Colbert and Don Ameche are the leads of this comedy classic which also stars the ever wonderful John Barrymore and Mary Astor. The acting is one of leading graces of this classic comedy as they are all wonderfully great at giving us some of the greatest and witty lines together as a cast. John Barrymore is spectacular in one of the funniest performances ever on the screen. Midnight has everything work perfectly together: The acting, the direction, the crackling writing of Billy Wilder and Charles Brackett.
Midnight is a comedy delight worth watching any day at any time as it's so charming and funny with an amazing cast that makes this comedy a classic for the ages. Claudette Colbert's comedy masterpiece has your hearts forever after you watch this delightful comedy.
The ruth rating:
Bringing Up Baby 
Bringing Up Baby baby is a flim i love so much as this movie is just such a joy to watch. This screwball comedy gem truly shines. Katharine Hepburn and Cary Grant truly shine in this movie. The duo truly shines together. Featuring one classic comic scene after another as it will have you laughing your ass off so much. Hawks never loses sight of the pastoral romance that Bringing Up Baby at its core.  The supporting cast is also one of the things that make this film the fun it is. Charles Ruggles, May Robson, Barry Fitzgerald, George Irving, and the rest of the cast do a marvelous job in the roles they created. Even Asta, the Charles' dog, made a valuable contribution to the proceedings by appearing at key moments, even fighting Nyssa, the tamed leopard that is the "baby" of the title. All of the cast truly give such marvelous roles. One of the most remarkable things about Bringing up Baby is the extent to which it remains enjoyable today as it's truly a classic gem to watch any day.
The Ruth Rating:
Twentieth Century 
When down-on-his-luck Broadway impresario Oscar Jaffe (John Barrymore) meets his discovery and former flame, Lily Garland (Carole Lombard), on the glamorous 20th Century Limited train between Chicago and New York, he uses every scheme at his disposal to win the movie star back both professionally and romantically. However, Lily, along with her new beau, George (Ralph Forbes), and Jaffe's rival producer, Max Jacobs (Charles Levison), who hired Lily to star in his latest play, have other plans.
Twentieth Century is one of the most beloved screwball comedies. It is one of my favorite screwball comedies of all time. A manic screwball comedy directed by Howard Hawks. It is likely John Barrymore at his Comedic best as a comic actor as he is a riot in this movie. This movie is one of the funniest movies all time.
Directed by Howard Hawks from an inspired script by Ben Hecht & Charles MacArthur, this is one of the seminal screwball comedies which would set the high-water mark for years to come as it features zany characters, living at a frenetic pace, throwing outrageous lines at each other with such great witty timing that would set the mark for comedies for years to come. It was made in the great depression to lift spirits as this movie does lift one's spirit for sure as it is a riot form the start to its ending. It is one of Howard Hawks finest ever.
John Barrymore is one of those comic actors that seems always to have such great timing and wit to his comedy as this movie showcases John Barrymore at his comedic best in Twentieth Century as he leads each scene with such a spark for the madness of this comedy that each time he goes off you crack up laughing from his comedy as this movie can make one go into tears with laughter as it is that funny to watch him do his comedy as this is amazing comic acting at its finest.Carole Lombard is one those comic actresses that always seems to have have such great timing and wit to her comedy as this movie showcases her at her comedic best as she plays the role of Lilly so funny yet grounded at times but when she cracks up the wit and banter with John Barrymore it will have you laughing your ass off with the zany madness of this comedy as She does not slow down at all with the comic acting as this is comic acting at its finest.
The Comedic spark between John Barrymore and Carole Lombard Really sets off big fireworks in terms of comedy gold as it is a riot to watch those two together on screen as they both are at the Comedic best they can give us with their respective roles. This is amazing comic acting at its finest for both leads as we see them do such amazing comic acting that we just laugh our asses off each scene they crank it up. It's the spark of comedy that just brings this movies magic home to us at its finest.
The others in this amazing cast of other actors stand out greatly too as we see Walter Connolly give us one of his finest roles ever on screen and Roscoe Karns as Owen O'Malley is one great character actor here as he really stands out giving us such a great performance and Ralph Forbes as George Smith nails home a great performance in his respective role and Charles Lane as Max Jacobs aka Max Mandelbaum as Charles Levison nails home another performance.
Twentieth Century may set the bar with its strong acting and direction and the madness and zany wit that would be trademark of the genre are all set upon us in this classic gem as this movie is a comedy at the finest levels of depths as we see Howard Hawks craft out of the finest comedies any era of comedy as this comedy is a mad and zany ride from beginning to end as it is comedy gold at its finest as This movie is one of the funniest movies all time as it's a masterpiece of comedy. I would say watch this movie today you will be laughing your ass and enjoying one of the greatest movies ever made.
The ruth rating:
Talk of the Town stars  Cary Grant, Jean Arthur and Ronald Colman in A capra like movie. It is not as highly regarded as many other classics. It is a great screwball comedy mixed with legal drama.
This movie has such great acting by Cary Grant, Jean Arthur and Ronald Colman and every other member of the movie's cast. Its acting is very great and wonderful. The blend of romance, comedy and drama makes for an engaging movie to watch.
It is sad as many overlooked gems like this movie does not get the attention it does deserve as one of the movies many sad things was that Jean Arthur never won the award for her wonderful role which was one of her finest on the screen.
Director George Stevens directs a fine comedy gem that he crafted out to a level of perfection with writers  Sidney Buchman and Irwin Shaw whom all together crafted a comedy gem that has such fine acting and a wonderful level of passion beyond it to make it one overlooked gem of any age.
The Ruth rating:
Today i talked many classics of the genre of screwball comedy. You can say this genre was a gem of a genre that created and crafted many great legends of acting too. It is sad it is not made today as this genre really was comedy at its finest. I hope you enjoyed it. I will put a small tribute one of the legends of the genre to end it up.
Starred in Mr. Smith Goes to Washington, You Can't Take It With You, The Devil and Miss Jones, The More the Merrier as some examples of her many movies as she was one fine actress i feel the role in Talk of the Town really was one of her finest roles as she really plays the character to a level of greatness not matched by many actresses. It's such a shame she lost that award as you can see her due in many other great classics. She truly was one legend for all time.
She was one legend i cannot forget as one of my favorite actresses so to thank that remarkable legend for all time. I do think Jean Arthur truly will remain one of the finest legends all time. I hope enjoyed my trip through the gems of screwball comedy.