The Animals in Film Blogathon hosted by Crystal of In the Good Old Days of Classic Hollywood  which runs May 26 – 28.  Enjoy all the interesting contributions by clicking HERE. My review of king kong is done for this event.
https://www.facebook.com/Wolffianclassicmoviesdigest
King kong is 83 years old now. It has been delighting us for 80 years. It is considered by many of the greatest filmmakers one of the best movies all time.
King Kong  haunted me for years, I came out of the theatre in another world. I'd never see anything like that before in my life. I didn't know how it was done and that was half the charm. I didn't just say "Eureka, I've found what I want to do", that came over a period of time. But I'd done a few dioramas in clay of the La Brea tar pits and I saw in "King Kong" how you could make them move. Luckily a friend of my father's worked at RKO and he knew all about stop-motion, so I started experimenting in my garage this is a personal quote by Ray Harryhausen who is one of my greatest idols. He truly is one my childhood heroes when i frist saw this magician's greatest works. I was amazed even when i learned about his name finally and the process of "Dynamation. He created monsters that looked so real. I would say that got many of his great works and creations were inspired by Willis O'Brien's work on king kong and his many other works. King kong is often looked upon as something truly special by every great filmmaker and many of the greatest minds of special effects all call it the eighth wonder of flim as its a marvelous treat. So to review this classic gem now i hope you enjoyed my story and tribute one of my heroes. So now to review this classic movie.
King kong review
One of the most imaginative, creative, and spectacular action/horror films ever made. It was decades ahead of its time in many ways. It influenced Spielberg, Jackson and countless other filmmakers. This movie is the eighth wonder of flim.
The movie was directed by Merian C. Cooper and Ernest Scheodsack, and produced by them with the legendary David O. Selznick, then head of RKO Radio Pictures. Selznick took little credit for the film, saying his key contribution was to put  Willis O'Brien's work. Its acting of everyone is very good yet it's not really what makes this movie magical as this movie's effects are the charm here as it truly was a marvel at its time also another marvel is its score which is considered one of the first used in movies. Willis O'Brien is the man primarily credited with bringing King Kong to the screen, but in truth, Kong was the brainchild of Merian Cooper, a truly larger-than-life film producer, on whom the character of Carl Denham was modeled after Merian Cooper. oper had been a fighter pilot in World War I, a POW after he was shot down behind enemy lines, and- with his partner Ernest Schoedsack- had traveled to the wilds of Asia and Africa to film documentaries. Cooper imagined King Kong as the logical extension of his true life exploits. He wanted king Kong to fight a komodo dragon which i doubt would have been allowed in 1933 as it was not to be a stop motion but real ape. It was not to be and altered. . The miniature jungle settings created by O'Brien's crew with multiple glass paintings created an otherworldly quality to Skull Island  with its many creatures and king Kong and the many famous scenes created by stop motion  miniatures even kong was a miniature that truly was a marvel at its time as all the many creatures of skull island and Kong were animated by this process slowly. It created Kong whom would be loved by everyone forever. , the cinematography and makeup and Max Steiner's wonderful score all come together with the stop motion animation to create marvel for all time.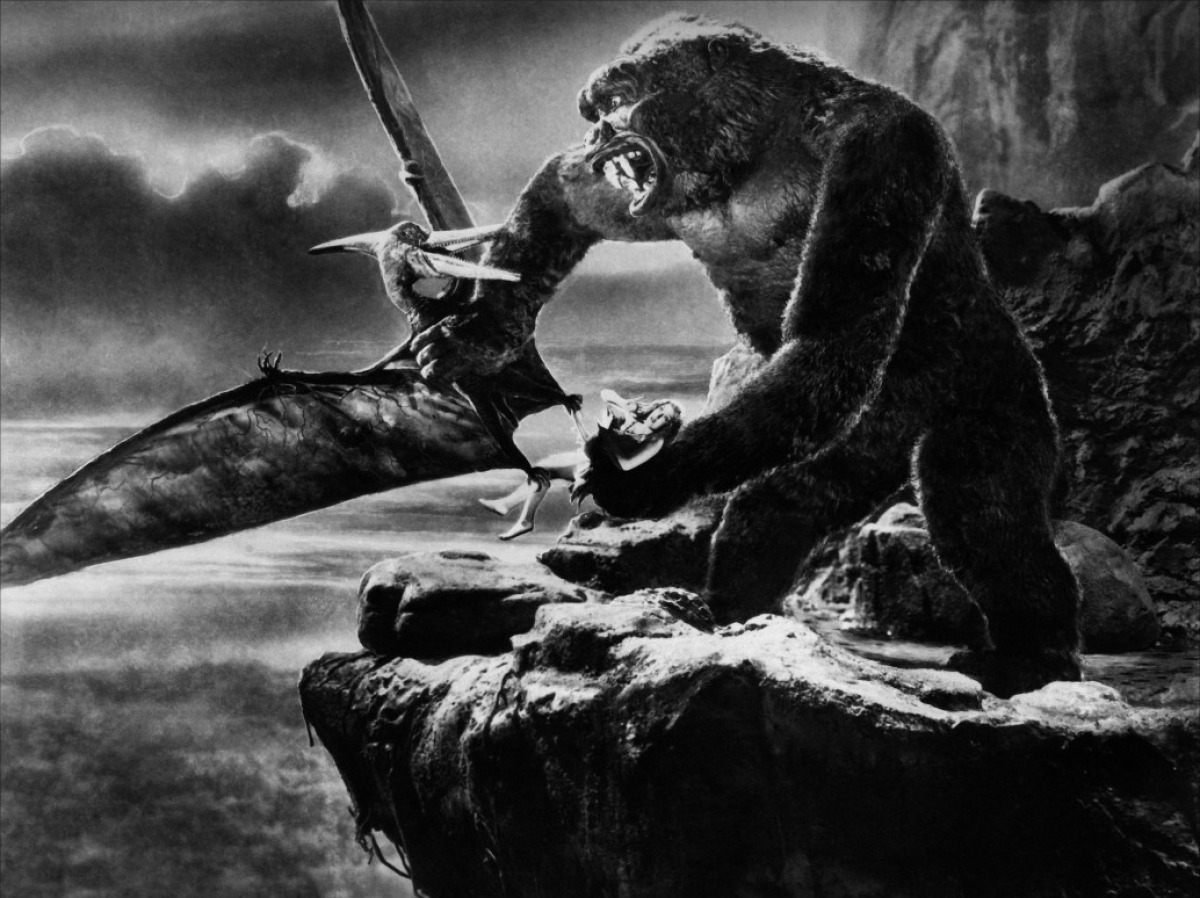 King Kong was a made for the movies myth, not based directly on any previous source other than Cooper and O'Brien's imagination as few movies ever will match it beside wizard of oz. It truly is a classic that you should see today.
The ruth rating: