Happy 50th Anniversary, Star Trek!  #BoldlyGo50 #StarTrek50 #BoldlyGo
https://www.facebook.com/Wolffianclassicmoviesdigest
It's about the idea of humanism as gene would quote it to be. Space the final frontier. These are the voyages of the star-ship Enterprise. It's continuing mission, To explore strange new worlds, to seek out new life and new civilizations. To boldly go where no man has gone before, let's go boldly where no man has gone before. We are bold explorers that explore our past to better understand our nature and we explore space often to find a new future. Mankind at its heart are explorers. Star trek teaches us to be our best as humans and find a way to live better as humans. The human race is a remarkable creature, one with great potential, and I hope that 'Star Trek' has helped to show us what we can be if we believe in ourselves and our abilities." – Gene Roddenberry. Gene Roddenberry created not only a vision but a philosophy that expanded what is possible. His vision was to create unity, curiosity, taking chances and going where no one has gone before. It's that vision that keeps star trek lasting for so long. Thank you Gene Roddenberry and the many talented hands beyond this wonderful idea and vision. Let us always remember we must take chances and go where no man has going before. as Kirk ended it. second star straight into morning,happy 50th anniversary to star trek.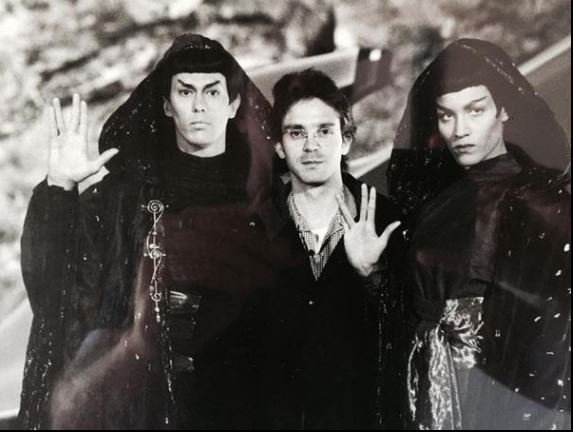 I remember when i was a boy i turned on CBS to find star trek next generation. Honestly as a boy when I first tuned into star trek next generation i was not sure what I was expecting. I did not know it yet. I was watching that opened my eyes. It showed a different kind of world where none of the social injustices existed,. It felt like it was a world i wanted to be in. I think what amazed me most was its tech too. Star trek thought me to think about what makes us human. It's rare a show does that but star trek at its best is about the human condition. Star trek always remains at its core a show about the best of the humanism as gene would quote to saying it was about. When you expect star trek to end it always seems to return again stronger than ever. I think its lasted so long because it's always about making us think and that is what makes it one of the best ideas ever created for TV. You can often say that star trek is one of those scfi ideas that has such ideas that talks about what it means to be human and our social conditions. So today i am honoring star trek for its 50th  Anniversary. Happy 50th  Anniversary to star trek. So for my special tribute review.
Let That Be Your Last Battlefield review
The vision of Frank Gorshin with half 'white face' and half 'black face' in 'Star Trek: Let That Be Your Last Battlefield is burned into my memory as a classic example of Roddenberry's brilliant social commentary. It is star trek's nature at its finest to tell us about social commentary as one can sum it up to it about being different that makes for some of the worst social injustices. The differences of one person is still very much something we talk about even today. I would say this tale turns racism on its head in a smart way. Its way of addressing how racism can effect a world's nature. It is directed by Fred Freiberger whom with the cast and writers really made a story about racism come to life. This is a tale that hits home strongly on gene's social message of the series. It is one of those fine tales you can watch anytime.
The Spock rating:
the city on the edge of forever review
The city at city on the edge of forever may be one of star trek's finest hours. It's one of those episodes that really does have such depth and charm that makes it stand above and beyond the rest of the series. Written by science fiction legend Harlan Ellison and guest-starring Joan Collins. This is star trek at its finest. This classic tale is often considered by Trekkies to be the finest star trek tale of all time. Kirk, Spock, and McCoy find themselves in 1930s New York, where a chance encounter could have disastrous consequences on the future if they alter events in any way. It's one of the first tales on TV to deal with the ripples of time travel. Time travel is a new idea for this period as we had shows dealing it softly at its time as this tale is the highest praised story of star trek for good reason. The City on the Edge of Forever" is a love story about Edith Keeler and Jim Kirk which really shouldn't happen as the ripples of such a love would destroy the timeline. It's at a Kirk story as we deal with Kirk's humanity as he must follow prime directive yet he feels so passionate for this person. It's a moral test for captain Kirk as he really by end does feel broken up by his choice. It has moments where you think timeline may be altered as by end it is not altered as we see as Kirk makes right choice in end for the best of the timeline. Kirk's test of humanity is what makes this tale a classic tale to watch for the ages. Its classic trek at its finest with great acting and writing and direction makes it a wonderful tale that is classic star trek at its finest.
The Spock rating:
Mirror, Mirror review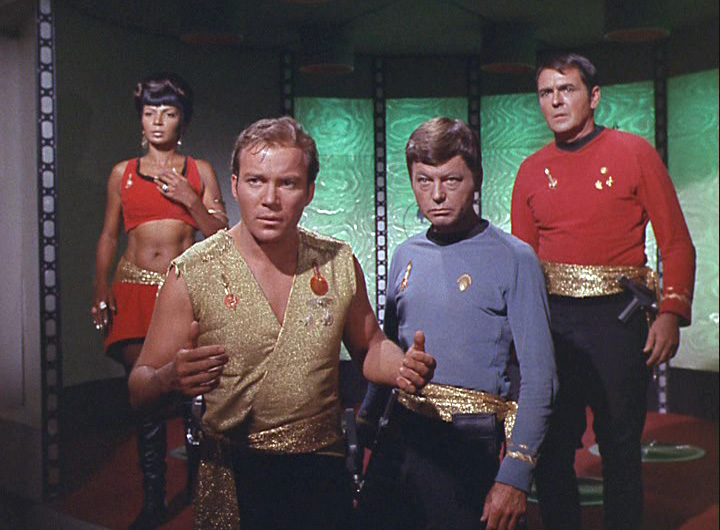 Mirror, Mirror may be among some of the best the series offered us. It's a tale that really does triumph of character examination. A landing party of Kirk, McCoy, Scottie and Uhura is beaming back up from negotiations with the Halkans for dilithium-crystal mining rights when an ion storm opens a porthole between two parallel universes thus they end up in another universe they do not recognize. This is the best written and acted tale of the series. Its acting of the cast is above and beyond the call of duty. The cast play two roles each their good and evil half it's such a mirror of roles that one can see a depth of acting form everyone in the cast as they nail home such amazing levels of acting. It's the finest direction too as we see the crafting of this tale was one so good as its way of making each turn in the story feel as natural to the tale makes it among the finest of star trek. This tale goes beyond the call of duty to tell us one of the finest tales ever told on TV.
The Spock rating:
I remember the first night that star trek next generation aired as i watched it. It did show me a new frontier. It's about the idea of humanism as gene would quote it to be. Space the final frontier. These are the voyages of the star-ship Enterprise. It's continuing mission, To explore strange new worlds, to seek out new life and new civilizations. To boldly go where no man has gone before, let's go boldly where no man has gone before. We are bold explorers that explore our past to better understand our nature and we explore space often to find a new future. Mankind at its heart are explorers. Star trek teaches us to be our best as humans and find a way to live better as humans. The human race is a remarkable creature, one with great potential, and I hope that 'Star Trek' has helped to show us what we can be if we believe in ourselves and our abilities." – Gene Roddenberry. Gene Roddenberry created not only a vision but a philosophy that expanded what is possible. His vision was to create unity, curiosity, taking chances and going where no one has gone before. It's that vision that keeps star trek lasting for so long. Thank you Gene Roddenberry and the many talented hands beyond this wonderful idea and vision. Let us always remember we must take chances and go where no man has going before. as Kirk ended it. second star straight into morning. They have been our guides for 50 years. Star trek continues grow stronger each year. Live long and prosper. happy 50th anniversary to star trek
#BoldlyGo50 #StarTrek50 #BoldlyGo