https://www.facebook.com/Wolffianclassicmoviesdigest
The collective sigh of relief heaved on V-J Day ought to have inspired Hollywood to release a flood of "happily ever after" films. But some victors didn't feel too good about their spoils. They'd seen too much by then. Too much warfare, too much poverty, too much greed, all in the service of rapacious progress. A bundle of unfinished business lingered from the Depression and nagging questions about ingrained venality, mean human nature, and the way unchecked urban growth threw society dangerously out of whack. Writers and directors responded by delivering gritty, bitter dramas that slapped our romantic illusions in the face and put the boot to the throat of the smug bourgeoisie. Still, plenty of us took it and liked it. Thus noir and those dangerous dame came into being. I am gonna talk about many great noir classics that remain timeless
Murder, My Sweet (1944) review
This 1944 adaptation Based on the novel Farewell, My Lovely by Raymond Chandler, Edward Dmytryk's film adaptation Murder, My Sweet is one of the essential works in the genre of film noir. The film stars one of Chandler's most famous characters: private detective Philip Marlowe (Dick Powell) has been arrested and explains his story to the police in a flashback. Dick Powell plays Philip Marlowe in such a way that brings out all the raw charm of this hardboiled dick as he played it lightly but really charming making this role shine.
Anne Shirley plays an amazing role in farewell my lovely as she plays her last screen role we see her at her best as her acting is top notch. Murder, My Sweet is one of those very night owl noir classics. The flim  is atmospheric and looks great with wonderful direction and cinematography with very wonderful acting makes murder my sweet stand among classics as its truly one classic noir classic you should see today.
There was Siodmax' "The Killers" in 1946! There was Huston's "The Asphalt Jungle" in 1950 and in between was RKO's OUT OF THE PAST in 1947. Together these three films represent the very best film noirs that ever was to come out of Hollywood or ever would again.
Kathie Moffat is the greatest of all femmes fatales, because she's the least caricatured. She's not a scheming black widow, just a totally selfish, cowardly woman who feels no remorse for anything she does, and who happens to be beautiful and alluring enough that we can believe any man, even a smart and tough one, would fall for her. Jeff and Kathie's romance is genuinely rhapsodic, nothing like the usual mating of temptress and chump; they're both so sexy and smart and wised-up, always getting the joke together. The disillusionment wouldn't be so compelling if the illusion weren't so lovely. When Kathie shoots Jeff's partner, Mitchum—in a reaction shot lasting all of two seconds shows Jeff realizing, and instantaneously coming to terms with, the fact that the best thing that ever happened to him is also the worst thing that ever happened to him. He looks simultaneously shocked to the core, and as though he'd expected it all along. Performances are superb throughout. Here the dozy eyed Mitchum – in his first starring role – solidifies his playing of the private eye. But he also shows he could cut a wholly acceptable romantic lead helped along by his mellifluous and soft voiced atmospheric narration. One scene in particular is very effective where he is waiting for her on the beach at night and when she arrives Mitchum's voice is heard gently on the soundtrack …."Then she'd come along…..just like school was out and everything else was just a stone by the sea". The wonderful Jane Greer is the quintessential femme fatale. Her gentle saintly beauty belying her treacherous, underhanded and calculating evil. And a young Kirk Douglas – here just feeling his way in movies – is fine as the courtly but odious villain. Adding greatly to the whole thing is the marvellous score by RKO resident composer Roy Webb which features a memorable and lingering main cue that becomes a tender love theme for the love scenes and is transformed into an exciting big band jazz number for the black nightclub sequence.OUT OF THE PAST is the archetypal film noir! An outstanding document of what Hollywood could achieve in their golden past as its cast is just wonderful,great story,wonderful direction,everything is top grade in every way,it's a classic that you should watch anytime
The Maltese Falcon Review 
In this noir classic, detective Sam Spade (Humphrey Bogart) gets more than he bargained for when he takes a case brought to him by a beautiful but secretive woman (Mary Astor). As soon as Miss Wonderly shows up, trouble follows as Sam's partner is murdered and Sam is accosted by a man (Peter Lorre) demanding he locate a valuable statuette. Sam, entangled in a dangerous web of crime and intrigue, soon realizes he must find the one thing they all seem to want: the bejeweled Maltese falcon.(goggle plot)
The Maltese Falcon' is the granddaddy of the modern detective movie as its the debut of John Huston as a flim director along with it made Humphrey Bogart a star as its based upon a Dashiell Hammett's novel as this movie is a groundbreaking crime drama.
Samuel Spade played by Humphrey Bogart is what we call the classic detective of noir as he truly crafts out a wonderful role as he brought to life on the screen a new type of hardboiled detective who was destined to become the template for a whole succession of others who would appear in numerous films noirs particularly in the 1940s and 1950s.Peter Lorre's Joel Cairo was a resolute picture of classic villainy as truly nails home such a wonderfully crafted out role. He plays the role with such a cool charm and wit that brings to life a Dashiell Hammett character in a way that really does bring out such a collective charm as he does such a wonderful role. Mary Astor truly is wonderful in her role as Brigid O'Shaughnessy is a striking picture of feminine deceit and betrayal. She is a confirmed liar whom can be just as deadly as she is beautiful as she can make love to Bogart's character one mine then almost kill him the next. Her performance is surely one of the screens finest ever crafted as she really brings home this complex dame to the screen.
The screenplay by John Huston wonderfully crafts out a wonderful screenplay as its one of the finest noir classics all time. The plot of this movie takes the novel of the same name to screen with impressively written dialog and dark humor that is delivers wonderful acting of this sharp screenplay. The direction of this movie is wonderful for a debut of a director with wonderful cinematography. The The film's high contrast B&W lighting renders an effective noir look and feel that would be copied for ages to come. This the prime directive classic that set the bar for noir to come.
The characters are complex. The acting is just wonderful. The screenplay brings novel to screen with perfection. The direction truly is outstanding. The cinematography is wonderful. The dialogue is wonderfully crafted out for each scene. This is a classic that takes a classic novel bringing it to screen with such charm that it makes it one of the finest book to movies ever crafted out on the screen. This is a classic movie that you should watch today.
I Wake Up Screaming review 
Victor Mature, Betty Grable, and Carole Landis had all been in movies together in various combinations, but I WAKE UP SCREAMING (IWUS) was the first film noir all three of them starred in. Maybe that's why This movie feels so fresh and different. The movie starts out more like my fair lady then most noirs it feels like a change for noirs.  Betty Grable in her frist dramatic role which is one great role for her to play as she really gives such an amazing performance as an actress in this movie. Carol Landis is truly amazing in this movie in her outstanding role. Victor Mature gives us one great performance as an actor. This noir classic is early in the noir cycle as it uses many ideas of shadow and light to great effect. This movie will keep surprising you with many twists and turns. The supporting cast which includes Allyn Joslyn and Alan Mowbray among many others all give us such wond
Fallen angel review
Otto Preminger directs this noir classic. Fallen angel is another gem form this wonderful noir director which ended up on cropping room floor by critics at the time. It's quite sad as . Alice Faye gives us her finest role on the screen.  Dana Andrews, with all his unique ambiguity and minimalism, turns in one of his finest performances ever; just a hint of his outstanding performance. Charles Bickford is superb in his role. It's such a joy as this movie has a excellent cast and cinematography as this movie is a treat to watch from start to finish. It's simply a gem you should see today.
Born to kill review
Born To Kill is truly a work of art in movies. Its simply one of those wonderful noir classics that one should watch today. There are so many elements that make this film memorable form  Lawrence Tierney as Sam, the amoral killer is one of the few truly scary villains as he truly is one of the worst villains ever on the screen.  Claire Trevor is a subtitle actress giving us another amazing performance as Helen a woman trapped in what she can't have and a desire for Sam,its truly one amazing performance as another ruthless dame. Elisha Cook, Jr is truly wonderful in his role. Born to kill is a gem one should watch today.
The Postman Always Rings Twice review
Lana Turner and John Garfield generate sparks in this excellent crime thriller that is one of my favorite classic noir gems all time. I did not expect any noir classic to be along the lines of any other noir classic all time. The original book published in 1934 by James M. Cain (author of "Double Indemnity") was a gritty unsentimental story of a low-class drifter and bum, Frank, who is taken in by a German immigrant, Nick, who owns a roadside café and his beautiful wife, Cora, who turns out to be much darker on the inside than the facade of her pure white skin. Cora, we learn, is dissatisfied with her life married to this older immigrant and the drifter becomes her catalyst to change her situation. This book really lightly works the book into a noir classic.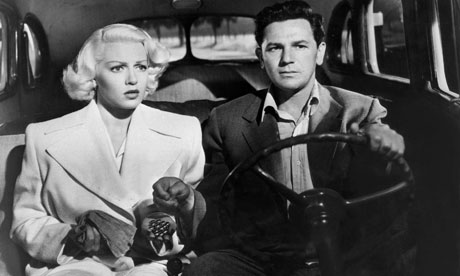 Lana Turner plays Cora Smith, a restless young waitress married to a much-older man who runs the roadside diner as she is restless and not in love in ages to him as she meets a younger man that sparks her interest. She plays quite a wonderful role in this movie as she truly shines as Cora Smith as she truly shines in the role.  She plays out this role to a level of craft that she delivers one of her truly finest roles all time. 
John Garfield plays out one of his finest roles on the screen. as Frank Chambers, a drifter who turns up at the diner and is captivated by Cora. This is his finest hour of acting on the screen.
Cecil Kellaway is great as Cora's naive husband Nick, whose main concern is the diner. He truly nails home a fine home as this naive husband in The post always rings ring. It's his level of craft and skill as an actor that he delivers one truly fine performance. Hume Cronyn nails home a fine performance as Arthur Keats. Leon Ames as Kyle Sackett giving out a fine performance. Everyone gives such fine performances in this movie even the supporting cast of talents delivering home some of the finest acting on the screen. 
The movie works very well under its own terms, particularly because of the outstanding chemistry between the leads John Garfield and Lana Turner. This plays up the unrealized sexuality. Lana Turner is quite the femme fatale. It's her way of playing Cora which really lights up the screen. 
Tay Garnett's Direction and craft really crafts out this noir classic that is really light noir compared to many other noirs but he crafts out such a wonderfully crafted gem of A movie. A screenplay by Harry Ruskin and Niven Busch which really touches upon the  novel by James M. Cain which they craft out this movie. This movie is considered a big breakthrough for censorship.
Costume designer irene lentz was tasked with fulfilling the director's vision, created a series of simple yet effective costumes as such she crafts out such great costumes. These outfits work perfectly to make Lana Turner turn heads and catch you by storm. Cinematography by Sidney Wagner is really wonderful as ever. It's such effective tones in the movie that brings the screenplay and direction and acting to life on the screen. 
Adapted from a novel by James M. Cain (who also wrote Double Indemnity and Mildred Pierce), Postman is often heralded as a breakthrough in the battle against screen censorship. MGM secured the rights to the novel in 1934. Lana Turner and John Garfield and Cecil Kellaway and others in the cast all shine together to bring to life this wonderful movie to the screen with such great direction and Cinematography and Costume design. The Postman Always Rings Twice ring is a noir gem that you can watch anytime and love greatly it is surely a treat to watch this gem of a movie. So watch this outstanding classic today.
Today i talked about many diffrent noir classics that remain timeless that you should see today. Noir is one of the best to watch as always. You should watch these noir classics and many others that are considered the best. I hope you enjoyed this talk today on noirs classics.