MUSICAL STORYTELLING part 2
Today for part II i begin where i left off on the Disney classics.  It is the nature of Disney movies to seem to find a way to tell us a story that makes feel like a kid again.  It is the pure Disney magic and charm that has kept it alive for such a long time as i talk about the connections of music in Disney animated classics today which strikes me that truly connects you by its music alone so much so that Walt Disney called the directors room the music room as you never did story-point without it as music is the language that goes beyond the spoken word in classic Disney animated movies and animated shorts.   So i hope you enjoy my talk about it today for the second chapter as i dive further into the  musical story-telling of Disney classics for its second chapter you will see further how Disney made music key to the movie and short i hope you enjoy this look.
Dumbo
Dumbo is a favorite among Pixar's brain trust as it features all the hallmarks that would characterize the studio's own flims it has great characters  and a story full of warmth and a lot of heart. This movie turns 76 years old today as it has not only inspired pixar but countless over the years. Dumbo was the flim was the little flim that did big things much like dumbo. The movie's hero as the studios past efforts of Pinocchio and Fantasia were flops upon their release as this movie was made a b-picture on cheaper budget it became a huge hit as their frist hit animated movie snice snow white.  Its a simple story of the ugly duckling retold in a new way.
Dumbo is the shortest feature films Disney produced it arguably possesses more memorable moments than any of their other movies. From the stork delivering newborn babies which we see baby mine song playing as you feel for dumbo and its mother as both suffer so much.  It has some of best songs of the period compared to the cloyingly sweet music of the other Disney films made in the 1940s the songs all possess an infectious and poppy lightness When I See an Elephant Fly, Elephants on Parade and Song of the Roustabouts are all numbers that will be bouncing around your head for days afterwards as i do see this score has many diffrent tones that all stand out.  It is films like Dumbo that made me fall in love with animation in the first place as this classic is simply a classic in every right that will charm you instantly. It's a classic you should see today.
Bambi
Bambi stands among the best of animated flims all time. Its opening scene where the  multi-plane camera glides through a quiet forest until the stirring forest fire climax. Walt Disney's Bambi is a jewel of a movie that touches upon nature in the circle of life. Its the shortest of animated flims. It has a wonderful musical score with four musical songs. love is a song opens up the movie as its an enjoyable little song. Little April Shower is a song that feels most repeatable of its songs. Let's Sing a Gay Little Spring Song is its spring song which plays for spring its a very charming little song.  Looking For Romance is another charming song about love in the movie. Bambi is a simply marvelous little classic gem.
Cinderella
Walt Disney's CINDERELLA takes the fairy-tale classic with humor and suspense while retaining the tale's essential charm of the fairy-tale. The  songs  of the movie which are Bibbidy-Bobbidy-Boo" and "A Dream is a Wish Your Heart Makes among its the work song all make such simple joy and CINDERELLA song is such a wonderfully repeated often song in this classic gem. "Cinderella" is one of the classics produced by Disney that belongs not only to my childhood as simply its a fun little gem of a movie.
Alice in Wonderland
Alice in Wonderland is, without a doubt one of the most original, distinctive, imaginative and creative movies Disney ever made as its simply one of my favorite animated movies all time. This version on Alice in Wonderland is one of the best takes of the classic book. In an effort to retain some of Carroll's imaginative verses and poems, Disney commissioned top songwriters to compose songs built around them for use in the film. A record number of potential songs were written for the film based on Carroll's verses as each song is done with the verses in mind they are fun songs that are fresh and different. The cast of voice actors all give out such wonderful performances. Alice in Wonderland is, by far, the most inventive and original of all the Disney animated classics as it's simply a marvelous classic.
Peter Pan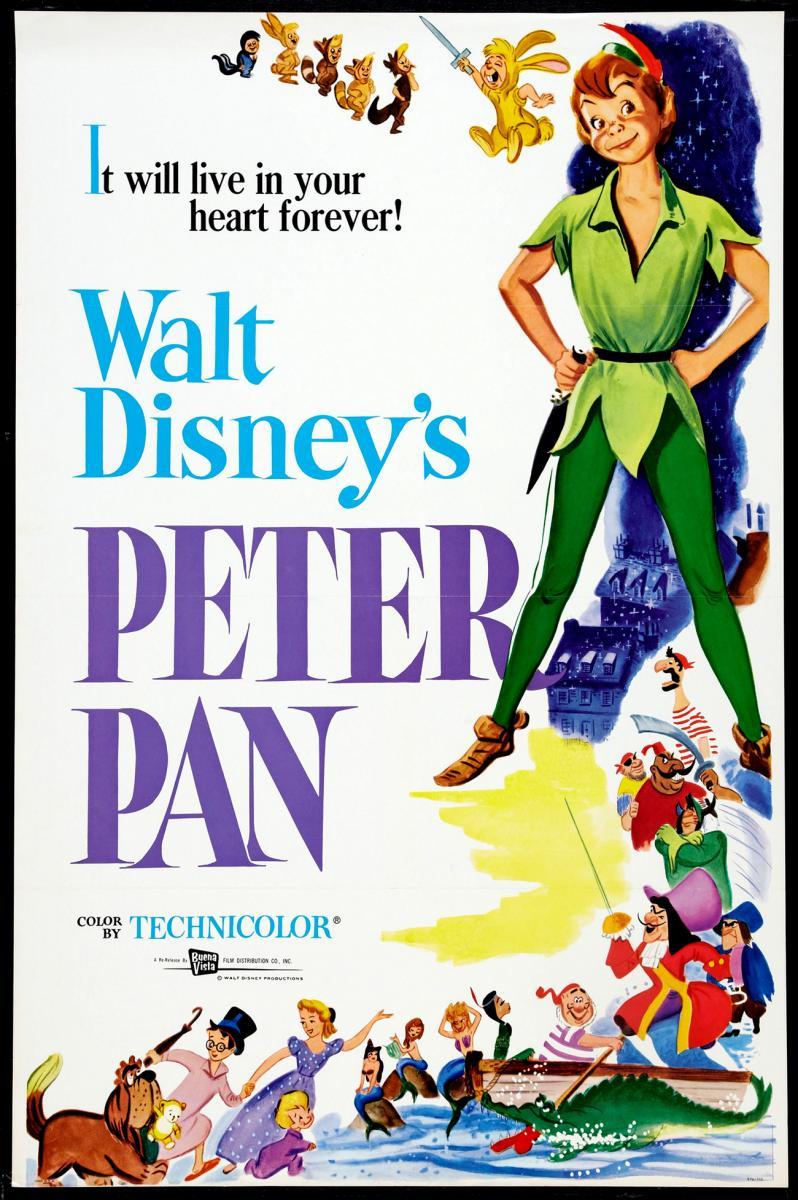 Peter Pan is undoubtedly one of the best of Disney's films. Peter Pan has its virtues as its a return to form Alice in wonderland driven by thought provoking ideas, some appealing characters, and memorable music with charming songs that all match the charm of many other Disney classics.  Peter Pan is truly one of the best of Disney classics all time as simply its a marvelous must see movie all time.
Musical Storytelling part 2 ending
Today i talk about the second part of a big epic break-down of Disney classics. I will go into a diffrent trait next part as i simply find the many beats to connect to the next set of Disney animated classics. I hope you enjoyed part one as i simply tried my best do something new on my blog for this feature artcle as next time i am gone into the worlds of silly symphony for part 3.Its time for another adventure into Disney magic next time.