Today I talk about The lost art of screwball comedy as i will give more in depth talk about the classic genre of screwball comedy which i consider a lost art by today's time with its funny slapstick humor to its witty and charming lines to its wonderful love stories that have couples matching wits with each other. The screwball comedy was a genre that defined 1930's and 1940's in many ways as its what defined the comedies of its period. So lets begin this talk about them.
The lost art of screwball comedy(https://www.facebook.com/Wolffianclassicmoviesdigest/)
In the 1930's and 1940's,We had movies had movies that began with  a fanciful message printed on screen, beginning "Once upon a time A hangover from the silent era but also an invitation to view a modern urban setting as somewhere romantic and faraway. The device was especially common in screwball comedy.
Screwball comedy (the term was coined by a publicist in the mid-1930s) is one of those genres, like film noir that remains hard to define as what exactly is a screwball comedy or a comedy drama or comedy?  Originally, screwball films were those in which glamorous stars were persuaded to behave like clowns like in bringing up baby.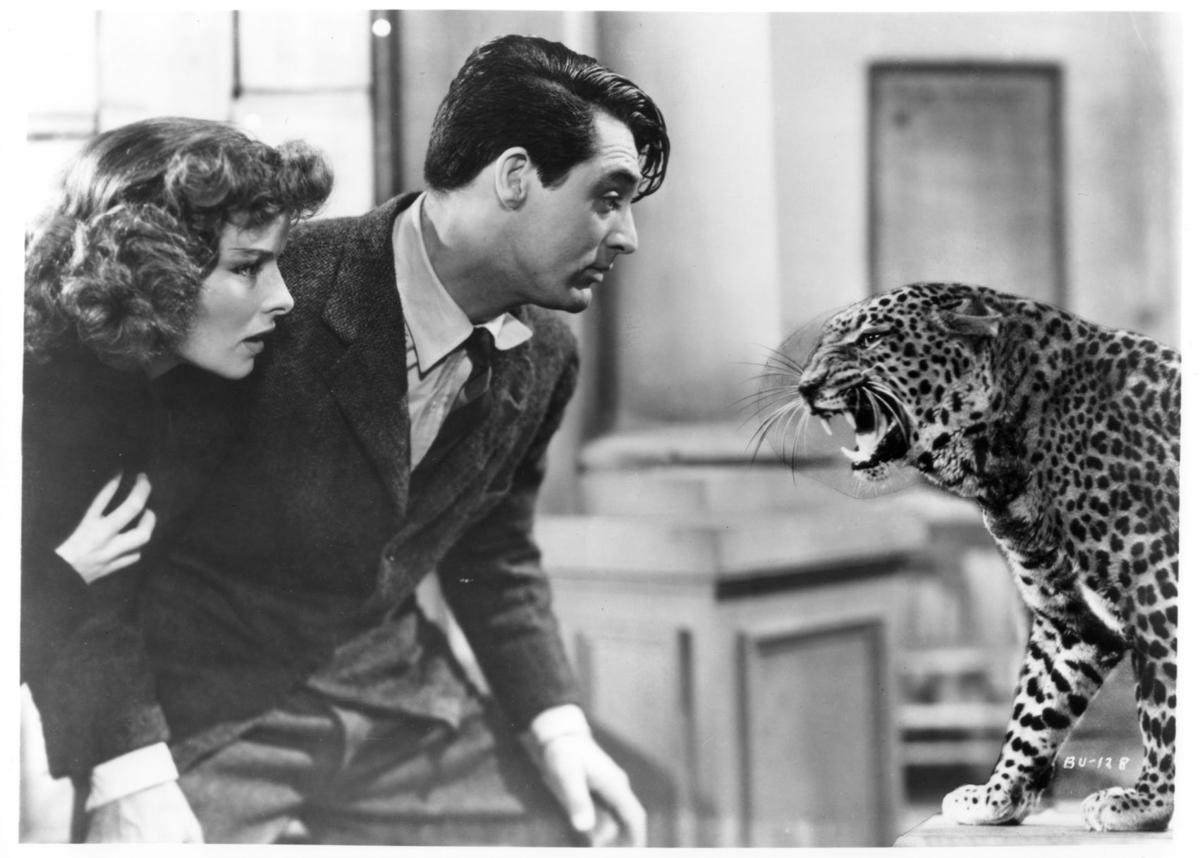 A full-fledged screwball comedy is always a romance: the story of a man and a woman who remains at arm's length yet manage to take the utmost delight in each other's cleverness or foolery to try outwitting the other person. I would point out man of the genre many consider screwball do have these kinds of stories or slapstick humor which is another form of screwball comedy.  I would point out another fine example of the screwball is the battle of sexes comedies where both sexes battled wits with each other. I would say comedy of that would be better refined if we went back to that system of comedy which we be the movies that starred Kate Hepburn in the 1940's which were comedies.
The screwball also could be very risky subject matters such as the Lubitsch touch comedies which are Trouble in Paradise and Design for Living among other Ernst Lubitsch comedies which were broadly about sex and things you didn't discuss in society at the time. It's such a taboo yet a very fun outline that still defines comedy to our date now.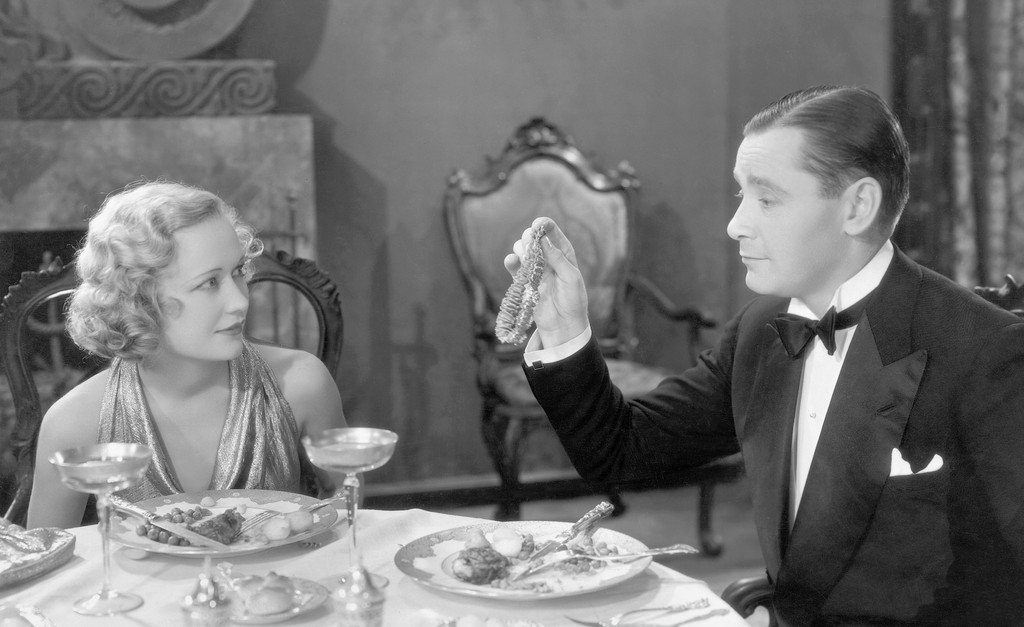 Movies with most of the essential screwball ingredients started to show up on the screen in 1932, notably Trouble in Paradise which led to movies such as bombshell starring jean Harlow in the same year the thin man had another sub-genre of comedy show up the mystery comedy of the 1930's which has some very delightful classics you should see today.
Myrna Loy and William Powell, went on to make five more movies about Nick and Nora Charles as well as several very good non-mystery comedies, including I Love You Again and Libeled Lady as the duo would be one of the most iconic duos of comedy of any era. I simply adore the thin man movies as they are such classic gems. The powerful nature of the fast talking screwball comedy genre is such a charming one to watch on the screen anytime. You have such wonderful wit and humor and sharp writing and such great humor with wonderful acting to match them upon the screen. It's time for some examples of this genre now.
 screwball comedy reviews
His girl Friday review
His girl Friday is a classic comedy classic that is directed by Howard hawks. His girl Friday is one of my favorite movies all time to watch again and again. . Cary Grant plays a wonderful performance in his girl Friday. Rosalind Russell gives out an amazing performance in his girl Friday. Cart Grant and Rosalind Russell who make a great team together on the screen. Howard hawks compositions are layered with fore and background action and depth to each of its scenes. His girl Friday is about its dialogue more than its visuals elements on the screen. It comes so fast and sharp on the screen. This is a comedy classic that you will simply adore watching unfold as it's just so much fun to watch it unfold on the screen.
My Girl Friday successfully combines screwball romantic comedy with biting satire that truly makes it the true comedy classic that you should see today.
The Ruth rating:
Trouble in Paradise (1932) review
This pre-code sophisticated comedy epitomizes the European attitude toward sex. It is more open in sex. It is pre-code in that nature toward how it plays sex. It is based on Laszlo Aladar's play The Honest Finder which was the springboard for the movie. The sexual undertones are very frank. I would not call it as sexually open as Design for Living which is far more sexual in nature. This was a taste of what was to come for his works. Trouble in Paradise is a comedic counterpart to a melodrama.
Lubitsch was best known for what we call the Lubitsch touch is a subtitle way of referencing sexual shenanigans that his characters do upon the screen. Lubitsch's Magnum Opus faced controversy three years after its initial release because of the conservatism of the Production Code. This pre-code sophisticated comedy epitomizes the European attitude toward sex which is more open in sex that feels modern. . The movie is tamer than his other film design for a living for its sexual tone on the screen. It's a spellbinding comedy classic about a a suave jewel thief (Herbert Marshall) falling in love with his intended victim (luminous Kay Francis) much to the displeasure of his girlfriend (Miriam Hopkins) whom all give out wonderful performances in their respective roles for the screen. . Kay Francis steals this film as she truly shines in her wonderful role that is hard to do with Miriam Hopkins. She is exquisite and enchanting and absolutely charming. Miriam Hopkins gets the better comedic lines and the guy even if lesser then Kay she still gives out a marvelous performance. Herbert Marshall shows an unexpected flair for light comedy while Charlie Ruggles and the ubiquitous Edward Everett Horton provide their usual first class supporting roles that that truly shine in their performances on the screen. Ernst Lubitsch crafts out a masterpiece of early comedy that truly shines in every manner making it a must see comedy classic for all time.
The Ruth Rating:
Ball of fire review
Howard Hawks Ball of Fire is an urban update of the Snow-White fairy-tale with an urban twist. Ball of fire was written by Billy Wilder with Howard hawks directing this movie. It remains one of the finest screwball comedies ever put to the screen.
Ball of fire remains one of my favorite screwball comedies all time. This movie has such wonderful acting by Barbara Stanwyck and Gary Cooper. The ever wonderful Barbara Stanwyck really leads the show as Sugarpuss O'Shea who hides with them for her gangster boyfriend whom she becomes best friends to them in the end. She plays the role in a very wonderful way that really charms you to watch on the screen. Barbara Stanwyck is warming up in this movie for her acting skills are truly growing as it goes along to its ending. . Gary Cooper gives us one amazing performance for the screen.
The groups of professors are all very good supporting actors as Oskar Homolka and Henry Travers and S.Z. Sakall and Tully Marshall and Leonid Kinskey and Richard Haydn and Aubrey Mather whom I would say all give out such wonderful performances on the screen. I would say Henry Travers is among cast of the stand out character actors as he played the angel its Wonderful Life as he plays such an amazing role for this movie. I would say each of these professors are played by very wonderful character actors that each give out wonderful performances. Allen Jenkins is a garbage man seeking knowledge for pecuniary gain as he gives a very good acting   performance. The movie has very wonderful acting by everyone in its cast of talents.
Dana Andrews plays against type as a gangster in one very good performance for this amazing actor of the screen as he as the gangster boyfriend of Sugarpuss O'Shea for this movie. Mary Field as Miss Totten, the daughter of the wealthy inventor who created the foundation really gives a good performance in her role. The whole of supporting cast of many great acting legends all give such wonderful performances.
Ball of Fire is one amazing classic that you should see today.
The Lady Eve (1941)
It's no accident when wealthy Charles (Henry Fonda) falls for Jean (Barbara Stanwyck). Jean is a con artist with her sights set on Charles' fortune. Matters complicate when Jean starts falling for her mark. Jean is fixated on revenge and still pining for the millionaire, devises a plan to get back in Charles' life. With love and payback on her mind, she reintroduces herself to Charles, this time as an aristocrat named Lady Eve Sidwich.
The Lady Eve is one of my favorite movies of the 1940's. It is one of the best movies that Barbara Stanwyck ever on the screen. This comedy treat truly always delights me anytime I watch it on the screen. Henry Fonda and Barbara Stanwyck truly shine together as a duo as both acting legends give us their finest performances all time on the screen. It has brilliant writing and direction provided by Preston Sturge whom crafts a wonderful comedy classic.
Screwball lost art closing thoughts.
I absolutely love the classic screwball comedies of the 30's and 40's. They are indeed fascinating… funny, frenzied and full of crazy antics, witty dialogue and numerous quirks and mishaps. Also starring some of the finest comedy actors and actresses of the era or any era of the screen as such wonderful legends.
I talked about the lost art of screwball comedies today in some depth as i talked about many movies that dealt with this marvelous genre that had such broad and diffrent ranges in the 1930's and 1940's. Its such a fun genre that died out by end of 1940's which should return to our screens today. I hope you enjoyed today's talk about it and join me again for another talk in the future.