Today I talk about The Searchers which in terms of classical westerns really outshines many others of the genre. John Ford's most compelling Western avoids  association with the genre's established precepts. Its one of the best movies ever made for the screen as my review today looks upon this classic movie as i define this classic gem.
In terms of classical storytelling The Searchers John Ford's most compelling Western avoids many of the genre's older traits. The film stars John Wayne, an actor eternally linked to Westerns, perhaps giving his best performance in any Ford film as he plays a very racist man that hates Indians with a passion in many ways you shouldn't connect to this hero yet he is an interesting hero that is deeply flawed with so many diffrent sides to this man.
By 1955 when production began on when production began, The Searchers would be Ford's first Western in five years a personal risk after a number of commercial failures and artistic missteps caused him to contemplate retirement as he filmed what would be one of the finest westerns ever made. The Searchers comes naturally, as beyond its unequivocal beauty and dramatic intensity, there exists what appear to be incompatible narrative developments, symbolism, and thematic undercurrents signifying the end product that is something so profound upon the screen with amazing shots and an interesting character and story that unfolds upon the screen. When Edwards (John Wayne) returns home to Texas after the Civil War.
When members of his brother's family are killed or abducted by Comanches, he vows to track down his surviving relatives and bring them home. Eventually, Edwards gets word that his niece Debbie (Natalie Wood) is alive, and, along with her adopted brother, Martin Pawley (Jeffrey Hunter), he embarks on a dangerous mission to find her, journeying deep into Comanche territory.(plot form goggle)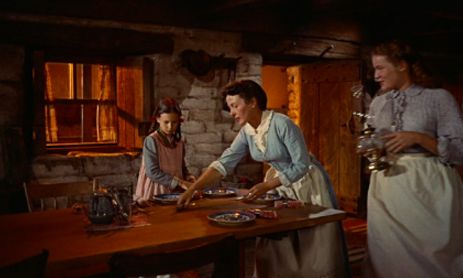 The Searchers sets up grim set of conditions, ranging from the landscape to individual character histories. The first iconic shot (mirrored by the film's last iconic shot) of Martha opening the front door seems to frame the outer terrain like a photograph that shows us the vast landscape upon the screen. I would say many do hate this movie because its hatred towards Indians as the villain is common in many westerns.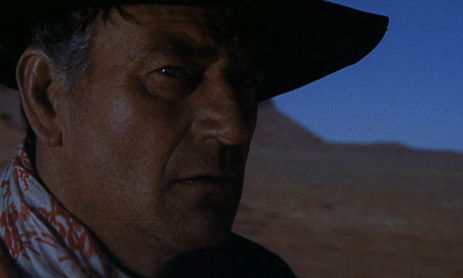 A clue to Ethan's hatred for Comanche Indians appears early in the film, when the younger Debbie goes to her hiding place before Scar first attacks in the film. He kneels down in the graveyard by a headstone, which, appearing for only a few frames, reads: "Here lies Mary Jane Edwards killed by Comanche's May 12, 1852 A good wife and mother in her 41st year." Sixteen years earlier, was Ethan's own mother massacred by Comanche's? He is a deeply flawed man on a quest to save a woman for years. It's the quest of this man and his drive to save his family that really drives this hero to many points of rage that you see his hate come upon us and the dark humor used is often to tame down the ways of this dark hero characterizes the film's fundamental struggle whether or not Ethan and Martin actually find Debbie is less the fear than what Ethan will do when he finds her.
In the film's most memorable scene, one of the greatest single moments of film, Ethan emerges from Scar's tent on his horse and spots Debbie, who, dressed in full Comanche attire, runs in terror. Ethan chases her down a hill and corners her; Martin trailing behind yelling "No!" for Ethan not to do what he has intended to do from the outset. Ethan gets off his horse and picks Debbie up, raises her in the air like a child, the fear radiating from her. He lowers her into his arms, and says, "Let's go home, Debbie. Ethan also is genuinely scary. His obsessiveness, his absolute hatred of Comanche's and all Native Americans and his loneliness set him apart from any other characters Wayne played as its one of his finest with many layers to him making you wonder about him throughout the film.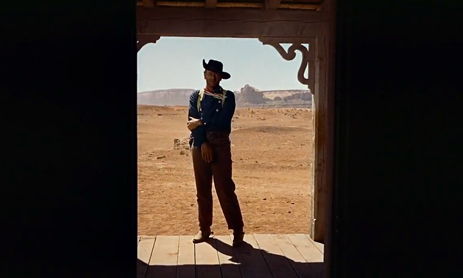 John Ford was particularly proud of The Searchers, as was Wayne, who named his son Ethan after his character. The film's initial critical reception, however, lacked passion, as did its box office receipts, and Ford was devastated by its apparent dismissal reputation at the time of its release.  The picture's reputation would grow over time, earning recognition on top film lists as it is one of the finest movies made form this genre with marvelous acting by everyone in its cast and marvelous direction and the cinematography of The Searchers is one of films finest gems ever made upon the screen. It contains painterly images of majestic scenery, some of the most remarkable ever captured. Historians and film scholars attest to its supremacy and recognize its influence on the medium and the artists working therein. And yet, the motion picture Ford considered his own masterpiece confronts prior standards, meets issues of revenge and discrimination within a ponderous text, and revises the director's Western model forevermore as its one of the finest movies ever crafted upon the screen. John Ford amends The Searchers from a traditional Hollywood Western into an uncommon human tragedy that makes this movie one of the finest classics you will ever see ever upon the screen that you should see today.
The Ruth rating: