Stanley Donen Remembered:a treasured legend((https://www.facebook.com/Wolffianclassicmoviesdigest)
I would cite that vertigo is my top favorite movie of all time. I always would cite that singing in rain is ranked fifth in my top favorite movies of all time. Its simply hard to pay tribute to a man that i had such fond memories of many of his classics today as Stanley Donen is a legend to my heart. Stanley Donen dead: Director of Hollywood's golden age musicals including Singin' in the Rain and Funny Face dies aged 94 as to say goodbye the last of golden age's directors is hard on me.
Stanley Donen Remembered:a treasured legend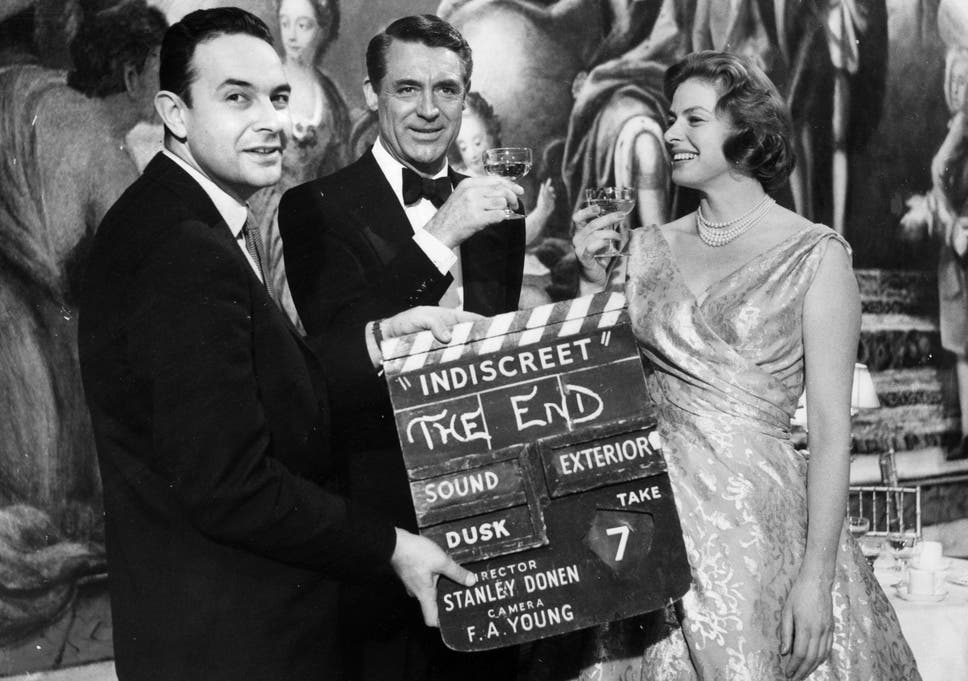 Stanley Donen, the deft director of such iconic movie musicals as Singing' In the Rain, Funny Face, Seven Brides for Seven Brothers and Charade who helped define Hollywood's golden age as he Donen remarkably never won an Oscar for his work, but was given a Lifetime Achievement Award by the Motion Picture Academy in 1998, "in appreciation of a body of work marked by grace, elegance, wit and visual innovation." He sang "Cheek to Cheek" with his statuette during his acceptance speech as simply was a joy to watch him do that. Born in Columbia, SC, Donan was a Broadway dancer and choreographer when he met Gene Kelly while dancing in the chorus of Pal Joey. He eventually moved to Hollywood to dance in MGM musicals, and when he was 19 Kelly got the studio to lend Donen to Columbia Pictures so they could co-choreograph Cover Girl. That launched a longtime collaboration that included Anchors Aweigh in 1945 before the pair co-directed 1949's On the Town, the Comden and Green classic produced by Arthur Freed that starred Kelly, Frank Sinatra, Betty Garrett and Ann Miller. It was Donen's first helming gig, which he followed by directing his idol Fred Astaire in 1951's Royal Wedding which would lead to a score of films with singing in rain being one of them.
Funny Face
Audrey Hepburn had always wanted to work with Fred Astaire, and she finally got her chance in Funny Face. In this shimmering, stylish musical that was one of frist movies i seen by Stanley Donen as i adore Audrey Hepburn so much. I really am fond of this movie so much.this was Stanley Donen's first of three films starring Audrey Hepburn. He would go on to direct her in Charade (1963) and Two for the Road (1967) as this movie is such a charming musical gem.
Stanley Donen's "Funny Face" was one of the best musicals that came out of Paramount, a studio not known for that genre. The film owes its appeal to Audrey Hepburn, an actress not known for being a singer, or a dancer, but who had enough charm to make the movie her own. The pairing with the great Fred Astaire pays off well because Mr. Astaire was always an actor who had enough chemistry with his leading ladies as he simply gives us such a wonderful role for him. The other surprise of the movie is Kay Thompson, who plays the magazine editor Maggie Prescott. Ms. Thompson makes an excellent contribution to the film as the no nonsense woman who ruled what the fashions of the day should be as shown in the pages of the magazine.
Funny Face" has a great cinematography, art direction, set decoration, costume design and most important, a charming and delightful Audrey Hepburn all make this movie a charming gem that i adore to watch often.
Charade
This film is often called the "best Hitchcock movie Hitchcock didn't make" because although the film feels like Hitchcock, it was actually directed by Stanley Donen. But Charade is Hitchcockian on purpose. Donen meant it as an homage and near-spoof of Hitchcock's films, especially those with Cary Grant as simply something he always wanted make movies like that. Its simply a fun classic that i recall watching couple times over the years as i would say its simply a marvelous classic that i adore to re-watch often.  The film certainly benefits from its terrific cast with both Grant and Hepburn offering up very good performances as its simply such a joy of a movie form start to finish.
singin' in the rain 
There is no movie musical more fun than "Singing' in the Rain," and few that remain as fresh over the years. Its originality is all the more startling if you reflect that only one of its songs was written new for the film as it's simply a magical treat with its wonderful cast of stars. singing' In The Rain is a collection of terrific, innovative song and dance numbers, transitioning the Hollywood musical into a new era, and in many ways setting the stage for what would become the high-energy music video in decades to come. Gene Kelly, who co-directed with Stanley Donen, projects a self-depreciating persona while infusing the dance numbers with unbridled joy and enthusiasm that simply is such fun to watch Singin' in the Rain remains a fantastic picture for the evolution of its story. It shows us the musical in a perfectly entertaining and original way with such a wonderful cast.  Singing' in the Rain benefits largely from their talent and screen presence that shines as its cast is perfect with such marvelous sets along with everything else. Singing' in the Rain is a classic that everyone should see. I hope you enjoyed my tribute to day to Stanley Donen today.  Its meant for a legend like you.