'The Trouble with Angels:the female gaze
The Trouble with Angels (1966) was the last film that Ida Lupino directed, coming at the tail end of her long period as a television director. In many ways, it represents a sharp departure from the socially conscious noirs that she's best known for, and yet for fans of the film, it feels like an apt continuation of the gendered critiques of women. I talk about this movie today.
The Trouble with Angels:the female gaze
Hayley Mills rebellious teenager is sent to boarding school and grows to appreciate the calling of the nuns who teach her a better way. Its a coming of age that follows the exploits of two adolescent girls as they traverse three years at St. Francis Academy that shows them getting into trouble. Veteran actress / director Ida Lupino who's current gig was directing Gilligan's Island was a natural choice to bring this movie to screen as she shows us a diffrent look upon women that is not the natural order of women. Its about a series about women. Hayley Mills plays the entitled brat, Mary, with just the right amount of mischievousness to make her likable to her role as she sees the death of elderly families as she doubts things.  Rosalind Russell brings her considerable acting chops to the role of Mother Superior. One would say ida's gaze upon the camera as she has her talents look upon the female gaze of how women are expected fill contain roles in our society.and funny coming of age story from Ida Lupino, the eighth and final of her directed as she has an all female cast give out such wonderful performances but its look may be bit jarring to some as you see this movie trough the eyes of the female gaze what we expect of them in a light tone.
A sweet confection with ambition mainly confined to light comedy, but with undercurrents of the lingering sadness of past lives. the fragility of a human life, that are just perceptible enough to take effect. Not a weighty or complex work, but it takes the time to absorb multiple points of view as we see the many points of view of women that you see how their husbands have died etc as some nuns lose their close friends you see them sad about it its somewhat sad at times as she gazes upon these troubled outlooks of life you see the girls try find something fun out of all the troubles. Its a very sincere outlook upon how women in society are expected fill contain roles but when they change their roles they are considered odd by society.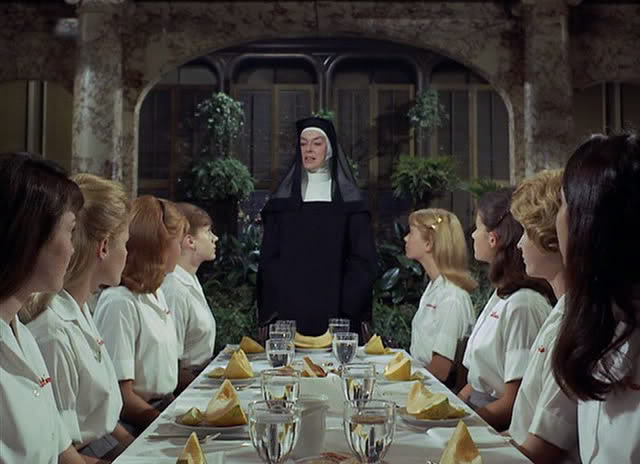 This is a story about human connection and decency that shows how humanity has such connections that people feel. . It's a coming-of-age tale that is not brought on through trial by fire, but mostly through inspiring leadership by example. The Mother Superior is a decent human being who cares about her charges that makes them understand they have better things in life then get in trouble. Gerry Goldsmith's versatile and evocative score. It turns on a dime from playful to stirring that really is something good to listen to upon the screen. This movie shows power of female friendship with their respective bonds. It's a very funny film too with the endless pranks proving to be constantly enjoyable when carried out and dealt with by such a talented cast that is simply a joy to watch form start to finish.