Westworld Had a Really Dark View of What theme-parks were like as its view caused a drop in people at Disneyland. It also had dark view of humanity.  today i talk about this cult classic and the TV show n its respective follow ups about how westworld addresses the bleak future of our world n how tech can really be something evil. so i can talk about it today.
Westworld, set in the American West in the mid-to-late nineteenth century, tells the story of a futuristic amusement park where many of the "cast members" (to borrow a term of Disney-world parlance) are not human, but rather humanoid robots as we see the scary bleak idea of how the future we will have these robots that we don't trust as these creations can be seen as mirroring those found in theme-parks such as Disney-land. This parallel with Disney, however, can be pushed further. In the 1950s, America was the model nation for the West in a postwar world and Walt Disney became one of its chief emissaries. The park's creator wanted to imagine a realm of dreams and fantasy. It was the public face of what would become a multibillion dollar corporation and culture-making machine. In the 1970s, the creation of Disneyworld went even further; the decision to open it part of Walt Disney's desire for full control over his creation (something he lacked in the crowded space of Anaheim). Over time, the multiple parks in the Disney Empire, perhaps not dissimilar to the many different parts of west-world. Re-watching the movie now you would consider it dated but even as TV showed us that we can't trust these ai in theme-parks how we to know if they can go crazy on us.
Parallels between humans and androids without actually saying as they simply are life-like robots that even die when shot like real humans. When the androids malfunction, they're brought to a repair shop. But it's not made up to look like some futuristic engineering space as repaired then brought to life. Although the death in Medieval World is the moment the humans in charge of Delos lose control, the real tipping point of the movie is when the humans decide to keep guests in a park they know is malfunctioning as the people running care less about safety then anything. Westworld's world is a reality is shaped by our world's view on f consumerism which show n other movies expand upon this notion. the worlds that Delos made in the tv show really show things changed from movie version in some ways with new layers building on top of the older ones like sediment in a geology of consumerism that really is scary in way.  It is  why many feared when movie released to go to Disney-land.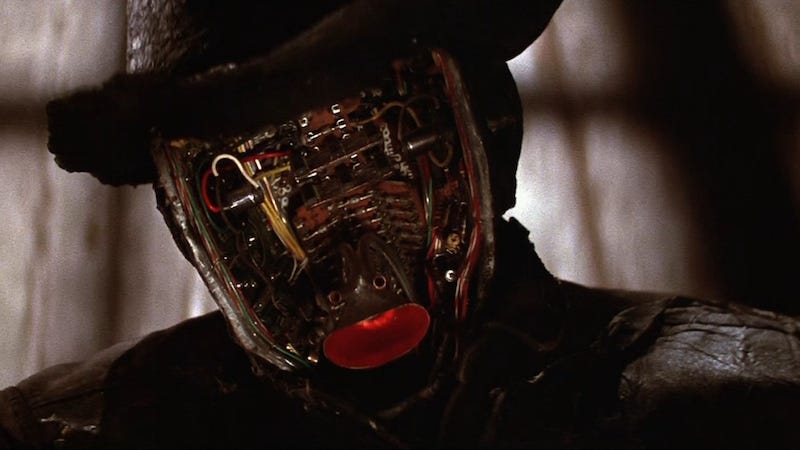 The Gunslinger feels like a Terminator more than anything else. but he also feels as human as the living humans in the film, including the West World guests that paid money to kill him over and over again along with many others in this world as made for humans to kill before they go crazy on us. It does also show the dark n grim reality of humanity we are always wanting control over everything as it also mirrors the control Walt wanted over this theme-parks. Writer and director Michael Crichton created an amazign idea that would later have other movie versions of this notion such as, Futureworld (1976), and a short-lived television series, Beyond Westworld (1980).and the TV show n Jurassic Park as the notion giving in Jurassic Park is controlling of dinosaurs as recreating wild-life for public show in a theme-park does address the nature of fear of these places to some as we may be able show you things in these theme-parks that are cool but they can be also scary as we can risk abusing that power too. Westworld's anachronistic frontier becomes a space of emotional and psychological rebirth for wealthy patrons and park staff as does in many of his other works too this theme can be scary or a good thing as looking upon this today i reflected upon this movie as its a great movie n its follow up movies such as Futureworld (1976), and a short-lived television series, Beyond Westworld (1980).and the TV show n Jurassic Park all are wonderful i hope it does show you an outlook of the things in ways you never seen before. I hope you enjoyed this talk today.