Cinematography of the third man
https://www.facebook.com/Wolffianclassicmoviesdigest
TODAY i talk about The Cinematography of the third man with an in-depth review that breaks down this classic gem for 31 Days of Oscar Blogathon as today for the crafts part of 31 Days of Oscar Blogathon as Its Oscars talk time again. Today as part of 31 Days of Oscar Blogathon which is hosted by Once Upon a Screen,Outspoken and Freckled and Paula's Cinema Club. Thanks to the wonderful hosts for today's event and check out others form this event.
The Third Man
(1949) Opening shots. 
Similar to other international noir genres, British film noir hardly fits the rigid categorical definition of noir based on Hollywood films. It does, however, contain many of the conventions and traits of Hollywood film noir such as a focus on the underworld of society, base emotions, and melodramatic events that portray an unjust and often cruel world. Carol Reed's The Third Man (1949) may be stand among the greatest movies ever made and it does rank almost among top British films ever made.
The third man follows  an idealistic American writer of Westerns as he arrives in the corrupted, disparaged city of post-WWII Vienna, Austria, which has been divvied into four sections: French, Russian, British, and American.  Holly Martins (Joseph Cotten) is an innocent, in some ways a clod, as he blindly follows a mystery, however dangerous, until its ultimate conclusion at the end. 
The third man has many key layers that it shares with american noir that may be a common thread of both ends of the great pond as its use of shadows and lighting really does also play a huge role into the movie.  A focus on the underworld of society of  Vienna, Austria. The base emotions, and melodramatic events that portray an unjust and often cruel world of post war  Vienna, Austria which is divided after the second world war into four zones French, Russian, British, and American.  Plot:Pulp novelist Holly Martins travels to shadowy, postwar Vienna, only to find himself investigating the mysterious death of an old friend, Harry Lime.
The third man is probably the greatest British thriller of the postwar by director Carol Reed and screenwriter Graham Greene set a fable of moral corruption in a world of near-Byzantine visual complexity: the streets and ruins of occupied Vienna which is far removed from the image of the rollicking erotic's of Ernst Lubitsch or the wistful elegance and melancholy beauty of Max Ophüls. This Vienna is a movie milieu that really is vastly different form Curtiz's Casablanca or Sternberg's Morocco as it is unlike them, it is primarily the real Vienna, It is the real raw streets of the rubble and look of the bleak city after the second world war. The third man is shot by Reed and cameraman Robert Krasker in such a striking style which captures the city of Vienna. The camera work of Robert Krasker shot the movie in off-angle compositions and wide-angle lens distortions along that really does give some shots that really does feel striking to see unfold on the screen.
As you see in this scene above you see One of the many great Dutch-angled shots in The Third Man (1949) as truly it is giving you an oddball look at the city in a striking style.These striking camera shots really work to capture the raw city. The macabre landscape with the outstanding camerawork captures the city with  Anton Karas' legendary zither score as the tale unwinds on the screen.
Two symbolic settings of the movie is a Ferris wheel towering above the city, and the shadowy chaos of the sewers. Holly comes face to face with the supreme evil, the supreme betrayal: both Harry's and his own. The two settings play key part into that ultimate end. This is one element of the third man that vastly does tell you about how the raw core of the depths that harry faces into what some call his trip down a rabbit hole. Its two settings tell the viewer this idea as key part of its shots. This what the symbolic settings tell us all about the journey of the movie to its end.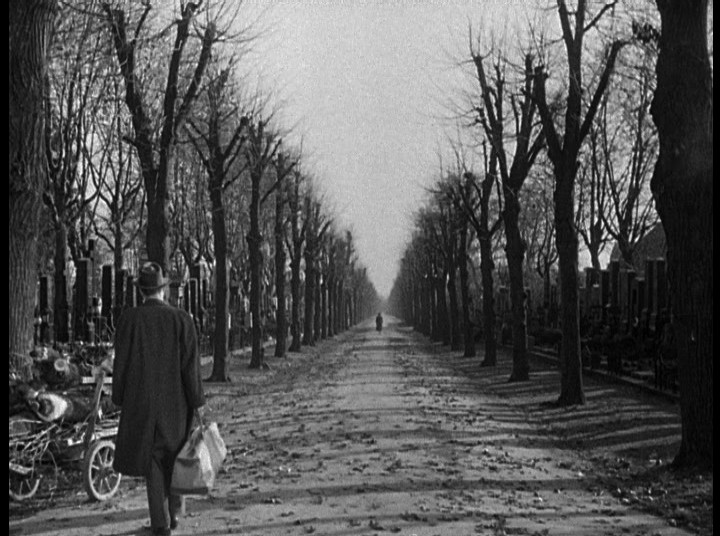 Which ends as Anna walks down road as he looks upon her as farewell to her as he knows she is still in love with a killer and he must follow her down into that place as her love is misplaced and misguided. It's her way as she must find her back to the light. The symbolic nature of the ending and the movie really does bring to light the nature of what we feel as descend into our chaotic worlds often.
Don't be so gloomy. After all it's not that awful. Like the fella says, in Italy for 30 years under the Borgias they had warfare, terror, murder, and bloodshed, but they produced Michelangelo, Leonardo da Vinci, and the Renaissance. In Switzerland they had brotherly love – they had 500 years of democracy and peace, and what did that produce? The cuckoo clock. So long Holly.
Harry Lime: Nobody thinks in terms of human beings. Governments don't. Why should we? They talk about the people and the proletariat, I talk about the suckers and the mugs – it's the same thing. They have their five-year plans, so have I.
Martins: You used to believe in God. Harry Lime: Oh, I still do believe in God, old man. I believe in God and Mercy and all that. But the dead are happier dead. They don't miss much here, poor devils.
Both these great quotes by Orson Welles really address the nature of our world in a collective darkness about how we think about governments in truth and how we believe in a god. It's a collective reflection that really does feel at home in the third man as the city of Vienna afterwards of world war II. As quoted often noir is a reflection of how America and the world felt afterward of the second world war. So we see this collective expressions of its scenes and many quotes in this wonderful gem of a movie.
Joseph Cotten was not  carol Reed's first choice for Martins; the director preferred Cary Grant, or even Jimmy Stewart but he ended up with Joseph Cotten. Joseph Cotten really gives us one fine performance as we see him really play wonderfully as he gives Martins the necessary dumfounded ignorance toward Vienna the role requires to really give us a caracter that is taking into this wild trip down a rabbit hole. He truly nails home this performance.
Orson Welles plays the elusive Harry Lime whom is one of the best villains ever put to the screen even for his limited time on screen as he plays one very convincing villain. Orson Welles was considered to be overshadowing the production of the third man. He kinda does even overshadow the director in many ways as many more recall him then carol reed. Its truly one amazing performance.
Alida Valli gives us a very convincing performance as Anna Schmidt. Its her very subtitle performance as the girlfriend. She really has a very key role into comforting holly Martin but she ends up in the twisted web herself as she has many secrets hidden away about herself. She wonderfully plays the role in a very wonderful performance that really nails home another outstanding role for this movie.
Trevor Howard wonderfully plays the role of Maj. Calloway. He leads down the chase as we see him and the other cops chasing down holly martin in one of the most infamous scenes of the movie.  We truly see him give such an amazing performance in this wonderfully crafted role.
Bernard Lee as Sgt. Paine really gives us one wonderfully outstanding role as we see him really play this role wonderfully as this wonderful actor of range gives us such a good role on the screen. Everyone else in the cast gives us such outstanding role even the smaller and lesser role as each give us such raw depth to their performances making them really all work to bring to life this world  on the screen. 
Carol Reed and his Academy Award-winning cinematographer, Robert Kraske devised an outstanding cinematography. It shows a world out of joint in chaos that creates unforgettable visual style.   fantastic oblique angles. Wide-angle lenses distort faces and locations. And the bizarre lighting makes the city into an expressionist nightmare. During a stakeout for Lime, a little balloon man wanders onto the scene, and his shadow is a monster as he towers over others as we really believe he is towering and overshadowing everyone. Vienna in "The Third Man is unforgettable as they come as its striking and contrasted form the lovely image we normally see of cities in movies.  This is a striking and wonderfully crafted movie form reel one to its end.
Carol Reed's tight direction really does come to life with Academy Award-winning cinematographer, Robert Kraske as both of them craft out such a layered expressionist nightmare with such wonderful writing by Graham Greene with each cast member bringing home the lines of the screenplay in its depth and raw and giving more to each performance. We have a very wonderful performance by orison Welles whom overshadows the cast in light. We have a wonderfully rich acting job by Joseph Cotten whom gives us one amazing performance. We have a wonderful roles by Alida Valli and Bernard Lee and Trevor Howard each of whom give us first class acting. Its acting as directed by the wonderfully pitch director carol reed really brings out such rich and complex roles for the cast as we see them all nailing home such wonderful performances with wonderful music by Anton Karas as who can forget the theme of the third man. Its truly an artwork of direction and craft by carol reed.
Of the many movies this one most completely embodies the romance of going to the movies. I saw first form a Blu-ray copy at home as it really captured me truly form the first moment of the movie to its end.  It told a story of existential loss and betrayal. It was weary and knowing, and its glorious style was an act of defiance against the corrupt world it pictured. The Third Man remains one of the finest movies ever crafted to the screen form its wonderful direction to its very wonderful screenplay to its rich and striking  cinematography to its wonderful acting. It's truly a milestone of movies that hails among the best movies ever made for the screen. It ranks among top British films all time and among the best lists of movies by many lovers of movies worldwide. This is one outstanding classic you should see today.
The Ruth rating: