ray harryhausen evolution
https://www.facebook.com/Wolffianclassicmoviesdigest
Dinosaurs have been really fascinating us since we found them. It is a wonder that when a new medium called cinema was invented many tried to make dinosaurs to varying levels of success in early movies. Before Jurassic park we had the dinosaur creations of ray harryhausen.Ray Harryhausen is one of my heroes. I would say he made dinosaurs more realistic then many others at that time. Jurassic park may have changed the game but it was ray that inspired that game changing movie among others. Ray Harryhausen inspired many of today's filmmakers among others in cinema.
Ray Harryhausen's love of dinosaurs dates from 1925, when he first saw Willis O'Brien's film The Lost World in the cinema at the age of five, which he described with the words, I was about five years old when I had my first taste of dinosaurs. My parents took me to see the movie of Sir Arthur Conan Doyle's The Lost World (1925) in which an intrepid group of explorers, led by the fearless Professor Challenger, discover a dinosaur-infested plateau in the South American jungle. I had never dreamt that such huge and terrifying creatures might exist and they captured my imagination immediately, setting me on the path to a career in animation.
The Lost World inspired him to make papier mâché puppets of dinosaurs. These puppets, and the sets in which they performed, became increasingly sophisticated, allowing him to develop model making skills that would prove key in later life. After seeing King Kong at the age of 14 in 1933 he made more marionettes of the main creatures; those of King Kong 1 as well as a brontosaurus, pterodactyl, triceratops and Tyrannosaurus rex. These puppets remarkably still exist, photographs of which were published in Ray Harryhausen's Fantasy Scrapbook. So it inspired him to create many ideas which would inspire this great man among many other things would inspire him greatly so I talk about dinosaurs he created.
Harryhausen's Dynamation dinosaurs 
The Beast from 20,000 Fathoms
This movie pre-dated Godzilla by one year it was As a result of an arctic nuclear test, a carnivorous dinosaur thaws out and starts making its way down the east coast of North America is basic story of this monster movie.  It was ray's frist movie after mighty joe young. Ray Harryhausen love of dinosaurs is used in this movie to great effect. The prehistoric creature was a dinosaur of some kind yet he never named it.
Ray Harryhausen's special effects are fantastic. The dinosaur moves very fluidly and has a very convincing sense of realism to it. All the sets and models look great too. If you watch Giant Monster movies to see Giant Monsters this movie will not disappoint you. t. It's fairly well written and there's never any really cheesy dialogue at all it. Its characters are very well written too and very easy to sympathize with. Its must see for any fan of b-movie movies or Godzilla or Giant Monster (Kaiju) films in general, along with fans of 50s sci-fi films its just that darn good.
The Animal World (1956)
The Animal World is a 1956 documentary film that was produced, written and directed by Irwin Allen. The film includes live-action footage of animals throughout the world, along with a ten-minute stop motion animated sequence about dinosaurs. Its very rare as they come as it is a short documentary with stop motion animation. Its one of rare times where ray animated a t-rex.  I put you-tube link of the view-master slides of it. Its very much a fun thing to see as this video is a treat to see a dinosaur come to life by the master the process.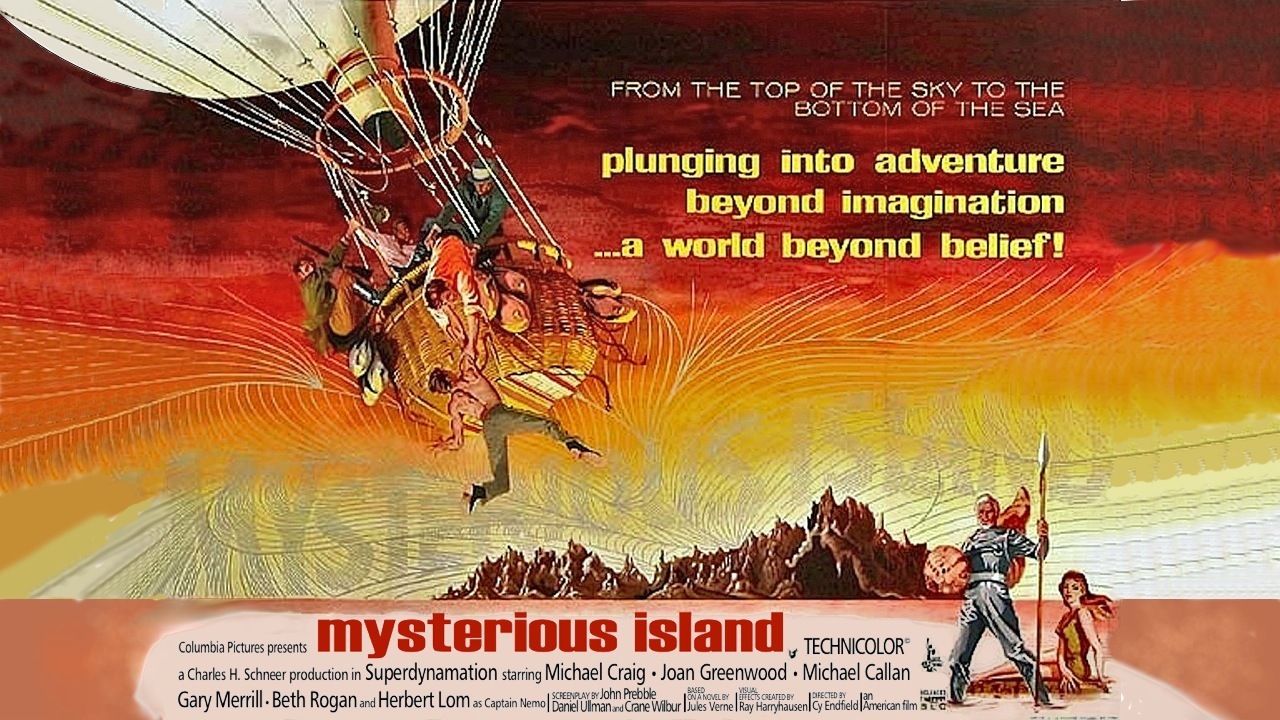 Ray Harryhausen and jules verne is a match made in heaven. I would say out of his many movies he helped craft this movie truly marvelous. The flim departs form the book in so many ways. I fondly enjoy many of his movies one is a treat to watch anytime. The caracters are given so many conflicts that its a joy to see the story unfold. The icing on the top of this cake is the music by Bernard Herrmann as his wonderful score really is such a joy. Mysterious Island is the type of old-fashioned adventure film that they just don't make anymore which you should watch today.
Pre-Jurassic Park dinosaur b-movies get no more fun than in One Million Years B.C as its truly a fun b-movie. It's very silly movie in many ways yet it's very much a fun b-movie at heart and soul as it's a hammer remake the 1940 fantasy film by the same name. It's very much b-movie acting at its finest as all of them are good in their roles yet it's all cheesy.  Raquel Welch is the big selling point of this movie with ray's wonderful stop motion dinosaurs really stealing the show form her many time as these creatures are a joy to watch on the screen then again so is Raquel Welch. This is a fun b-movie that you will enjoy but do not expect it to set world on fire.
Those years of obscurity were unfair, because The Valley of Gwangi is one of my favorite films from the team of Ray Harryhausen and producer Charles H. Schneer. It's a huge sugary ball of all the things I love to see in a pulp adventure tale as this western gem mixed monster movie. It's a gem for sure. Originally written by King Kong's Willis O'Brien, Gwangi script was never filmed, but a copy owned by Ray Harryhausen stored in his garage was resurrected in 1966. With additional work by writer William Bast. It has wonderful acting by its cast as James Francious headlines it with Gila Golan and Richard Carlson. It's very much a fun gem with many fun moments of joy as the prehistoric mayhem of the stop motion dinosaurs vs. dinosaurs really is such a treat to watch. I would suggest you see it today. Today i talked about some classic gems you should see today. I was hoping to inspire you to check out the works of ray harryhausen. I will be hosting a The Ray Harryhausen Blogathon,which you can join by clicking the picture below. I hope you enjoyed my talk on these fun classic movies.