why i love doctor who(https://www.facebook.com/Wolffianclassicmoviesdigest)
So today I talk about doctor who likely among top of my geek-side of me. I love dc-comics-marvel-comics and other comics i am also a big whovian,I frankly think being a whovian is a big part of who i am personally. I recall my frist time seeing it on TV when i saw fathers-day i fell in love as i seen this interesting idea expressed so good on a show. The doctor teaches us to be better humans as he or she is a kind person that keeps on coming back in a new form as he changes often the show changes often to match a new era of TV. Its a show where change is a normal part of the show. I would say what defines the show is its cores about making humans understand how we can be better humans. The way I see it, every life is a pile of good things and bad things. The good things don't always soften the bad things, but vice versa, the bad things don't always spoil the good things and make them unimportant.  so lets begin by going into my favorite doctors and stories and what makes me love it it so much.
I am very fond of seventh doctor so much as he is simply the doctor that i feel defines many things that I feel makes it interesting. He is witty yet dark and unknown as he does whatever he can to save day. It's why he remains my favorite doctor all time. I would say my other top favorite doctors are the fourth doctor and third doctor and second doctor and first doctor and i would say 12th doctor and 11th doctor and tenth doctor and ninth doctor as they all are good and wonderful doctors but all of them are wonderful in a different way. Let's sum up some of the best tales I feel form doctor who are the best stories of all time.  you mean you are going on run in a an old tardis why it is how it all started
Ghost light reivew
Sylvester McCoy's greatest turn as the doctor in ghost light as he TARDIS materializes in a laboratory in a mysterious Victorian house called Gabriel Chase in 1883.  Ace figure out where they are knowing that she will be horrified when she finds out. He cuts a playful figure on the rocking horse, eyeing her furtively. He even asks if she has told him about Gabriel Chase it was one of 7th doctors greatest mind games as his doctor would this often which is part of him yet he is a dark man with quirks. · Many people have reflected on the design of this story and I have to join the crowd because it is a magical recreation of a Victorian house with some ghoulish Gothic touches which is one of things i adore about this story as its dark look is what makes it even more interesting to watch unfold. Ghost Light is one of the best of the classic series as such strong performances  and a wonderful Gothic tone with intelligent discussion and vocative design and a wonderful monster reveal.  It is truly one of my favorite tales of doctor who all time.
The ruth rating:
tomb of cyberman review
The Doctor goes on an archaeological dig on the planet of the Cybermen only to find that they're still very much alive, and much more creepy than their modern fibreglass equivalents. It is one creepy tale that really effectively make the cybermen some of the best villains in the show's history it is a mix of the hammer horror meets universal's the mummy. This smartly crafted tale with such great acting and depth brings to life the cybermen in a creepy way that really can be effectively called something amazing and noteworthy.  Patrick Troughton gives us his finest hour as the doctor as he really brings to life this tale to such great effect. Fans of the era should watch out for Hammer veteran George Pastell playing yet another weaselly character while Roy Stewart makes an impact as an imposing strongman. Frazer Hines and Deborah Watling have such great moments giving us some of their finest hours. I would also say many one thing one can notice its nods to Metropolis in many of its scenes with the cybermen. It turns them into some of the creepest villains ever. Tomb of cybermen form its wonderful casting to its great and creepy layers remains one of the best doctor who tales to ever grace the screen. It is one of my truly favorite tales all time.
The ruth rating:
pyramids of mars
Returning to Earth after their latest adventure, the Doctor and Sarah Jane arrive at the site of UNIT headquarters, but in 1911 long before its existence. They find themselves in a room filled with Egyptian artifacts in a house owned by Egyptologist Marcus Scarman. They rescue Marcus' colleague, Dr. Warlock, who was shot by Marcus' servant Ibrahim Namin, a fanatical believer in the impending return of the his god, Lord Sutekh. Doctor Who: Pyramids of Mars ranks among the best doctor tales all time. It takes cues from mummy movies of the past greatly.Pyramids Of Mars is one of the finest serials all time of doctor who.
It really has one of the finest hours by tom baker and Elisabeth Sladen. It is really creepy tale that has one of the finest doctor villains all time. Sutekh is one of the best villains in Doctor Who. The power and evil shown by him is scarily impressive, The Doctor appears genuinely in fear of him and so is the audience. Gabriel Woolf is playing one fine villain as Sutekh. Its mummies in this serial truly is one stand out thing that does bring the scares out. It is shocking none based on Egypt and its mythology as much as this tale of doctor who. It is truly one of the finest doctor who serials all time standing among my favorites.
The Ruth Rating:
THE CURSE OF FENRIC reivew
. Sylvester McCoy (and indeed Doctor Who itself) found itself coming to an unexpected end in 1989 with some of the original series best stories as sadly as it was ending as he is my favorite doctor whom got amazing stories in big finish.  The Curse Of Fenric. The result is what I consider to be among best of doctor who.
It has what most be the finest hours of Sylvester McCoy as the Doctor and Sophie Aldred whom both make their doctor and companion shine as she was the frist modern companion. McCoy gives his single best Doctor Who performance in this story as he strikes just the right balance between his more comedic Doctor of season 24 and the more serious Doctor of season 25 and earlier in season 26 as he truly is wonderful as the doctor he really is darker then most times. It has a wonderful supporting of talents all giving out such amazing acting. Ace is a fascinating character that seems be only classic companion to grow over time fully as she becomes so different by end of this tale. a small English village off the coast of Britain during World War II is its setting as its Gothic tone and feel with the Norse mythos played into it really bring the chills as the Haemovores take control of many of the town even two girls whom end up attacking someone they hold dear as doctor who goes this is a scary tale at heart. It is one of the best tales of classic doctor who that I say you should see today.
The Ruth Rating:
The Empty Child/The Doctor Dances (2005)
The Doctor and Rose chase a mysterious metal cylinder through the Time Vortex which lands in London in 1941. While searching for it the Doctor meets up with a girl called Nancy who leads a group of children who eat dinners left standing during air raids. Meanwhile Rose gets entangled in the ropes of a barrage balloon and drifts across London before being saved by a former Time Agent calling himself Captain Jack Harkness. Captain Jack is using the cylinder as part of a scam with the Doctor and Rose the intended targets. Wandering the streets of London is a boy in a gas mask who is repeatedly asking the question "Are you my mummy?" Nancy warns the Doctor he is an "empty child" and he seems to be the source of an infection through which people's faces become combined with gas masks*(plot off net)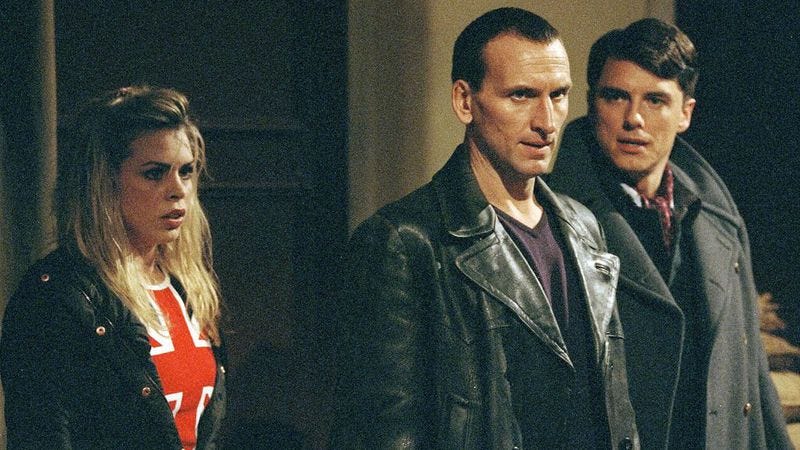 Christopher Eccleston gives his most assured performance in this story as truly he is at his finest as the doctor. Billie Piper truly is wonderful as rose in this tale. we meet captain jack played by John Barrowman  whom truly is one amazing actor giving an amazing job in his debut. are you my mummy is one of the most chilling moments in doctor who history as its horror is the gas mask empty looking kids whom give you chills.  Moffat's first script is still one of his best, managing to tell a wartime story whilst avoiding all the cliches as its truly a wonderful tale with such wonderful acting and depth that i feel you should see today.
The Ruth Rating:
MY FAVORITE DOCTOR WHO STORIES ALL TIME(listed)
Caves of Androzani (1984)-
 GENESIS OF THE DALEKS (1975)
THE CAVES OF ANDROZANI (1984)
Tomb of the Cybermen (1967)
REMEMBRANCE OF THE DALEKS (1988)
Pyramids of Mars (1975)
The Empty Child/The Doctor Dances (2005)
World Enough And Time (June 2017)-The Doctor Falls
Heaven Sent (Nov 2015)
   Listen (Sept 2014)
   THE ELEVENTH HOUR
The companions of the doctor
If you watch doctor who as whovian you always fancy more to be a companion of the doctor as their role is to be our entry to understanding the doctor. Its the human link to the doctor and his magical blue box. They are often such interesting people that give out such amazing performances. I would say the best companions always are ones that give all their heart and soul into the role as few compare to Sarah Jane smith.
Sarah Jane had a knack for always needing to know information about particular cases. She hates not knowing. The Third Doctor had a more protective relationship with her, whereas the Fourth Doctor was more comfortable with her investigating on her own as they became the doctor and sarah. It is always the doctor and sarah. I fell in love with sarah jane when i frist saw her in a classic story with forth doctor as i was charmed this remarkable lady would do so much for the doctor. a woman who knows her own mind and who can be unflappable in the face of Dalek and other evil beings as she even stood up to doctor it made her truly one of a kind.
ace:a true legend of doctor who 
Ace was one of the most loyal companions of the Doctor, specifically his seventh incarnation. She is also one of the most popular companions of all time and one of the fan favorites to appear as she truly is a wonderful companion played by Sophie Aldred as she gave us one truly amazing companion.
Jamie and the Doctor
Frazer Hines holds the record for playing Jamie, the highland warrior from 1746, and the companion who has appeared in the most episodes of the show so far as he played Jamie one of the doctor's greatest friends as he truly was wonderful doctor who friend as He faced off against Daleks, Cybermen, Time Lords, Ice Warriors, the Yeti, and even a unicorn. And yet, he never lost his cool throughout those adventures as he stands out as he truly always was one of a kind.
The Brigadier and the Doctor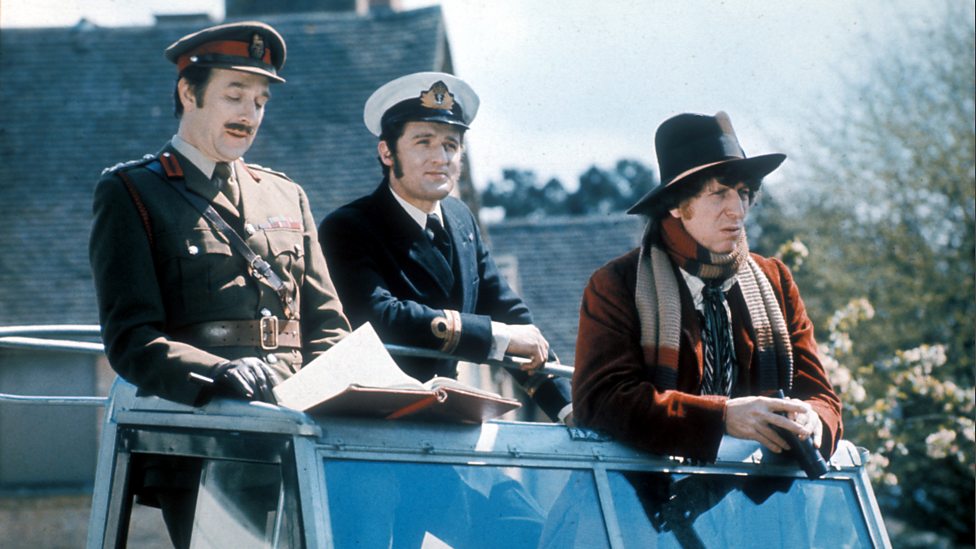 Nicholas Courtney played one of the doctor's best friends all time as Brigadier Alastair Gordon Lethbridge-Stewart truly one was one of a kind in doctor who as he was the friend of doctor. He was played wonderfully by a wonderful man and actor whom was Nicholas Courtney as he gave us one amazing job in his role of lifetime as he played in so many serials as he truly made one special role beyond the stars. He gave us one amazing job in his role.  It may be reason he remains truly one of best of doctor who.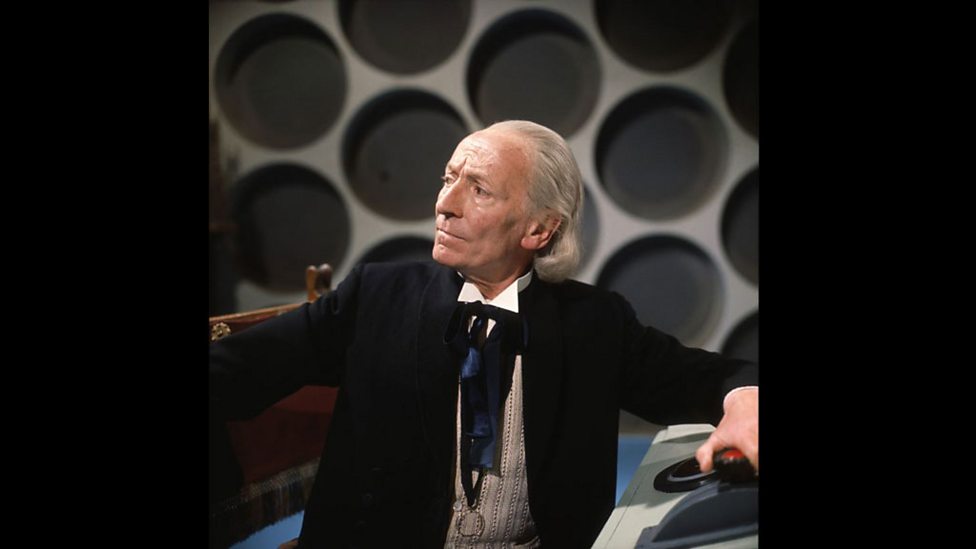 First Doctor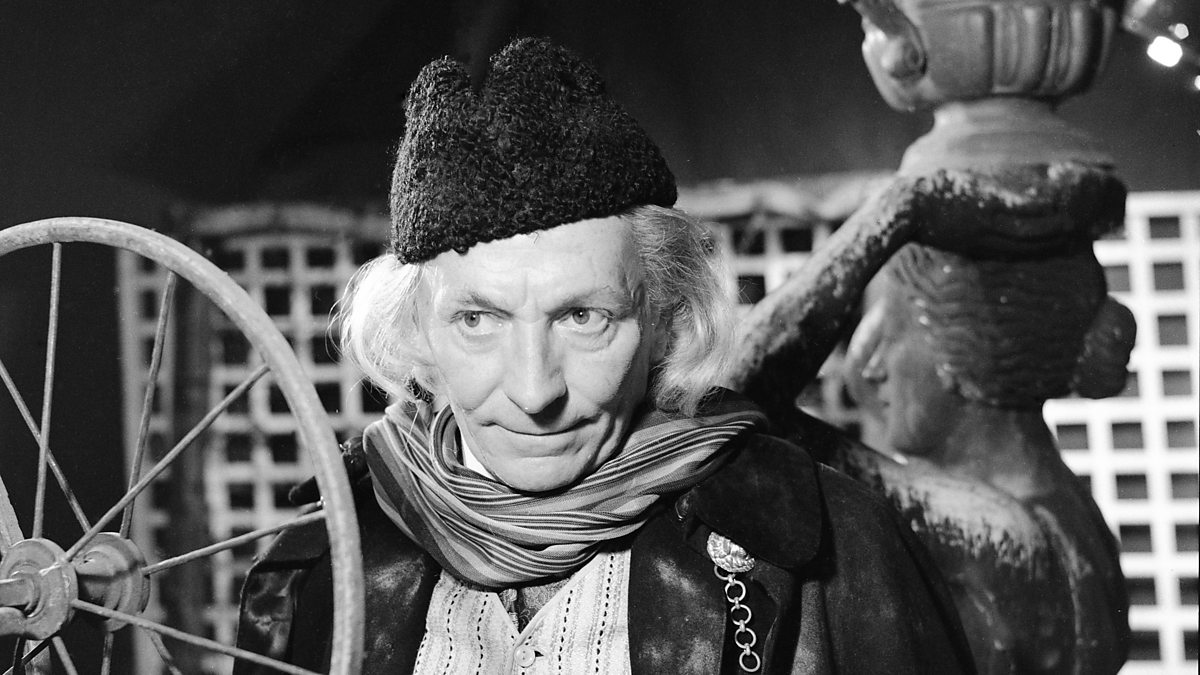 we can always remember it all began with the frist doctor whom was wonderful acted by William Hartnell from 1963 to 1966,I would say he truly is one of best actors to grace TV and movies as he was one wonderful actor that truly made us believe in a man that is an oddball with a blue box as it remains today ever so timeless.
I hope you enjoyed my talk about why i adore doctor who and its wonderful companions, remember you as the doctor said it all began with a tardis in a junkyard that led to a great adventure. The doctor is the most wonderful person to me in my heart. You could touch alien sand and see alien skies would that make you believe me. We always do what we are best at even if means interfering in an adventure.  Doctor who with amazing fans and tons of love today doctors who remains one of the most beloved TV icons of all time. I hope you enjoyed my talk about it today.