Ray Harryhausen, Special Effects Titan
https://www.facebook.com/Wolffianclassicmoviesdigest ‪#‎RayHarryhausenBlogathon‬
For me as a child they were the films that always stood out form anything i seen in many special effects driven movies, they may be monsters but they feel so real. I was a fan of stop motion before even knowing what it was about as a boy. He inspired many special effects artists and directors. When i did start learning names as I was able find his name and i adored his work even more and learned more about it. I learned more about it.  Long before CGI ray created the monster magic of movies. Even with CGI now I find ray's movies truly wonderful as his creatures always feel more life then many CGI creations. It's truly a marvelous marvel to me to watch his magical movies anytime. So I talk about this special effects titan and his magical movies and his craft today as I honor him.  
He did his frist animations for George Pal's Puppetoons which  were a series of animated puppet films made in Europe in the 1930s and in the U.S. in the 1940s. They are memorable for their use of replacement animation: using a series of different hand-carved wooden puppets (or puppet heads or limbs) for each frame in which the puppet moves or changes expression, rather than moving a single puppet, as is the case with most stop motion puppet animation,many of these shorts are very good to watch. During World War II, Ray Harryhausen served in the United States Army Special Services Division under Colonel Frank Capra, as a loader, clapper boy, gofer and later camera assistant whilst working at home animating short films about the use and development of military equipment. During this time he also worked with composer Dimitri Tiomkin and Ted Geisel ("Dr. Seuss"). Following the war he salvaged several rolls of discarded 16 mm surplus film from which he made a series of fairy tale-based shorts, which he called his "Teething-rings. So he started work in 1947 on mighty Joe young as he was the animator on that movie.  So he did most of stop motion animation on mighty Joe young which won an Oscar in 1949 for best special effects. So to talk him as i gave some starting info on him.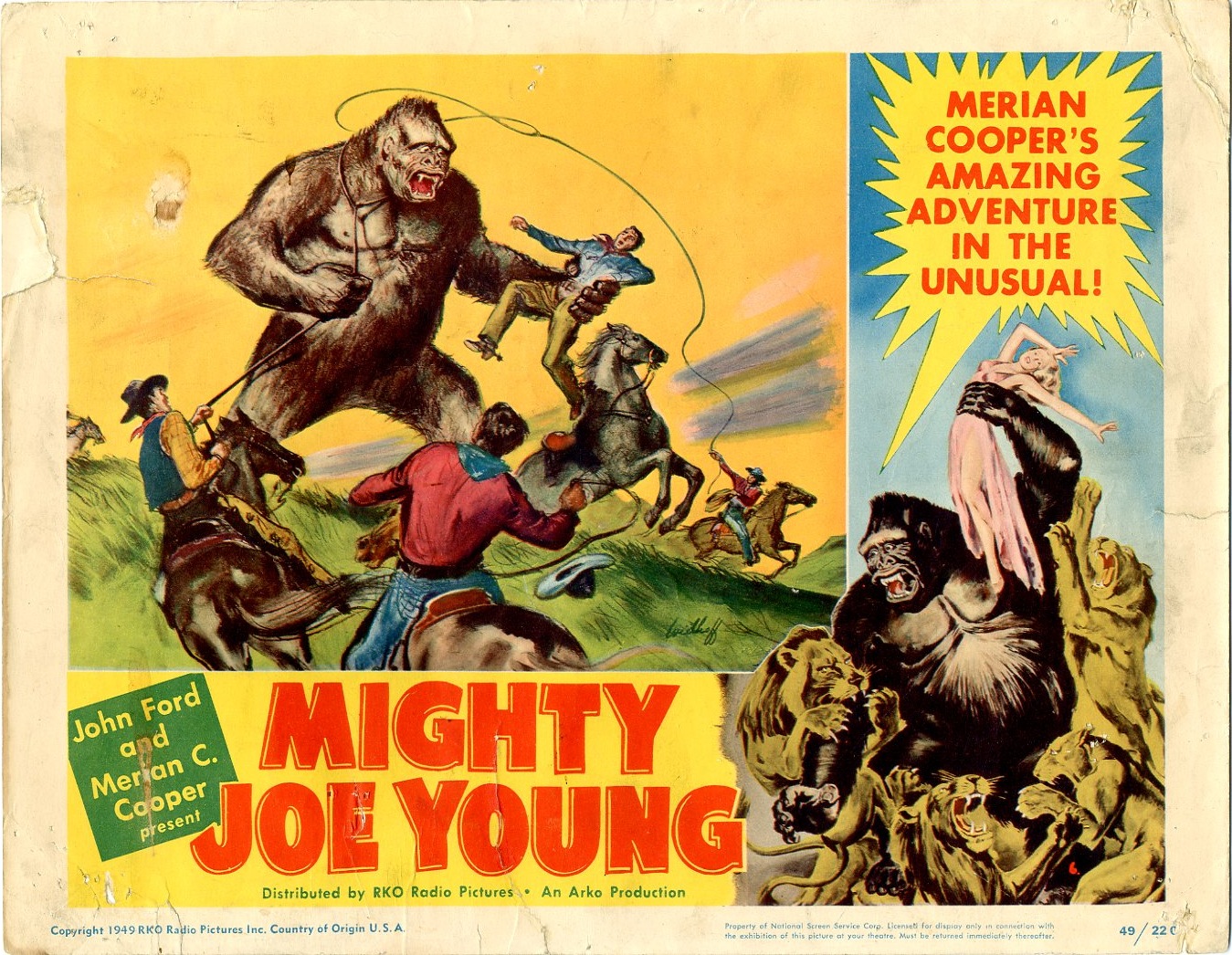 Mighty Joe Young (1949)
Mighty Joe young had animation based upon  O'Brien's design and storyboard. He carefully animated many frames of Joe as we see Joe is very much more alive than king Kong ever was. Mighty Joe Young is a a stop-motion gorilla really carefully animated the many scenes with him being roped among other scenes.  The animation work truly is remarkable based upon storyboards. Robert Armstrong, a veteran of both King Kong and The Son of Kong fame stars in this movie is amazing. Terry Moore plays one of her first really significant roles as Jill as she truly is sweet in her role as she makes us believe in such. Ben Johnson gives a great role in this movie. The acting is so great in this charming gem of a movie. 
The scene of Beautiful Dreamer is one of my favorite movie scenes all time as this scene shows off the animation of ray as its truly magical to see Terry Moore held by mighty Joe young as each animation frame here you see the animation of his face and his expressions it's just a joy to see the scene. It's a wonderful wonder this scene. Mighty Joe young is a must see today.
The Beast from 20,000 Fathoms (1953)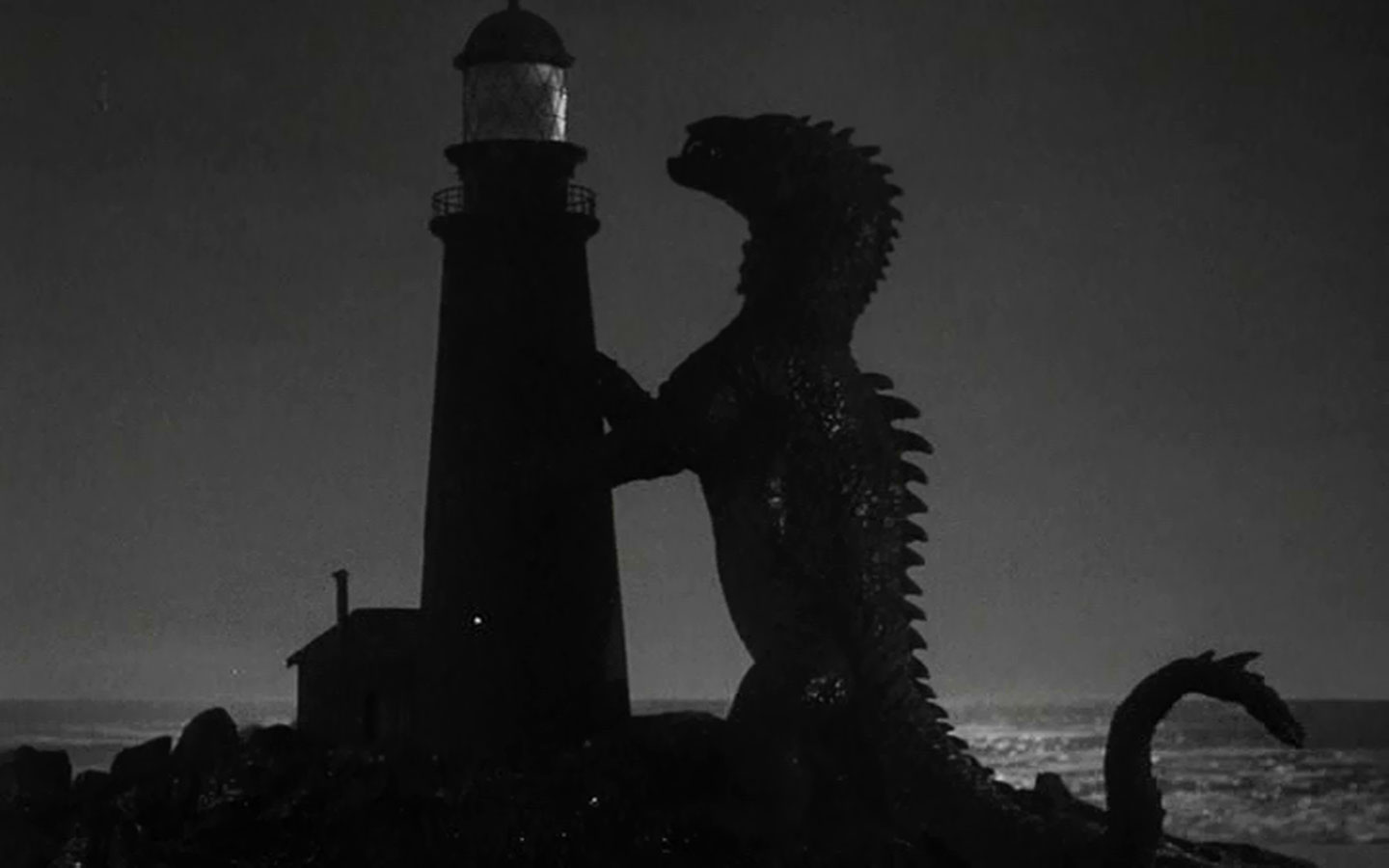 Ray Harryhausen's first solo opportunity to supervise special effects (after apprenticing under Willis O'Brien, the technician behind 1933's KING KONG) is the archetypal model for dozens of sci-fi monster flicks that followed, during the 1950's, and beyond as it served as model for the monster movies to come. Cecil Kellaway is wonderfully cast as he is just wonderful in this movie. Lee Van Cleef whom is known to play alongside Clint Eastwood in many movies gives us a wonderful role. Kenneth Tobey and Donald Woods both give great roles. Its acting is very strong as the cast really do give us such wonderful acting. Ray Harryhausen's landmark effects sequences are the star in this movie as it's his first effort as headliner for it as he did animate many of those scenes to great levels of skill.
The Rhedosaurus itself remains a definitive creature as his animations are skillfully done frame by frame in many of the scenes as he did such scenes as him destroying the lighthouse which was done frame by frame. The beast eating the cop was one famous scene as we see it was done with a cop figure toy getting ate by a slow motion frame by frame movement of Rhedosaurus. One of ray's great inventions was the Dynamation process which roots form 1938 to figure ways to animate better with stop motion. So he would place his model on an animation stand in front of this screen and then place a large pane of glass in front of that. On this glass he painted in black the foreground that he wished to block out. After filming the animated sequence so that the creature interacted with the actors as planned which is how  Rhedosaurus is animated. The beast form 20,000 Fathoms truly is a fun monster movie at its best you should watch. 
It Came from Beneath the Sea (1955)
It Came from Beneath the Sea is one of the most famous  giant octopus feature ever made. A vintage science-fiction thriller that makes sublime use of Ray Harryhausen's legendary stop-motion animation. It's very much a b-movie at heart with some b-movie level acting. It's the stop motion animation truly is what makes this movie last the test of time. The octopus had six arms carefully animated by ray instead of eight arms. It's not shown quite often. It's not his best movies by a mile this is an enjoyable movie.
Earth vs. the Flying Saucers (1956)
This is quintessential 1950's scfi. It's very b-level acting with many silly elements yet its charm is Harryhausen's visual effects as you see the animations of the  Saucers.  the titular flying saucers are the reason to watch the film. Ray Harryhausen designed the saucers so that the top and bottom halves rotate in opposite directions with a shape that looks very out-worldly in its feel as you never think of them as models on a string as they would shape many alien movies to come for ages to come. Ray Harryhausen's reached its peak in this movie. It's a fun b-movie to watch anytime. 
20 million miles to earth(1957)
The first spaceship to visit Venus crash lands in the sea, freeing a small native Venusian creature called the Ymir. Eventually growing to enormous size, it threatens the city of Rome.  Ray Harryhausen always wanted to do Europe and monsters so he did it with this movie. This is Harryhausen's personal favorite movie and he has a cameo appearance in the zoo sequence. Its acting is very b-level as much of cast is same form his last movie before it. This is often considered one of Ray Harryhausen's finest monster features as its just one monster which is given tons of personality and charm as we see him grow throughout the movie destroying  the city of Rome. The sulphur- eating, reptilian-like Venusian creature, "the Ymir's" titanic struggle with an elephant in the streets of Rome, preceding the climatic confrontation in the Colosseum with mankind, remains one of the greatest one-to-one creature battles of all time. It's truly a fun b-movie to watch. 
The 7th Voyage of Sinbad (1958)
The 7th Voyage of Sinbad features elements form Greek mythology with some fairy tales and monster movies mixed together in its elements. This movie reminds me more of  Odyssey, which is cited as one possible influence on the original Sinbad stories. Its monsters is by far some of the best elements of this short movie as its monsters are some of the best ever done by Ray Harryhausen. The cyclops truly is a fun thing to watch on screen. The celebrated skeleton duel truly is such fun to watch. Ray's stop-motion monsters are the charming elements as so many of them in this movie truly are marvels to watch on screen. The movie's cast includes Kerwin Mathews as Sinbad and Torin Thatcher  and Richard Eyer all giving such wonderful acting. Its music by Bernard Herrmann is magnificent as ever its score is very wonderful. This is one of the best Sinbad movies standing among the best of  Ray Harryhausen movies. This is a wonderfully fun gem to watch today. 
The Three Worlds of Gulliver (1960)
The Three Worlds of Gulliver takes the tale of Gulliver's Travels with Ray Harryhausen's charm. This movie is not considered among the best of Ray Harryhausen as likely due to its lack of creatures. Kerwin Mathews, the star of Sinbad, was cast as Lemuel Gulliver gives a fine perfomance. June Thorburn gives a good job of acting. Jo Morrow, Lee Patterson, Basil Sydney, Martin Benson, and Sherri Alberoni all give good performances. This movie is geared more to kids. The optical illusions that Harryhausen created for the film is well done along with its creatures as they are greatly done by Ray Harryhausen. This is a fun movie to watch.
Mysterious Island (1961)
Ray Harryhausen and jules verne is a match made in heaven with such wonderful stop motion animation. I would say out of his many movies he helped craft this movie truly marvelous . The flim departs form the book in so many ways. I fondly enjoy many of his movies one is a treat to watch anytime. The caracters are given so many conflicts that its a joy to see the story unfold. The icing on the top of this cake is the music by Bernard Herrmann as his wonderful score. The stop motion animation really is such a work of art as all of the many creatures are animated with such great depth and skill as this movie has the best of his ray's wonderful work.  Mysterious Island is the type of old-fashioned adventure film that they just don't make anymore which you should watch today.
One Million Years B.C
Pre-Jurassic Park dinosaur b-movies get no more fun than in One Million Years B.C as its truly a fun b-movie. It's very silly movie in many ways yet it's very much a fun b-movie at heart and soul as it's a hammer remake the 1940 fantasy film by the same name. It's very much b-movie acting at its finest as all of them are good in their roles yet it's all cheesy.  Raquel Welch is the big selling point of this movie with ray's wonderful stop motion dinosaurs really stealing the show form her many time as these creatures are a joy to watch on the screen then again so is Raquel Welch. This is a fun b-movie that you will enjoy to watch.
The Valley of Gwangi (1969)
Those years of obscurity were unfair, because The Valley of Gwangi is one of my favorite films from the team of Ray Harryhausen and producer Charles H. Schneer. It's a huge sugary ball of all the things I love to see in a pulp adventure tale as this western gem mixed monster movie. It's a gem for sure. Originally written by King Kong's Willis O'Brien, Gwangi script was never filmed, but a copy owned by Ray Harryhausen stored in his garage was resurrected in 1966. With additional work by writer William Bast. It has wonderful acting by its cast as James Francious headlines it with Gila Golan and Richard Carlson. It's very much a fun gem with many fun moments of joy as the prehistoric mayhem of the stop motion dinosaurs vs. dinosaurs all animated by Ray Harryhausen is marvelous as its many dinosaurs are such marvels of animation. It's a treat to watch anytime. 
The Golden Voyage of Sinbad (1974)
The Golden Voyage of Sinbad was released in 1974.Tom Baker is terrific in the role as Koura as he plays a sinister role as its pre-doctor who for him. He truly gives us one of the best villains i ever seen on screen. John Phillip Law truly is wonderful as Sinbad. Caroline Munro is great in her respective role. The acting of everyone does shine in this movie. This movie has more of the layers of the Sinbad stories in it such as the a Muslim elements which he quotes many verses of that faith. The monsters are the stand out part of this classic gem such as a centaur and a griffin and Kali. The lengthy, incredibly-rendered sword-fight with Kali is the undisputed highlight of the film, a terrific set-piece that still captures the imagination as its truly one of the best monster fights ever on film. It's such fun as the monsters by Ray Harryhausen are such fun. The sword fights truly is another fun element of this classic movie as the sword fights bring great fun and joy to watch on the screen. The Golden Voyage of Sinbad is a fun adventure movie with wonderful acting and wonderful effects and great action scenes as its truly a marvel to watch. 
Clash of the Titans (1981)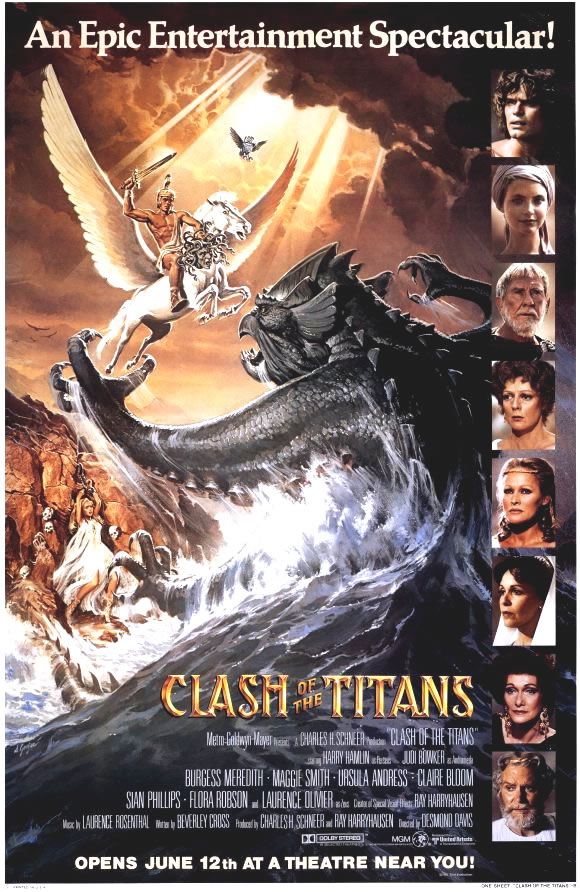 By answering a seemingly impossible riddle, Perseus, the son of Zeus, wins the hand of the Princess Andromeda in marriage. Trouble appears in the shape of Calibos, the princess's former love, and his mother, the Goddess Thetis. In order that the dreaded Kraken not be released, Andromeda has to be sacrificed and Perseus searches for the Medusa; her head is the only thing that can stop the Kraken. Clash of the Titans has been a favorite of mine since i was a kid.  I recall often watching and re-watching this 80's gem as it got me into  Greek mythology as a boy.  It introduced me to Ray Harryhausen.   Greek mythology creatures by Ray Harryhausen are wonderful creations in this movie as he brings forth his best efforts to craft out some of the finest monsters ever on the screen. The cast is another standout element as many great legends of the screen give us such wonderful acting. Sir Laurence Olivier, who plays Zeus to such great efforts as he gives us something truly amazing as this is fine acting by him as we see him in one of his last roles on the screen. Maggie Smith gives a great performance. Burgess Meredith truly stands out as  Ammon.  Harry Hamlin truly gives a good role.  Claire Bloom as Hera, Zeus's long-suffering wife; Ursula Andress as Aphrodite, the goddess of love and beauty; and Susan Fleetwood as Athena, goddess of wisdom, fertility, the useful arts, and prudent warfare, and Jack Gwillim as Poseidon all give good acting in their roles. The gods playing a game of chess with them is an interesting story trait. Harryhausen's creations. the mechanical owl, Bubo; the two-headed dog, Dioskilos; the snake-headed, Medusa; the Pegasus; the giant scorpions; and of course the famous monster known as The Kraken all of them are amazing in action as its stop motion at its finest.  The score by composer Lawrence Rosenthal is one great musical score. The movie truly is a marvelous adventure movie you can watch today. 
This is Ray Harryhausen if reading this I am sure he was your hero too. He made the monsters the star which is the coolest thing in the world. Ray Harryhausen is A childhood hero of mine. I can say that i have been obsessed with his work since I was a boy. His monsters had more personality then me as a boy but it was truly magical when I first saw his movies i was in awe and wonder. it showed me that one man can make such wonders. I knew these monsters were not real but they touched my heart. it is still so true to my heart because I seen them when i was a boy and not know how they were done. I remember many as boy saying they were not real but i didn't care. I seen many things that passed in such effects but I never could get over how amazing this guys truly stands out. Ray Harryhausen truly is the greatest artist of special effects. One of the my true heroes to my heart. thank you ray for teaching me to let my imagination soar and showing what magic can be, thanks sir please join to honor this great hero as he truly is one of my heroes so for me to talk his movies and his creations was a joy to me for my Ray Harryhausen Blogathon. Thanks everyone remember to love the magic of the movies.