Invaders form mars review
William Cameron Menzies' frightening portrayal of a Martian menace is blessed with his own fantastic production design, brilliantly weaving a world from a child's perspective as this fun b-movie is fades form memory as i review this movie also the 1986 remake as also i do a modern remake of it with mar's attacks all three movies really are the mar's invading us idea given to us in each a differnt way as the 1950's era was a ripe era for scfi b-movie as such given on on the Forbidden Planet DVD we see watch the skies which talks about how it was about the fears of the time. So i begin b-movie month with my frist b-movie review of this month.
Invaders from Mars has a simple setup, but is executed with such precision and strong performances that it goes above and beyond the expected alien invader scenario as the simple story is really such a deeper story beyond the core simple idea of aliens landing to invade our planet. a young boy named David. When he wakes the next day he notices that his father has a wound on his neck and is acting strange. After noticing the same mark on other townsfolk he realises that they've been taken over by Martians. He then has to try and convince the local authorities of his inherently outlandish tale and put a stop to the menacing Martians but its so much fun to watch it unfold on screen with such wonderful performances as we see it form a child's outlook of the invasion of mars. It really plays on the fears of the 1950's as we see this movie play upon the fear of the other which was a common idea for this era of movie. 
Low angles make adults appear as giants, while the mutant Martians seem even more imposing and a multitude of adept tracking shots bring the whole thing to vivid, alarming life, due in no small part to John F. Seitz' wonderful cinematography. Even the production design becomes more nightmarish as it goes on (again by Menzies himself who had a long and successful career in that area with films like Gone With The Wind), where innocuous locations like the rooms of David's house and the trees behind it gradually become more alien. It's not just the alien menace or the humans in their control, the very world around him is threatening now. It's that dreamlike quality that really sets Invaders From Mars apart. That unearthly green glow that bathes the Martian spaceship, the newly twisted and warped trees that surround it, the malevolent but ethereal sound design as the aliens capture new victims, it all feels like one big hallucination or nightmare, a hazy fever dream of the end of the world as this mvoie showcases some of the best of the b-movie of this era as its a fun classic you will enjoy so much to watch unfold on the screen.
Invaders From Mars (1986) remake review
Tobe Hooper's Invaders from Mars is  A remake of William Cameron Menzies' 1953 science-fiction/horror classic which was scary remake of it i might add as this movie really pumps up the horror of the aliens to 11 as tobe takes the helm to give us a very wonderful spin upon the classic story of that orginal movie. The film focuses on David Gardner (Hunter Carson) a young boy who's become convinced he's seen a alien spaceship land in the sand pit behind his house which the cops do not believe as many others dont at frist as the case when people start changing to aliens we begin see them acting differntly then before. 
The remake stars Hunter Carson (son of filmmaker L.M. Kit Carson and actress Karen Black) as the boy, David Gardner, who begins to suspect something's wrong with his folks when he sees his mom (Laraine Newman) consuming heavily salted raw hamburger, and his dad (Timothy Bottoms) swilling down scalding hot coffee laced with a fistful of saccharine tablets. When David notices his science teacher Mrs. McKeltch (Louise Fletcher) is even testier than usual, and that she's sporting the same bandage on the back of her neck as his parents, he confesses his suspicions to the school nurse, Linda Magnusson (played by Black). Soon, the two of them are exploring an fantastic underground lair/spacecraft, populated by gangly, toothy creatures and a tentacled brain known as The Supreme Intelligence.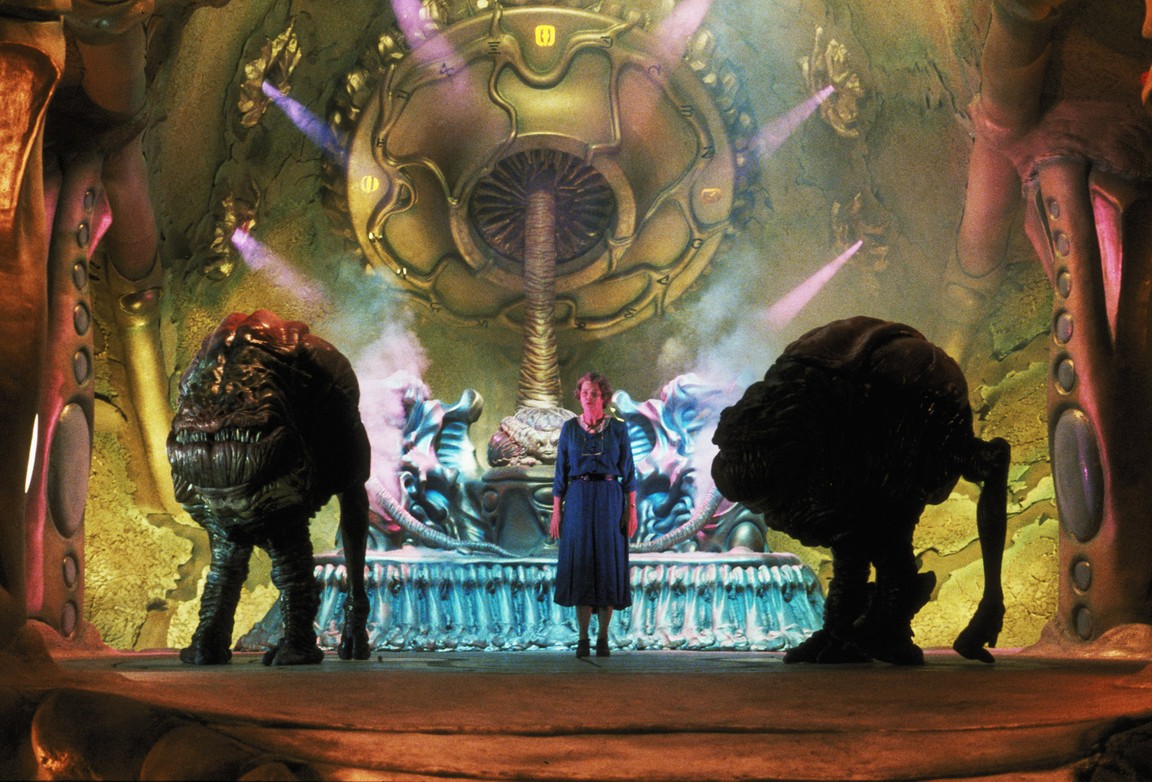 Tobe Hooper's Invaders From Mars is an anomaly among the 1980's remakes of 1950's B-Movie Horrors because it doesn't attempt to make its source material frightening for a later era so much as it is interested in recreating the feeling of watching those films in the 50's, with all the attendant creepiness and paranoia. Invaders From Mars uses the best available talent (Dan O'Bannon, John Dykstra and Stan Winston among them) to make an intentionally artificial out-of-time world, where everything seems not so much fake as it does made. This is a world not of our own, but made from and out of Sci-Fi Schlock of old. That Hooper turns around and makes the subtexural threat not communism but the return of 1950's America, a return to rigid, bland conformity, a counter-revolution against the liberation movements of the 1960's, the promised land of the Reagan Revolution as this movie as shows how the flaws of this era of idealism was such a flawed notion of returning back to this era. this is Hooper's own response and follow-up to Poltergeist, a dark revisiting of the suburban nuclear family wherein the danger comes from both without and within, that it could infect your family, infect educational institutions, infect the military and the police, infect lines of communication, that it could infect you. That was what it felt like to be a kid in the 1980's, where you could revolt into an uncaring void or attempt to hide and wait it out and hope that nuclear annihilation did not rain from the skies or get accidentally unleashed at home. Invaders From Mars, by really knowing and inhabiting the 1950's Moviescape as this movie is simply a classic movie.
Mars Attacks! review(remake of invaders form mars as much making fun of those movies)
Mars Attacks! is Tim Burton's love letter to all of the b-movie sci-fi flicks that were littered throughout the fifties. Having already honored the cult filmmakers of the period with Ed Wood but this love letter is also in part a remake of invaders form mars but in a very modern way that is used to mock that notion in a way.  
One of those movies is Mars Attacks! This crazy invasion story is possible one of Burton's underrated and unseen gems that literally owned my television back in the nineties. Starring a weird collection of stars, as you can imagine, it centres on, well, Mars attacking. Obviously centred mainly in America, this bobble headed aliens come to take over and Earth finds itself having to defend as the movie as much a love letter to the 1950's b movie as much making fun of it.  Supposedly a parody of Alien invasion movies, Tim Burton's insane spoof is much more than that, it's an homage. Sending up the likes of It Came From Outer Space and more, Mars Attacks! sublimely tackles the visual inaccuracies of science fiction fare and blows them up on a larger scale. The comedy not only comes from the mockery, but from Burton's crazed mind teaming with Jonathon Gems to create a film that works on its own hyperactivity, ballsiness, and dark humour that crafts out such a fun b-movie gem of its own. What's more Burton added a star studded event and catapulted Mars Attacks! into this oddly surreal movie. A film that sees Pierce Brosnan, Jack Black, Sarah Jessica Parker, Danny DeVito, Martin Short, Natalie Portman. and many more all striving to survive this humanity ridding ghouls is ridiculous in itself. Not to mention that Jack Nicholson plays the President (and a sleazy rodeo business man in Last Vegas,) what more could you ask for? The cast is hilariously huge, which adds much to the spectacle. It's more of a bonus that 99% of the characters are heinously unlikeable so watching them meet the impending doom is undeniably satisfying as i feel this b-movie classic should b watched upon repeat often upon the screen as i find joy watching this movie mock so many of the movies i adore watching often form the 1950's as i hope you enjoyed my frist review of b-movie month.