Why ray harryhausen should have gotten an oscar
https://www.facebook.com/Wolffianclassicmoviesdigest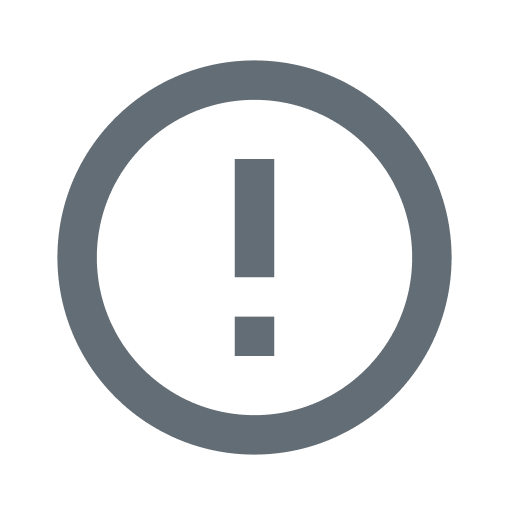 For me as a child they were the films that always stood out form anything I had seen in many special effects driven movies. They may be movie monsters but they felt so real. 
 He inspired many special effects artists and directors that work today on movies. When i did start learning names as I was able find his name and i adored his work even more and learned more about it. I learned more about it. Long before CGI ray created the monster magic of movies we had ray harryhausen creating our monsters.   So today i talk about ray harryhausen for 31 days of  31 days of oscar blogathon.
I would love thank  Aurora of Once Upon A Screen aka @CitizenScreen and Kellee of Outspoken & Freckled and @Irishjayhawk66 and Paula of Paula's Cinema Club and @Paula_Guthat  as I hope you also check others posts from this Wonderful Blogathon  today  on their respective blogs as i truly thank them for honor of allowing me to talk this topic. . I explain why he should have won an Oscar for his work. Let's talk about him now.
Why ray harryhausen should have gotten an Oscar.
Ray harryhausen was  inspired Willis h. O'Brien whom was his mentor Willis H. O'Brien as he was inspired by the movies of Willis h. O'Brien whom did King Kong among other works as he Ray harryhausen began his first animated works for George Pal's Puppetoons which  were a series of animated puppet films made in Europe in the 1930s and in the U.S. in the 1940s. They are memorable for their use of replacement animation: using a series of different hand-carved wooden puppets (or puppet heads or limbs) for each frame in which the puppet moves or changes expression, rather than moving a single puppet, as is the case with most stop motion puppet animation, many of these shorts are very good to watch. During World War II, Ray Harryhausen served in the United States Army Special Services Division under Colonel Frank Capra, as a loader, clapper boy, gofer and later camera assistant whilst working at home animating short films about the use and development of military equipment. During this time he also worked with composer Dimitri Tiomkin and Ted Geisel ("Dr. Seuss"). Following the war he salvaged several rolls of discarded 16 mm surplus film from which he made a series of fairy tale-based shorts, which he called his "Teething-rings. So he started work in 1947 on mighty Joe young as he was the animator on that movie.  So he did most of stop motion animation on mighty Joe young which won an Oscar in 1949 for best special effects which began his magical movie works on the screen as today i talk my favorite creature creations of this magical man that i feel does show best why he deserved an oscar for this work so lets begin this adventure into his work.
.
This is Ray Harryhausen if reading this I am sure he was your hero too. He made the monsters the star which is the coolest thing in the world. Ray Harryhausen is A childhood hero of mine. I can say that i have been obsessed with his work since I was a boy. His monsters had more personality then me as a boy but it was truly magical when I first saw his movies i was in awe and wonder. it showed me that one man can make such wonders. I knew these monsters were not real but they touched my heart. it is still so true to my heart because I seen them when i was a boy and not know how they were done. I remember many as boy saying they were not real but i didn't care. I seen many things that passed in such effects but I never could get over how amazing this guys truly stands out. Ray Harryhausen truly is the greatest artist of special effects. One of the my true heroes to my heart as i will talk some of my favorite  creatures he did now as i begin my tribute to Ray Harryhausen and his works now.
The magical creature creations  of Ray Harryhausen 
Ray Harryhausen's love of dinosaurs  dates from 1925, when he first saw Willis O'Brien's film The Lost World in the cinema at the age of five, which he described with the words, I was about five years old when I had my first taste of dinosaurs. My parents took me to see the movie of Sir Arthur Conan Doyle's The Lost World (1925) in which an intrepid group of explorers, led by the fearless Professor Challenger, discover a dinosaur-infested plateau in the South American jungle. I had never dreamt that such huge and terrifying creatures might exist and they captured my imagination immediately, setting me on the path to a career in animation.
The Lost World inspired him to make papier mâché puppets of dinosaurs. These puppets, and the sets in which they performed, became increasingly sophisticated, allowing him to develop model making skills that would prove key in later life. After seeing King Kong at the age of 14 in 1933 he made more marionettes of the main creatures; those of King Kong 1 as well as a brontosaurus, pterodactyl, triceratops and Tyrannosaurus rex. These puppets remarkably still exist, photographs of which were published in Ray Harryhausen's Fantasy Scrapbook. So it inspired him to create  his many wonderful creations.
Mighty Joe Young (1949)
I would say of my favorite movie moments is  the scene of Beautiful Dreamer is one of my favorite movie scenes all time as this scene shows off the animation of ray as its truly magical to see Terry Moore held by mighty Joe young as each animation frame here you see the animation of his face and his expressions it's just a joy to see the scene. It's a wonderful wonder this scene. Mighty Joe young is a must see today as its a very wonderful gem you should see today.
The Beast from 20,000 Fathoms
This movie pre-dated Godzilla by one year it was As a result of an arctic nuclear test, a carnivorous dinosaur thaws out and starts making its way down the east coast of North America is basic story of this monster movie.  It was Ray Harryhausen frist movie after mighty Joe young. Ray Harryhausen love of dinosaurs as he creates one of my favorite creatures as it has such life to him as he feels more alive then Godzilla as he moves in ways that makes him feel alive and real. 
The Rhedosaurus itself remains a definitive creature of his creations as each frame is done  by frame by frame. I would say many of the scenes as he did such scenes as him destroying the lighthouse which was done frame by frame. The beast eating the cop was one famous scene as we see it was done with a cop figure toy getting ate by a slow motion frame by frame movement of Rhedosaurus which he did it slowly frame by frame for each second of animation to make it seem like the creature of eating the cop.  So he would place his model on an animation stand in front of this screen and then place a large pane of glass in front of that. On this glass he painted in black the foreground that he wished to block out as After filming the animated sequence so that the creature interacted with the actors as planned which is how  Rhedosaurus is animated carefully againist the actors to seem like they exist together as i would say this is a fun b movie you should today.
It Came from Beneath the Sea (1955)
It Came from Beneath the Sea is one of the most famous  giant octopus features ever made. A vintage science-fiction thriller that makes use of Ray Harryhausen's legendary stop-motion animation as each of the  giant octopus's motions are carefully animated frame by frame slowly and carefully as each by a second of flim to move the arms of this creature on screen as ti destroys the golden gate bridge is one famous scene that the city feared would hurt them as they thought it was too real for this creature to destroy their bridge. It is truly a work of art to see it destroy the city and objects on screen as you see the skill and wonder of this artist unfold on the screen. It's very much a b-movie at heart with some b-movie level acting and charm that is truly fun to watch on screen.
The 7th Voyage of Sinbad (1958)
The Cyclops is a wonderful creation of Ray Harryhausen to watch on the screen as he has such a marvelous personality that really draws you instantly to watching him on the screen as he is truly a fun to watch unfold on the screen in such marvelous scenes on the screen.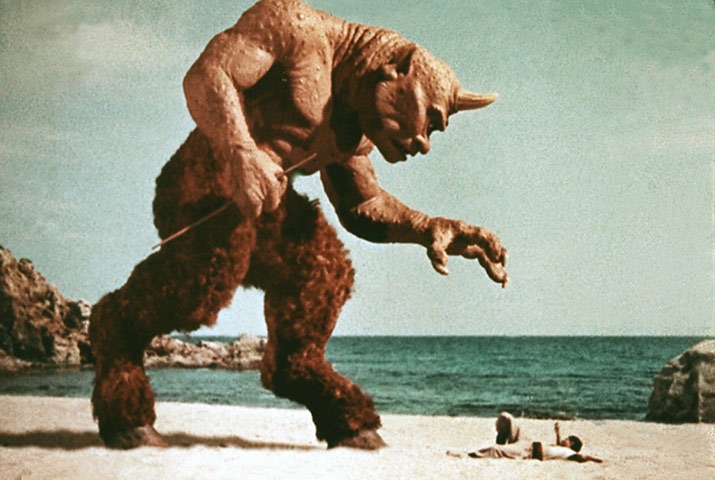 The celebrated skeleton duel truly is such fun to watch unfold on the screen. It is one of the best action scenes ever done for the screen as this marvelous scene has inspired so many magical movie moments to come in movie history you will get such joy and glee form watching this scene unfold.
The movie's cast includes Kerwin Mathews as Sinbad and Torin Thatcher and Richard Eyer all giving such wonderful acting. Its music by Bernard Herrmann is magnificent as ever its score is very wonderful. This is one of the best Sinbad movies all time as it's truly a fun classic you can watch again anytime.
Jason and the Argonauts(1963)
 The fascinating odyssey of Jason in search of the Golden Fleece is a marvelous action adventure classic that is one of Ray Harryhausen's most famous creations all time.
when Jason and the Argonauts skeleton fight unfolds on the screen you see one of the most amazing moments ever done for screen as it's a fight that comes out with so much magic and joy form watching it unfold on the screen as this scene inspired many movies to come and many action scenes for ages to come you see a scene that is such a marvelous work of craft unfold on the screen. This scene is truly one epic scene for all time that is one of most iconic moments in movie history.
The mastery of Ray Harryhausen, you won't get this kind of effect from CGI animation as telos awakens you feel the wonder of the magic of seeing it come to life on screen as he carefully it's such a marvelous wonder to watch unfold on the screen.
The Valley of Gwangi (1969)
The Valley of Gwangi has suffered years of obscurity which is unfair to such a marvelous classic. The Valley of Gwangi is one of my favorite films from the team of Ray Harryhausen and producer Charles H. Schneer. It is a huge sugary ball of things I love to see in a movie as it mixes western and monster movies to create something totally original and fresh for its time. The Valley of Gwangi was originally written by King Kong's Willis O'Brien, Gwangi script was never filmed, but a copy owned by Ray Harryhausen stored in his garage was resurrected in 1966.With additional work by writer William Bast to finish up the story. The Valley of Gwangi has wonderful acting by its cast of actors as they all give out such wonderful performances on the screen. The stop motion dinosaurs vs. dinosaurs all animated by Ray Harryhausen are such joys to watch unfold on the screen as these dinosaurs are some of my favorites to ever come on the screen ever. It is one fun b-movie you should see today.
The Golden Voyage of Sinbad (1974)
The Golden Voyage of Sinbad was released in 1974. Tom Baker acts out a terrific performance on screen as Koura as he plays a sinister villain role before he played the doctor in doctor who. Tom baker gives us one of the best villains I ever seen on screen. John Phillip Law truly is wonderful as Sinbad. Caroline Munro is great in her respective role. The acting of everyone of its cast truly shines. This movie quotes many Muslim verses and quotes of their faith.
The monsters of The Golden Voyage of Sinbad stand out as such marvelous monsters you will instantly love to watch many times again and again on the screen. A centaur and a griffin and Kali all really stand out as such marvelous monsters to watch on the screen. The lengthy, incredibly-rendered sword-fight with Kali is the undisputed highlights of the film as it is a marvelous action scene that will wow you instantly as it unfolds on the screen as it is a terrific set-piece that still captures the imagination to such wonderful levels as it is one of my favorite monster fights ever put to the screen. These monsters are all amazing to behold on the screen in this classic gem.
The golden Voyage of Sinbad Snake woman is another marvelous creation by Ray Harryhausen as it comes on screen you are drawn to charms and the wit and humor of this scene really makes you smile and look in wonder as this fun scene unfolds on the screen.
Centaur vs. Griffin from The Golden Voyage of Sinbad is one truly fun moment that showcases some of the best acting by tom baker of doctor who fame ever on screen as you see him truly show you why he truly is one amazing actor. It's a fun monster moment created by Ray Harryhausen that really is such a marvelous gem of a scene to watch unfold on the screen. The special effects of this movie all bring to life this magical gem of a tale on screen.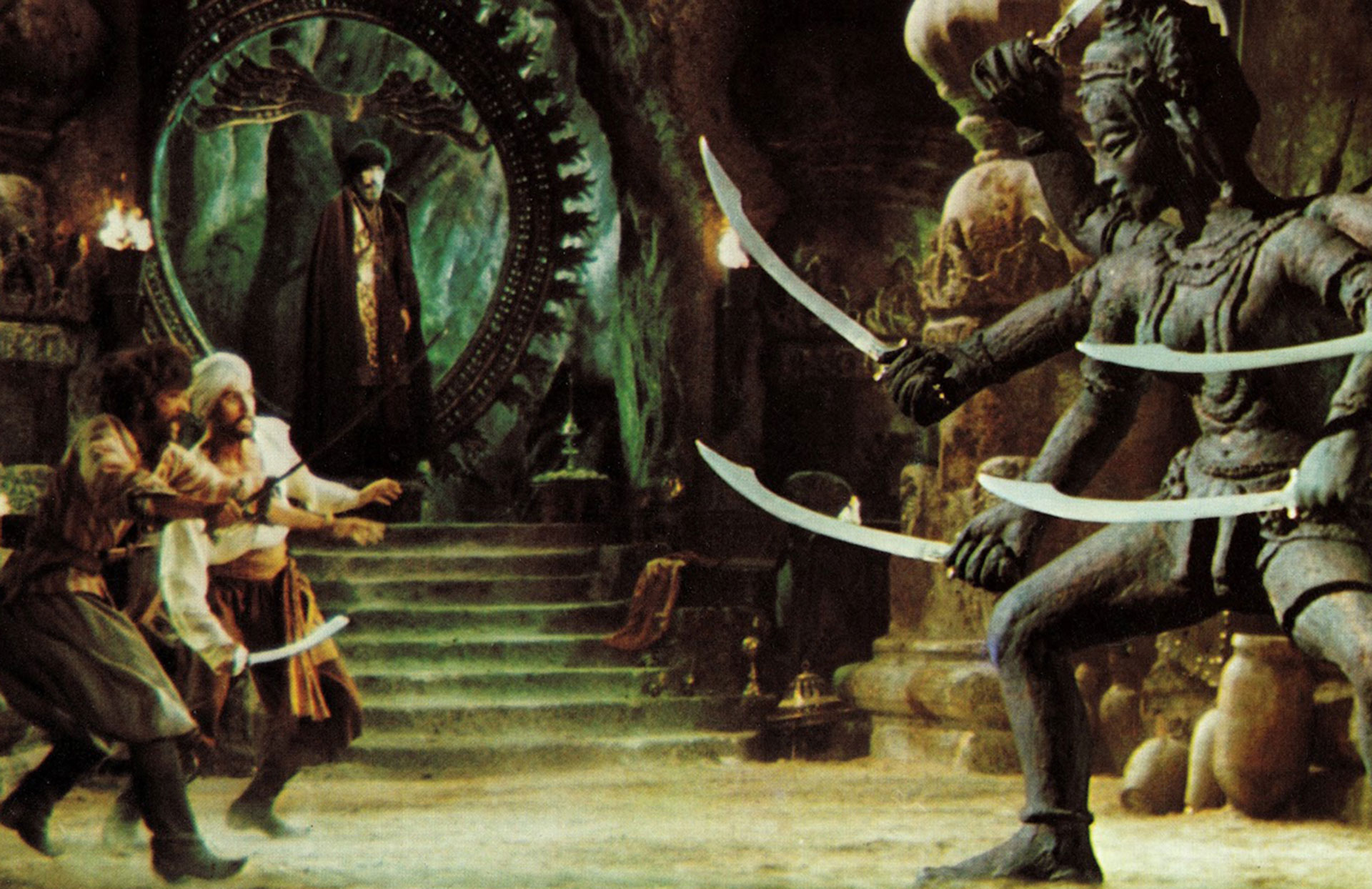 The sword fights truly is another fun element of this classic movie as each of them are such fun to watch unfold on the screen as they bring you such joy and wonder as you watch them unfold on the screen. The Golden Voyage of Sinbad is a fun adventure movie with wonderful acting and wonderful effects and great action scenes that makes it a classic gem you should see anytime.
Clash of the Titans (1981)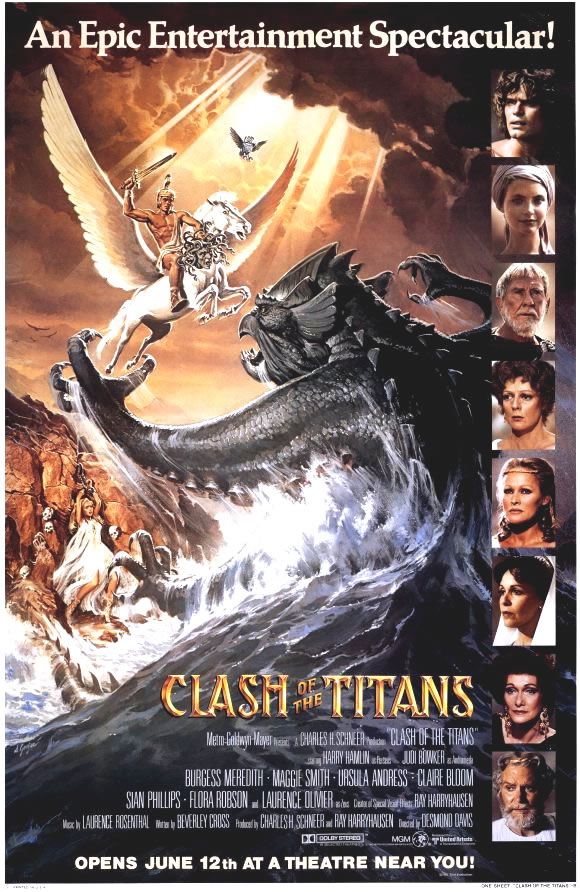 Clash of the Titans has been a favorite movie for me to watch since I was a little boy it introduced me to Ray Harryhausen as this was my first movie I seen of his work on screen as I did not yet know who he was yet when I first saw this movie. Ray Harryhausen's creations are the mechanical owl, Bubo; the two-headed dog, Dioskilos; the snake-headed, Medusa; the Pegasus; the giant scorpions; and of course the famous monster known as The Kraken as each of them are such wonderful works of art to watch on the screen. The score by composer Lawrence Rosenthal is one great musical score that I feel is such a wonderful soundtrack for this classic gem of a film.  The movie truly is a marvelous adventure movie you should watch today.
I would love to express my great joy today that I got to talk about Ray Harryhausen today.  I felt such joy to talk his marvelous movies and creations today. I feel is shamefully sad stop motion animation never got its own Oscar for each of his movies would have won the award easy. I would love to thank all hosts as I enjoyed my talk about this marvelous man today I hope you join me again soon for more movie magic.
Some content on this page was disabled on August 1, 2022 as a result of a DMCA takedown notice from Martin McNeil. You can learn more about the DMCA here: