Today I talk about king Kong, Escape is the most crucial function of Hollywood cinema. An audience supplied with hearty diversion forgets their daily troubles and returns for more, in turn supporting the entire industry; the relationship is one of mutual symbiosis of movies that was pure escapism started in the 1930's as its the era that began the trend we see today of movies being escape from their troubles as at time of it was the great depression. I am happy to talk about one of my favorite movies all time which is King Kong.
King Kong(https://www.facebook.com/Wolffianclassicmoviesdigest/) 
Cooper and Schoedsack sought to combine the awe of discovery with full-fledged drama, and then elevate their concept with irresistible Hollywood spectacle. Few forerunners to their eventual film King Kong exist, which further underlines their pioneering of filmic adventures. King Kong was the filmmaker's challenge is to unite universal entertainment value with artistic vision, engaging both the audience's emotions and intellect to make Hollywood spectacle that was unlike anything done before on the big screen before it
Cooper and Schoedsack's King Kong was born. Conceived by Cooper and Edgar Wallace, and written by James Creelman and Ruth Rose, their yarn was about the very nature of escapism that was something diffrent form many movies of its age as its roots was to give viewers something they never seen before in a movie. It would take viewers to  an impossible world filled with wondrous things. In the end, their film would return to familiar territory, unleashing the unknown onto the everyday, smashing the illusion of escapism and confronting the audience head-on with this new idea of movies being an escape.
Designing the Kong puppet was Marcel Delgado but it required more than than simple puppetry by way of stop-motion animation to create King Kong.  Employing every trick in the book to assemble a believable environment form back projection, matte and glass paintings, miniatures, and models, each disappearing into one another to create an incomparable magic show where the impossible lives and breathes. Pieced together with a metal skeleton frame, foam, and animal fur, the Kong puppet was made into an unlikely source of audience sympathy through O'Brien's animation that was such a slow process like many works of this stop motion to bring to life king Kong's world.
Modern day viewers might balk at the stop-motion effects having seen more convincing, photorealistic, computer-generated sensations in Jackson's remake. From the perspective of today's cinema but if you look upon the marvel of this work you would see how magical it is simply watch this movie upon the screen.I would say its acting is very good for everyone in its cast.Kong was one of the first movie monsters to receive credit as a main character. For the time, this speaks to the marvel of the film's effects working in harmony with the power of the narrative, as the filmmakers relied on pure invention to render Skull Island, Kong, and the beast's distinct personality onscreen.
King Kong's love for Ann Darrow fully described, his death painfully sad. There are moments where Kong's behavior is best defined as idiosyncratic but strikingly true, such as when he verifies his Tyrannosaurus Rex kill by flapping its lifeless jaw, or when he smells his fingers after touching Ann. These moments grow throughout the film until the creature is no longer just a beast, but the story's protagonist, elevating the B-grade monster movie into a moving tragedy when Kong falls to his death.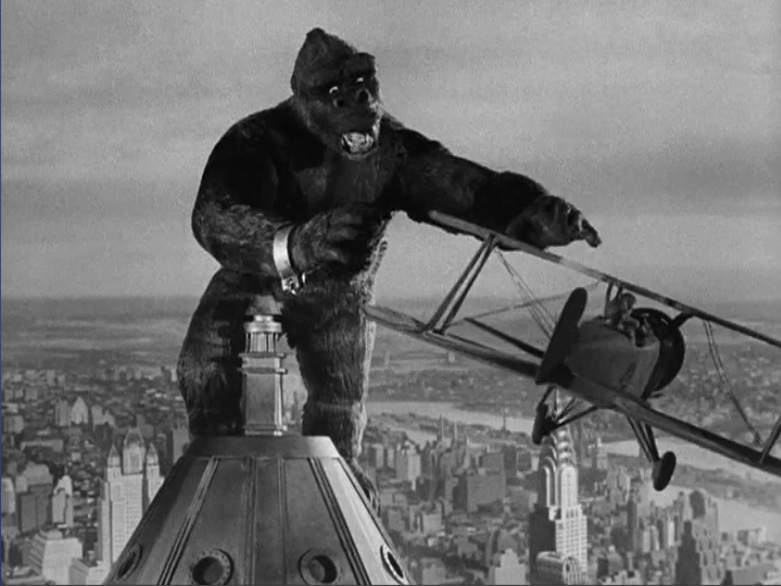 Depression-era moviegoers found King Kong delivered them from their poverty and financial distress into the hands of a beast, but it was important to return them to the safety of the world when the adventure was over. ing Kong provides the underlying ambition of all Hollywood cinema. The film brings the movies to a colossal idea to the big screen which changed the face of Hollywood forever as the creators led the bold way to other flim-makers make groundbreaking changes that led to today's Hollywood box office movie.