Doctor who turned 57 years old today on November 23,57 years ago Sidney Newman created an amazing idea of a hero. It's hard to talk about the importance of an imaginary hero. But heroes ARE important: Heroes tell us something about ourselves. History tells us who we used to be, documentaries tell us who we are now; but heroes tell us who we WANT to be. And a lot of our heroes depress me. And a lot of our heroes depress me. But when they made this particular hero, he did not give him anything beside a simple idea of being a traveler that is just kind, the doctor doesn't need guns or anything just a sonic and a friend to go along with the doctor. This particular hero, they didn't give him a gun–they gave him a screwdriver to fix things. They didn't give him a tank or a warship or an x-wing fighter–they gave him a box from which you can call for help. And they didn't give him a superpower or pointy ears or a heat-ray–they gave him an extra HEART. They gave him two hearts! And that's an extraordinary thing.
There will never come a time when we don't need a hero like the Doctor as few heroes are like the doctor i felt to talk the doctor as something so special to me today as I am a huge fan of doctor who so today I honor 55 years of doctor who by talking about what makes this show so magical. our destiny is in the stars so let's go and search for it  we can say most other scfi series and their heroes really do not feel like the doctor or its show as the show has outlasted any other scfi show as its lasted even longer then star trek. There will never come a time when we don't need a hero like the Doctor as few heroes are like the doctor i felt to talk the doctor as something so special to me today as I am a huge fan of doctor who so today as today on its 57's birthday i honor the greatest adventure in time and space as doctor who truly keeps on ticking on even past any other scfi show on tv.
Doctor Who became a part of my life a long time ago. He changed me cardinally. I can say that I grew up on it and it is part of my childhood. And this series made me believe in miracles. it is even older then star trek as this show has outlasted any scfi show on tv,happy birthday to the oldest scfi tv on tv. "I'll be a story in your head. But that's all right. We're all stories in the end. Just make it a good one."
Happy 57th birthday doctor who
So began early onnovember 22 rewatching doctor who i watched a good bit of the third doctor yesterday. I was kinda loving many of these serials some i seen my frist time this year as i feel to highlight on the 57th birthday some of my favorite doctor who stories many doctor who eras but i think frist to do a big in depth tribute to some key doctors that i feel defined the nature of doctor who forever.
A Tribute to Jon Pertwee
                   By time 1969 rolled around we had two doctors come before this wonderful actor of the screen. Patrick Troughton had already proven that it was possible for Doctor Who to replace its leading man and emerge not just unscathed but revitalized as the show was going through new changes that he faced as his doctor as Doctor Who faced a major change to its format and the doctor was exiled to earth it made his doctor more having depend on his heroism to save the day as he was more of a smart doctor that used gadgets with a dose of action to take them down. It showcases how the doctor always is able to outmatch his foes by action and brains together. He is one of my favorite doctors as this doctor was not only an action hero doctor for the bond era of movies at the time but also a sherlock holmes like figure in some ways as he really also figured out many things by just outsmarting his foes.You can see the threads of what makes modern doctor begining with his era as his era shows us the start of that modern show which many modern showrunners craft their show after his era.
Jon Pertwee's background was in comedy. Featuring in various films, he was most well known for starring P 18 years (1959–1977) playing Chief Petty Officer in the show The Navy Lark. Doctor Who was his big chance to break away from the perception the public had of him. As a result, the Third Doctor's character was different then on ways he acted on the screen as a more a generally serious man with a real charm and wit to him that showcases how Jon Pertwee's acting crops was comedy and drama so he used both to bring the doctor to life on screen.
The Doctor is an alien stranded on Earth, and sometimes he feels more at home with other alien races. Certainly, he strongly empathizes with their plight in some cases. Season 7 is largely unique in terms of approach and style of the show at time you can see a very huge theme of compassion for thes alien races by the doctor but the others of earth not showing same compassion and care for them. That season is very much a diffrent level of grounded to earth story-telling that grounds the monsters and doctor to earth that grounds down the scfi elements to give us some very remarkable stories i feel that showcase the many layers of the doctor as we seen the action hero side of the doctor to the smart doctor that figures out by his brains alone.
In a period of such uncertainty, the commanding presence of Pertwee's third Doctor – an 'authority figure' who allied himself with the military organization UNIT – was precisely what the series needed. I would say his doctor was a charming doctor that could save the day. Of all the Doctors, the Third Doctor was the king of combat. He usually relied on his famous mastery of Venusian Aikido, but was not above bare-knuckle fisticuffs when provoked. Armed guards? Ogrons? Sub-human mutations? He had them all for breakfast. He even took on a Sontaran once, though in that contest he came off second best. His greatest fight was undoubtedly his fencing match with the Master that i feel is such a wonderful thing to watch unfold on the screen yet all of these action hero traits really masked a really amazing doctor that used action as his last way to figure out how to fix things in the end.  Jon Pertwee was brilliant in all sorts of ways. During World War II, Pertwee was an officer attached to the Naval Intelligence Division in which he worked alongside Ian Fleming. Yes, that Ian Fleming. In this position, he reported to, met and talked with Winston Churchill. Part of his role was to teach Commandos how to use gadgets like tobacco pipes that fired bullets. Now the origins of Pertwee as the heroic figure take root form that moment. Its when he died we see the doctor's heroic nature face his fears. Jon Pertwee truly is one of a kind in terms of doctors.
Roger Delgado the first master
Roger Delgado whom played The Master was conceived of as the Doctor as the doctor's Moriarty as he was equal part brains and action able to make the third doctors action and brains methods. Delgado played him as a charming villain that felt like a bond villain at times but really deeper then any bond villain as this wonderful actor was able really bring out such amazing acting form his role of the master. He is the master. It's the doctor's greatest foe to everyone eyes as master is something so truly good to see as the master is Moriarty to the noble doctor brings out the nature of the doctor's worst or best as we see the doctor's nature come to life with the master. It was Roger Delgado I feel gave the best role of the master ever on screen as you see what makes the master work as villain on screen.
Brigadier Lethbridge-Stewart played  played by Nicholas Courtney was another amazing actor of the third doctor era that stands out in many regards as he played the like dr watson but really was more a man of action and charm that was very wonderfully trained actor of the screen that made the role feel alive on the screen as the third doctor era you seen the best of him on screen. He is always a legend to the series.
Sarah Jane Smith,the greatest companion of doctor who.
The role of the companion is a well-loved tradition in the long-running BBC One science-fiction series, now a worldwide hit, and an integral part of the show's success. I would say i picked her as the prime example of what an amazing companion because she is the simply best example of the best one to play the role. Sarah Jane's story started long before I was born as she was coming at end of Jon Pertwee's time in Doctor Who was coming to a close. For the majority of his run he had he had been accompanied by Katy Manning as Jo Grant. Elisabeth Sladen played simply the best companion ever to my eyes.
From the outset, Smith was wildly different to her predecessor. In her first story, The Time Warrior, not only does Sarah at one point set about kidnapping the Doctor, but she also attempts to bring the Women's Liberation movement to the Dark Ages. And she absolutely will not make the Doctor a cup of coffee, no matter how patronizingly he asks. For want of a better word, Sarah Jane Smith played by  Elisabeth Sladen  whom gave some of her best acting on sceen as she brought out many parts to her role form comedy to drama acting methods mixed togethr to bring a role to screen that made her a legend as each time you met her you knew she why she was so special on screen as she always gave us such amazing performances on screen.
It was when paired up with Tom Baker's Doctor, though that Sarah Jane came to life fully as Elisabeth Sladen and tom baker really play off each other so well with such charm. Sarah was able to start having fun. With a more carefree Doctor and the strait-laced Harry Sullivan in the TARDIS it made her charm even lovelier as by time she left it broke the hearts of fans as she was so loved by everyone. The brilliant Elisabeth Sladen was able make his comedy wits and ways to a tee as she always kept the doctor on his toes as her acting charm is what made it always the doctor and sarah jane.
A tribute to tom baker:The forth doctor.
When Philip Hinchcliffe was producer, Tom Baker played the Doctor with an aura of gleeful, natural eccentricity, giving way to bursts of morose introspection and bouts of unsettling behavior as also a trait of  witty to very dangerous in a moment's notice as tom baker had played The role in a manner fitting of a comedy actor as he used humor mixed with some dramatic acting to bring to life the role of the docto as his era was a hammer horror era of the show that made many ideas of doctor who's hammer horror roots begining in his era that showcase many amazing elements to why this amazing actor continues to charm us even now as i think tom baker is one amazing actor for all ages.
The Seventh Doctor (1987-89/96)(, Sylvester McCoy)
Sylvester McCoy proved unexpectedly good in the role. Like Jon Pertwee before him, he saw the show as way of exercising his dramatic skills and forging a new career path as he was a very known comedy actor. He really uses his amazing acting skills to good use in his era. (one which would, twenty-five years later, see him cast in Peter Jackson's Hobbit movies as Radagast the Brown). However, for his first season there was more of a comedic air to his character.  Bonnie Langford, best-known as a dancer and for her work in musicals, as companion Mel is a very bad companion as she was a chiild actress that i felt never should been cast on the show as she is not worthy of the title companion as she never had no idea how play the role right as her performances show why she is a mis-casting form the start. For the twenty-fifth season, which was also an important anniversary year, it was decided to dramatically retool the writing team. Younger and more dynamic writers like Ben Aaronovitch among others took the doctor to darker places then ever before as the doctor.
  Marc Platt were recruited and Andrew Cartmel unveiled his 'masterplan'. He wanted to delve into the very psyche and character of the Doctor as part of a plan to reveal the Doctor's true backstory and origins, which would be more complex than previously hinted. He also wanted to develop a far more complex relationship between the Doctor and his new companion Ace, played by Sophie Aldred.The fruits of this can be seen in the widely-acclaimed Remembrance of the Daleks, in which the Doctor manipulates events from behind the scenes to bring about the destruction of the Dalek homeworld, Skaro yet these plans would never come to past until recent doctor who which we seen the masterplan brought back to the screen. It is truly amazing how this 25 season is a very good season overall thath as such fun stories. The twenty-sixth season was even better. I feel his era is one of my favorite eras of the show as you see all of the best elements of classic doctor who on screen in this era.
ace doctor who(Sophie Aldred)
Initially a brash and reckless teenager, (TV: Dragonfire) Ace matured significantly into a strong, independent adult over her many years of TARDIS travel and other experiences, who was capable of surviving on her own. (TV: Survival, AUDIO: Signs and Wonders) as she matured more trough her audio adventures she is a very remarkable companion that as grown deeper trough the audios as she is played by the remarkable Sophie Aldred whom gives us such an amazing role with a level of charm and depth unmatched by many modern companion in some regards as she has such levels of amazing acting skill to her level of acting.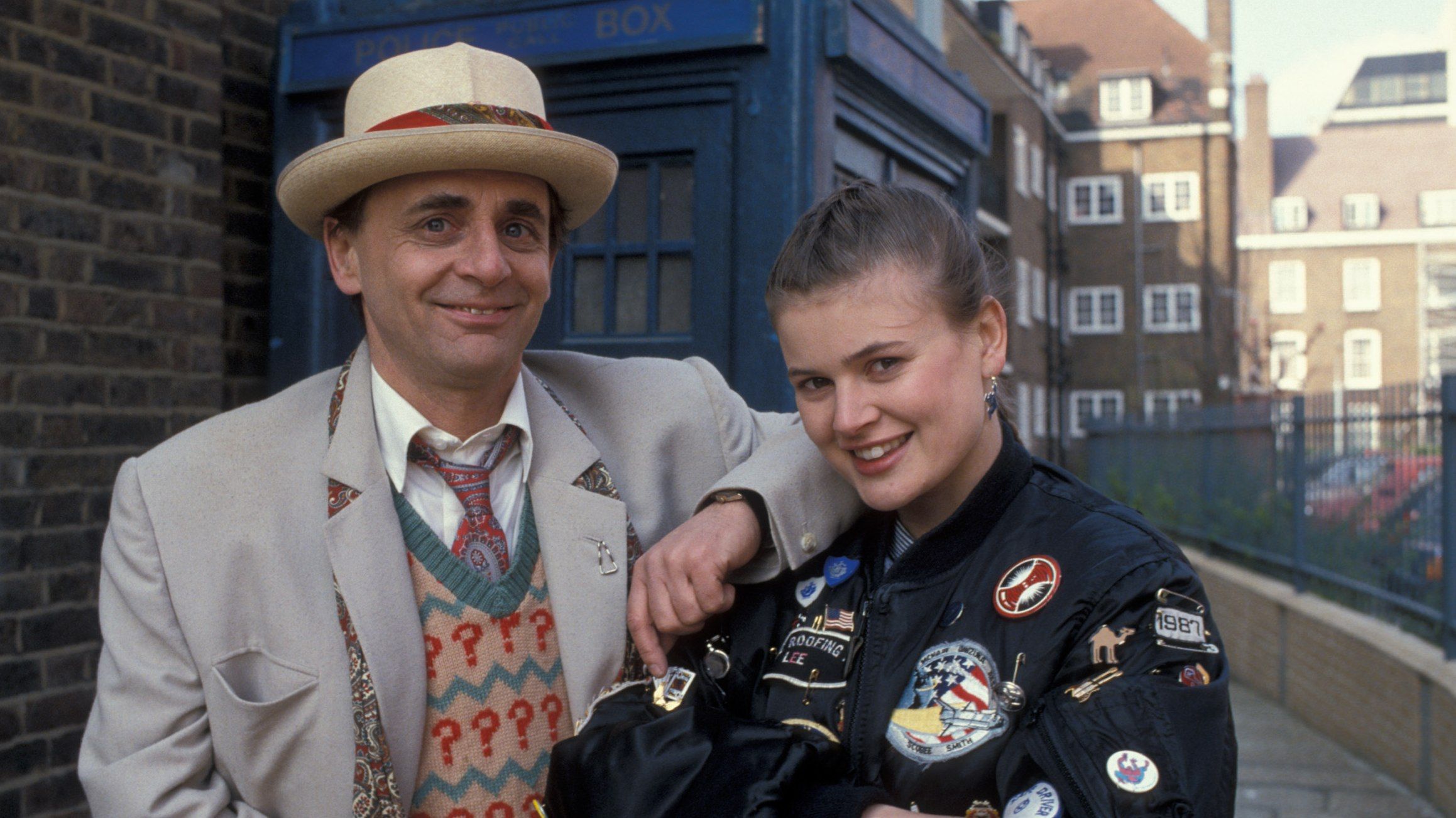 The frist doctor:William Hartnell
William Hartnell  was a wonderful actor of the stage and screen before he became the doctor that  made the doctor by bringing to life this magical role with his wonderful performance as the doctor. He was a daft old man with a darker nature but a charm and wit that was able make the doctor into an icon for the ages.
Doctor Who: The Twelfth Doctor(Peter Capaldi)

In 2013 incumbent Doctor Matt Smith announced that he was hanging up his TARDIS keys and moving on to pastures anew. Whilst this understandably broke the hearts of lots of fans, it left the show with a gap to fill. More than that it gave the casting team a dilemma, how do you replace a presence and charm of an actor or match david's tenth doctor for his steer passion he brought to the role you bring a fanboy of the show form the start of childhood that really brings out all of the doctor's many traits to the role you bring us which i think among my favorite doctors of all time as Peter Capaldi is an amazing actor of many levels that starred in many blockbuster movies and tv shows he brought all of that to his role as the doctor he managed bring all of his amazing acting skills with the raw wit of classic doctors mixed with a darker shaded doctor at times you really saw the depths of what made the doctor a hero in his era of the show as i think he bridges the gap of classic and modern doctor who he could been a doctor right after 7th doctor.
Peter Capaldi was a huge fanboy of classic doctor who as child he always would watch it on saturday tea-time. He is also a talented artist of many levels you can see him play the guitar too as he also was musican back in the day.
He is able do it because he used do such in past as this amazing actor did it all form his own skills as an artist and actor he brought all of his depth of a character to the screen i personally think his doctor is one of the best ever in role.
Doctor who  greatest stories all time(yes big finish does count in this regard)
Doctor who has so many stories in so many mediums that tell wonderful tales so i am highlighting best of many mediums i am gonna select standout tales that showcase the shows 57 year history on the screen as many years of wonderful tv is told trough the eyes of doctor who on screen in its storied history on screen.
The Ambassadors Of Death
Doctor Who's 1970 season is perhaps better remembered for stories such as The Silurians with its moral ambiguity and Inferno's journey into a parallel universe. Yet between those two adventures is a forgotten little gem dealing with astronauts, manipulation and the threat of interstellar war. A story called The Ambassadors of Death that i feel is the season's best story in many ways one of the best crafted tales of classic doctor who. What separates this story from its immediate predecessor is its action packed nature. While The Silurians very much limited itself to the scientific center, the caves and immediate area around it for the most part, there is no such constraint on this story as this story as you see such things played out more on screen here then ever before. Ambassadors of Death holds up today. It's well paced across seven episodes, features plenty of action sequences with many dramatice moments making this an often overlooked classic gem of a tale.
Jubilee
Big Finish productions have been making new audio plays of Doctor Who since 1999. In that time they have made countless stories with five Doctors and a host of companions and monsters. While most stories faithfully mirror TV Who, occasionally a story comes along that is better than most and stands out as a true classic. Jubilee is one such adventure, so good that it ranks as one of the best scripts Doctor Who has ever had in any format period. Bringing his companion, the elderly history don Evelyn Smythe (Maggie Stables), to early twenty first century London, the TARDIS somehow lands in two time zones at once. Emerging into the Tower of London, the pair find a much changed world where the English Empire, led by the mad President Rochester (Martin Jarvis), now rules the world. Somehow the Doctor and Evelyn have defeated a Dalek invasion a century ago even though they have no recollection of it. If some of the above sounds famliar then that is because Rob Shearman was asked to adapt his script for the revival of the TV incarnation of Doctor Who in 2005. Called Dalek, The Dalek's relationship with Evelyn was replaced by Rose and the plot was heavily simplified as this tale is one of the truly best stories of doctor who. This complexity extends to the sole surviving Dalek as well. The Doctor's ultimate foe turns out to a simple soldier, desperate for someone to tell it what to do. It doesn't want to make choices but to simply follow orders. Nick Briggs does a fantastic job embuing this Dalek as this tale really brings to heart the heart of the relationship of the doctor and daleks as we see how both sides view each other. It is a classic tale in any sense of the word
doctor who and the pirates
Doctor Who and the Pirates has taken all the style and effort that has been missing from recent stories and injects them all into four episodes of bliss. Jac Rayner has written a superb script, easily her best for Big Finish, which manages to be a beautiful character study, a rip roaring adventure which is a funny comedy to a musical to a drama in matter of moments.Colin Baker and Maggie Stables really shine in one of the best doctor stories any medium ever as this tale showcases not all great tales are told on the screen of doctor who.
The Caves of Androzani
Caves of Androzani is the most powerful classic Doctor Who story in every regard as it features one of the best scipts of classic who as it  features Robert Holmes' tightest script with razor sharp characters, a frantic pacing with wonderful acting to boot as this remarkable end story showcases what males the doctor such an interesting hero as the doctor saving the lfie of somone he barely knows showcases why doctor who is such a landmark in tv history as this tale is a marvelous tale form start to finish.
Pyramids of Mars 
Doctor who: pyramid of Mars is one of the top Doctor who stories of all time in many ways it's the classic story of the doctor. Pyramids of Mars is a classic slice of doctor who with all the right ingredients that makes this story one of a kind that is likely one of the best of the Philip Hinchcliffe era of doctor who. Tom Baker is giving out one amazing performance as the doctor. Sarah Jane gives out one amazing performance in her role as she is the doctor who companions all adore forever. Pyramids of Mars is a pefect story in so many regards form its horror elements to its great dramatic moments it really is an amazing tale.
Pyramids of Mars continues the Hinchcliffe trend of tapping into a particular vein of horror and dropping the Doctor into a familiarly creepy plot that is a trait of this era of doctor who. Pyramids of Mars builds on the fascination with Egyptology. The pyramids had obviously been a pop culture fixation since the explorers first opened the tombs. It is how we ended up with many of the classic horror movies such as the mummy and hammer's the mummy among other classic mummy horror movies. Pyramids of Mars gets a nice direct link to Hammer in Bernard Archer, playing Marcus Scarman, who appeared in The Horror of Frankenstein another hammer classic which i would say inspired another classic story of this era of doctor who. Its a very fun Gothic horror classic doctor who story with such amazing acting and direction and well crafted out story that stands the test of time.
The Zygon Invasion and The Zygon Inversion
The Zygon Invasion and The Zygon Inversion are very good stories that stand out as the best two parter of doctor who history in my eyes. Both tales have such heavy tied nature to each other that you can almost say this tale has such amazing direction with amazing acting and drama as well chracter moments that stand test of time they all come together make one of the best Episodes of doctor who ever crafted for the screen  as this tale is a classic doctor who tale in every regard.
Silence in the Library" / "Forest of the Dead
The Library two-parter of Series 4 ("Silence in the Library" / "Forest of the Dead") is wonderful chracter drama that really is such a wonderfully crafted tale with such amazing acting and direction with the best acting of david on the screen as the doctor as it showcases the best of doctor who. It is brilliant from beginning to end. While it may not exactly get scarier on repeat watching as you catch many key details of this wonderful story that stands as one of best stories all time in the show's long history on the screen.
Vincent and the Doctor 
Vincent and the Doctor is a truly sophisticated episode of Doctor Who and one of the few moments of television that actually brought tears to me eyes as this amazing tale is such a high point for storytelling with its amazing acting and charcter drama that showcases what makes doctor who truly special as a show.  Tony Curran who takes a potentially unsympathetic role and creates a Vincent Van Gogh who is entirely credible and great fun to be around and before the episode he will have broken your heart. The intimacy and chemistry between the chracters is remarkable on screen as you see such an amazing story that stands out as doctor who's finest example of classic doctor who in every sense of the word.
DAY OF DOCTOR(50TH ANNIVERSARY SPECIAL)
The Day of the Doctor is a great anniversary celebration for Doctor Who, feeling like Moffat had borrowed more from The Three Doctors than The Five Doctors in piecing it together, allowing for multi-Doctor interaction grafted over a fairly generic Pertwee-era alien invasion tale. ("Not now!" the Eleventh Doctor protests as the multi-Doctor tale that showcases some of the best fun of the whole series as whole its an amazing story with amazing acting by its cast as they all give us wonderful perfromances as this fun gem of a story is a fun ride form start to finish as these stories are meant to be fun ways to honor the shows hiistory it does it in such amazing levels of fun. You will smile with delight at day of the doctor as i feel this classic story really stands test of time.
An Adventure in Space and Time 
There is no reason why anyone should ever have made a movie about William Hartnell. From today's vantage point he was a relatively obscure actor who played the doctor. It goes without saying that Doctor Who has enriched many of our lives. Its longevity stems, in no small part, from its variety and creativity; its ability to continually renew and reinvent itself without compromising its essential identity. But sometimes we might forget that the show as it is renowned today sprang from humble origins: to fill in a twenty-five minute gap in Saturday night television as this movie tells the tale of the show's birth as you see such a remarkable movie of love and passion with wonderful acting by a top notch cast that make such a wonderful tale. David Bradley as William Hartnell, the first Doctor is an amazing must see performance that anyone should see today as i feel this is a perfect ending ot my 77 year tribute by highlighting one of the best tv movies ever crafted for tv its must see tv. I hope you enjoyed my personal tribute to 77 years of doctor who.
Doctor Who became a part of my life a long time ago. He changed me cardinally. I can say that I grew up on it and it is part of my childhood. And this series made me believe in miracles.  I want to say thank you to the series, creators, actors for changing my life, for giving the world magic! Happy 57th Anniversary! 1963 – 2020
I hope you enjoyed my talk on doctor who today,the doctor truly will always be with us forever.  I want to say thank you to the series, creators, actors for changing my life, for giving the world magic! Happy 57th Anniversary! Doctor Who