Today I talk about Sullivan's Travels which is frankly one of my favorite movies all time for the The Celluloid Road Trip Blogathon hosted by Hometowns to Hollywood as this wonderful classic story stands the test of time as ohn L. Sullivan (Joel McCrea), convinced he won't be able to film his ambitious masterpiece until he has suffered, dons a hobo disguise and sets off on a journey as this classic tale lasts test of time i choose review it today.
Sullivan's Travels Review
The idea of walking in someone else's shoes in order to truly understand their point of view has been stated in many elegant ways has been told many times over in movies yet this tale hasnt been told so effectly as this classic tale. The idea of the artist taking a road road trip to better understand the sufferings of others simply works here. "I'm going out on the road to find out what it's like to be poor and needy and then I'm going to make a picture about it … I'm doing it for the poor. Don't you understand? … I doubt if they would appreciate it, sir. They rather resent the invasion of their privacy. Echoing Gulliver's Travels, this is 'prime' Preston Sturges and more of a social satire than a comedy with its barbs aimed squarely at Hollywood; a film depicting the chance encounters and experiences of a movie director as he raids the wardrobe department to disguise himself as a hobo before travelling around the country with a down-on-her-luck starlet and a studio entourage, looking for the kind of material which can be turned into a 'meaningful' movie he will call 'O Brother, Where Art Thou?'.
The classic film Sullivan's Travels brings to mind some provocative questions on who should be able to tell certain kinds of stories. I have often heard the perspective from some members of the film criticism community, that they sometimes devalue films instantly if the experience being captured does not come from an artist of that same background. In some cases, you may feel this way because you are apart of the group the story is about, and you did not feel like the film authentically spoke to your experience. Of course, there are no right or wrong answers here, because everyone's opinion is going to be unique on it.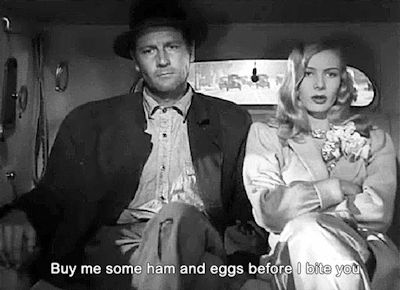 With all that being said, Sullivan's Travels tells the story of what a comedy movie Director comes to discover about the struggles of the poor, while working to prepare a film he feels would be of significance on the topic. Sullivan's Travels was both an entertaining and provocative look into this idea of Hollywood's innate inability to truly understand the hardships of the poverty-stricken and working class as we see it wonderfully crafted by the wonderful Preston Sturges with wonderful acting by its two wonderful stars of Joel McCrea and Veronica Lake as fun-fact about them too they didnt get along at all but give out such a wonderful performances on screen as the splendid Sturges stock company of character actors, this picture is often hilarious and has a moment or two of real poignancy; the comic sequences may prevail but the lessons learnt will remain with you as this movie will remain with you fro ages to come.