The charm of Rosalind Russell
Rosalind Russell always been a favorite of mine as always been one of my favorite actresses. In her early days at MGM in the mid 1930s, Russell tended to play prim and proper women the hero jilts for someone more exciting, say, Jean Harlow as simply was her big debut in her more comic roles such as his girl Friday she would truly find her voice on screen as she had such a powerful timing and wit that was able make her something special on screen as i think she was truly one of the finest actresses ever as she was a comic that was such a wonderfully powerful actress to give class to roles that seemed lesser. I talk about her today for THE SECOND MARATHON STARS BLOGATHON as today i talk this wonderful legend.
The charm of Rosalind Russell
I recall when I first saw her upon my screen watching His girl Friday. I was truly amazed to see this woman that was matching wits with Cary grant on his same level and just not holding back upon her comebacks to him but sadly in truth the casting of her was last on lists of Howard hawks but we can't think of anyone playing the role but she was below others at time as Jean Arthur was the first choice, followed by Katharine Hepburn, Carole Lombard, Claudette Colbert, Irene Dunne and Ginger Rogers. Rosalind Russell would have been well at the bottom of the list as he was fool not see what we would see this charming actress would come out on screen with Cary grant that would test his wits unlike any woman ever did on the screen. I would say that she was not taking as much of actress by time of his girl Friday due to her roles she played before it.
It was another role about same time that would bring her to bigger ideals as it was one year before his girl Friday which I still feel is her true debut as her own voice as actress. It was her role in the women would take this proper actress into a new level of legend as she is truly amazing in her role in the women with her sharp wit and charm she works greatly with the other women as she brings the trouble to the screen. It's truly fun see her play this fun gem of a role. It would be her next roles after His girl Friday that was some funny roles that I feel showcase the amazing comic charm of this actress along with her powerful acting skills as an actress.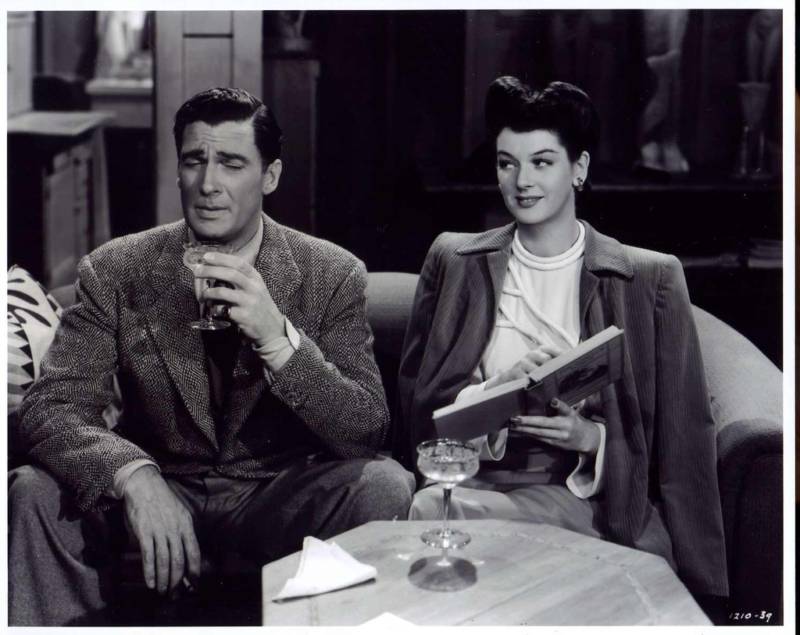 Rosalind Russell shows her Broadway acting skills as she plays in the wonderful no time for comedy which she plays a wonderful character that may show off her truly best of her timing and mannerism.  Melvyn Douglas and especially Rosalind Russell are magnificent with what little they are given. The material wasn't much more then an idea and some scenarios, so the laughs came mainly from actors delivery in this thing called love as Rosalind Russell shows again her truly wonderful timing as an actress.
The Feminine Touch shows off another layer of the magical charm of Rosalind Russell as the movie showcases her skills as an actress. what a cast! Don Ameche, who I have adored since first seeing him in Midnight with Claudette Colbert as i would say he simply is delightful here too. This is a lightweight comedy, with a top-notch cast, particularly Rosalind Russell and Kay Francis, who ultimately engage in a classic cat fight over their men as truly it is Rosalind Russell who more feels like she is a natural born comic as Kay Francis gives her best comedy charms but doesnt match it. Its a fun little gme you can enjoy.
Design for Scandal (1941) is another charming comedy classic that has such a wonderful cast as Walter Pidgeon is delightful in his role alongside with  Rosalind Russell as the girl too smart to fall for his courtship as she is really charming as hell and delightful as she give such wit and charm for her role as she is so good in this this movie. Its a fun comedy that you will enjoy.
Rosalind Russell is an ad exec who has made it up from the bottom in a male dominated world in Take a Letter, Darling as she is such a powerful role here as her best role for that time to what she did to that point. Fred MacMurray does what he always does, gives his lead actress room to breathe as he simply is amazing in his role on the screen. the idea of combining a successful business career with being a 40s woman is very good touch for this movie it brings it up to a very wonderfully modern feel for a classic gem that is such fun to watch.
Roughly Speaking is a wonderful family melodrama. Russell should strength as staunch matron, guiding family through hard times, always finding a new way to go on.  Jack Carson stays affable second husband, though you can see fear and pain underneath as both give out such wonderful performances on screen as this is simply a joy to watch upon the screen.
The Velvet Touch has Rosalind Russell killing her killing her long time director/producer/lover as she plays the lady that tries get away with murder by her charm as she can likely pull it off as she is that dam charming. Rosalind Russell gives a good performance in her role as Valerie Stanton. It has wonderful performances by its cast as its a fun little thriller that you will enjoy to watch. A Woman of Distinction is highlighted by three delightful performances by Rosalind Russell , Ray Milland  that all give this flim such powerful fun to watch.
Auntie Mame has reprising her Broadway role, Rosalind Russell's uproarious high-wire performance that truly shows off her range as an actress. Rosalind Russell gives an excellent performance one of her best hours upon the screen as she really lights up the screen with this role. The rest of cast give wonderful performances in their roles. untie Mame is an excellent adaptation of the novel and play, thanks to the excellent performances in particular from Rosalind Russell and Peggy Cass, along with the direction, script, some humor and brilliant technical aspects making it a classic.
Today i talked about Rosalind Russell always been a favorite of mine as always been one of my favorite actresses as no one can really charm us like she can upon the screen. I always find her roles to be so delightful to watch upon the screen form frist time saw her with cary grant to her later works its always such fun to watch this wonderful legend upon the screen. I adore her simply so much to watch in her wonderful range as an actress I hope you enjoyed my tribute to her today.